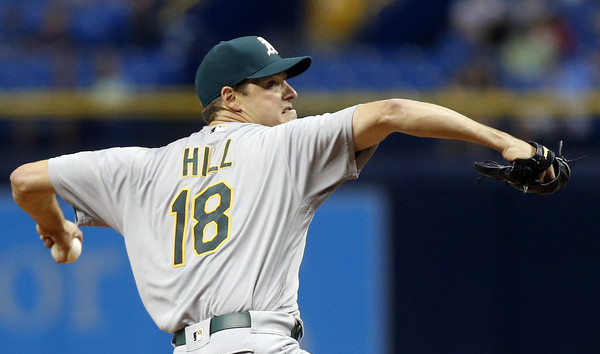 With 82 games in the books, the Yankees are 40-42 and 4.5 games back of the second wildcard spot. There are six teams ahead of them in that wildcard race. FanGraphs puts their postseason odds at a mere 7.0%. Contention is a long shot at this point, which means the trade deadline could be very, very interesting. Buster Olney (sub. req'd) says the Yankees are taking offers right now, which strikes me as the kind of thing they'd do anyway, regardless of their record. Anyway, here are some miscellaneous trade notes with the deadline three weeks and six days away.
Rangers, Nationals, Cubs scouting Yankees relievers
Scouts from the Rangers, Nationals, and Cubs were on hand to see the Yankees' big three relievers in San Diego over the weekend, reports George King. The Cubs have been on those guys for a while now, but the Rangers and Nationals are new to the party. Then again, it's not exactly a surprise they're watching New York's end-game arms. All three of those clubs are in contention and they all could use varying levels of bullpen help.
I know it seems sorta silly that teams are scouting Dellin Betances, Andrew Miller, and Aroldis Chapman. It's not like they need to send a scout to San Diego to tell them they're awesome. They're just doing their due diligence though. They want to see if someone's mechanics have changed or anything like that. Basically, they're looking for red flags. Everyone knows these guys are great. Is there reason to believe they may suddenly not be great?
Yanks tell Miller they haven't "discussed or planned" trading him
Should the Yankees decide to sell, their best trade chip is most likely Miller. He's awesome, he's signed affordably for another two years, and he's the ultimate team player. Lots and lots of clubs would love to add him to their roster. For now, the Yankees have told Miller they haven't "discussed or planned" trading him, writes Barry Bloom.
"The media has been throwing a few things out there, but I've had reassurances from them at the times I've talked to them that it's something that hasn't been discussed or planned for or anything like that," he said. "I think that's kind of nice … But I have no trade protection. I'm at the mercy of that what they decide to do. I get it. It's a business. I want to be here. I want to play here. But it's impossible to avoid sometimes."
I've seen that quote misconstrued as "the Yankees told Miller they aren't trading him" and that's not true. Well, I guess they may have told him that at some point, but that's not what Miller is saying there. He's only saying the Yankees have told him they haven't yet had any trade talks about him. Miller's not stupid. He knows he's good and teams are going to want him. It comes with the territory.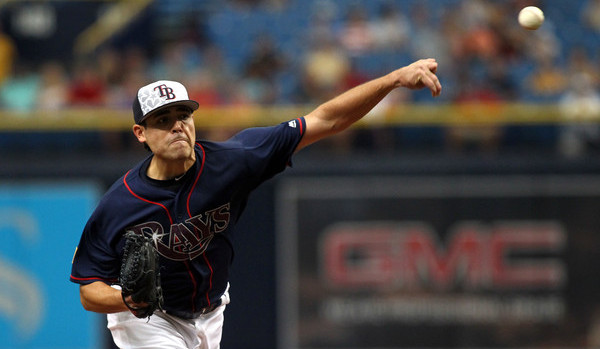 Yankees interested in Matt Moore
The Yankees are one of several teams with interest in Rays left-hander Matt Moore, reports Nick Cafardo. Tampa Bay is said to be ready to trade away their starters in an effort to take advantage of the seller's market. The Rays are are not only in last place, they're in the middle of a free fall right now. They've won only three of their last 19 games and are 10.5 games out of a wildcard spot.
Moore, 27, held the Angels to two runs in 6.2 innings yesterday. He has a 4.54 ERA (4.53 FIP) in 103 innings this year, which is better than the 5.43 ERA (4.82 FIP) he had in 63 innings last season, after returning from Tommy John surgery. Moore is signed super cheap (owed $28.5M through 2019 if the options in his deal are exercised) and he's got a fantastic arm, but he's now three years removed from the last time he was even an average starter. I can't imagine the Rays would be eager to trade with the Yankees either.
Yankees scouting Rich Hill
According to Susan Slusser, the Yankees were among the many teams with a scout in attendance for Rich Hill's start over the weekend. Hill returned from a groin strain to hold the Pirates to two runs in six innings. The 36-year-old has a 2.31 ERA (2.71 FIP) with a 27.8% strikeout rate in 12 starts and 70 innings this season. Simply put, he's been one of the best starters in the AL in 2016. Go figure.
Hill, who is signed to a one-year deal worth $6M, figures to be an extremely hot rental commodity at the deadline. He might very well be the best starter traded this summer. In a vacuum, adding Hill to the rotation would make the Yankees a better team. I mean, duh. At this point though, giving up prospects for a 36-year-old rental is pretty much the last thing the Yankees should do at the deadline. They have to build for next year, not continue to fake contention this year.