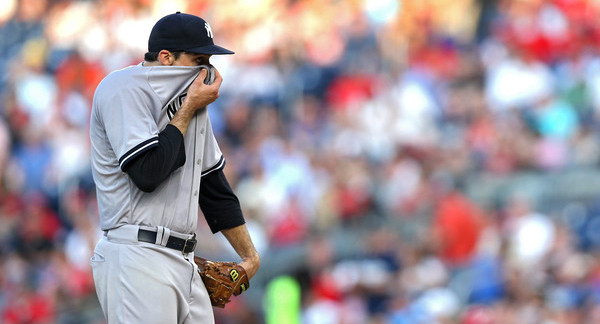 Friday: The Yankees have placed Eovaldi on the 15-day DL with a "right elbow tendon injury," the team announced today. A tendon injury isn't exactly good news, but it's better than a ligament injury. Luis Severino has been called to fill the roster spot. It's like Severino never left.
Thursday: As expected, the Yankees made a series of roster moves this afternoon. One of them was not placing Nathan Eovaldi on the DL, however. His elbow was examined in New York today, and team doctor Dr. Ahmad "recommended Eovaldi receive further evaluation and consultation, which he will do in the coming days." That doesn't sound good, though the fact Eovaldi was not immediately placed on the DL could mean they didn't find anything. Who knows.
As for the roster moves, both Luis Cessa and Ben Heller were called up while Nick Goody and Rob Refsnyder were sent down. The Yankees burned through their bullpen last night after Eovaldi's elbow injury forced him out of action after one inning. They desperately needed fresh arms. Cessa was scheduled to start for Triple-A Scranton today, so he's available for super long relief, if necessary.
Heller, 25, is one of the prospects who came over from the Indians in the Andrew Miller trade. He has a 1.60 ERA (2.73 FIP) with a 29.6% strikeout rate and a 7.4% walk rate in 45 total innings this year. That's split between Double-A and Triple-A, Indians and Yankees. Heller has a big mid-to-upper-90s fastball and a slider. He's a pure reliever and was expected to come up reasonably soon.
It's safe to say Eovaldi will not make his scheduled start next Monday. The Yankees did just send Luis Severino down yesterday, but once Eovaldi is placed on the DL, they'll be able to bring Severino right back up. The ten-day rule no longer applies. My guess is that's exactly what will happen. Chad Green is lined up to start Sunday. He's taking Severino's spot and Severino is taking Eovaldi's spot. Got it?
The Yankees had one open 40-man roster spot and that is going to Heller. Cessa was already on the 40-man, so no other move is required. Heller was going to be Rule 5 Draft eligible after the season, so he was going to get added to the 40-man soon anyway. He's been mentioned as a call-up candidate since the day the Yankees acquired him.