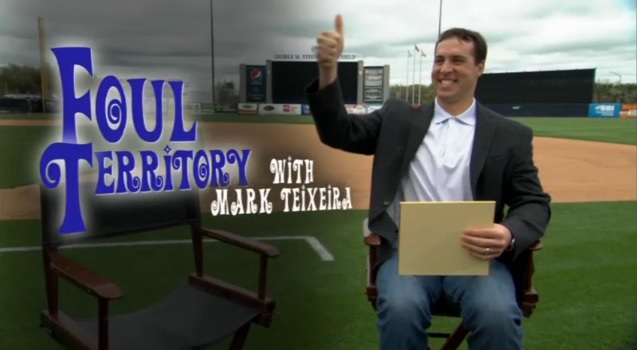 After 14 years in the big leagues and eight years in pinstripes, Mark Teixeira is planning to hang up his spikes after the season. Teixeira announced his retirement, effective at the end of the 2016 season, at a press conference at Yankee Stadium this afternoon.
"Every kid playing wiffle ball in the backyard or playing Little League, you dream of being a Major League Baseball player," said an emotional Teixeira. "After 14 years, it's time for me to do something else. After this season I'm going to retire and do something else."
Here is Teixeira's teary press conference:
Teixeira, now 36, is in the final season of his eight-year, $180M contract. I'll never forget the day they signed him. We heard for weeks Teixeira was expected to sign with the Red Sox, and right when it appeared a deal was close, BAM the Yankees swooped and signed him. It was pretty awesome. One of my favorite days in RAB history, hands down.
So far this season Teixeira is hitting a weak .198/.287/.340 (69 wRC+) with ten homers in 77 games around a nagging knee injury and various other ailments. Just last season he hit .255/.357/.548 (143 wRC+) and swatted 31 home runs in 111 games. Teixeira's 2015 season ended in August after a foul tip broke his shin. That was a real bummer.
Overall, Teixeira has hit .249/.348/.491 (121 wRC+) with 201 home runs during his eight seasons in pinstripes. That includes his monster .292/.383/.565 (142 wRC+) campaign in 2009, when he clubbed 39 homers and finished second to Joe Mauer in the AL MVP voting. I'd say Teixeira's signature Yankee moment is his walk-off home run in Game Two of the 2009 ALDS.
On top of all the dingers, Teixeira was an outstanding defensive first baseman. One of the best I've ever seen. Even as his bat has lagged this year, Teixeira is still playing the hell out of first base. He's a game-changer over there, saving his teammates countless errors over the years.
Of course, injuries have been a major problem in recent seasons. Everything from wrist to hamstring to calf to shin problems have kept him off the field. He has appeared in only 449 of 594 possible games (76%) since the start of the 2012 season. Teixeira is currently sidelined with a shin problem after being hit by a pitch Wednesday night. He went for precautionary x-rays yesterday.
Teixeira is one of the most productive power-hitting switch-hitters in baseball history. His 404 homers are fifth all-time among switch-hitters, and he joins Eddie Murray, Chipper Jones, and Carlos Beltran as the only switch-hitters with 400+ doubles and 400+ homers. Originally selected fifth overall in the 2001 draft, Teixeira spent time with the Rangers, Braves, and Angels before joining the Yankees.
"I got to live out my dream and had more success than I could have ever imagined," said Teixeira. "It felt like it was the right time for me to step away from the game. I want to finish my season on a high note … I'm going to leave it all out there."
The Yankees have only had four primary first basemen over the last 33 seasons, which is pretty incredible. It was Don Mattingly from 1983-95, Tino Martinez from 1996-2001, Jason Giambi from 2002-08, and Teixeira from 2009-16. Yeah, there were some Kevin Maases and Andy Phillipses and Lyle Overbays mixed in along the way, but those have been the four main guys. Pretty crazy.
"It's an unbelievable blessing. It's an unbelievable honor to put the pinstripes on everyday," added Teixeira. "I want to thank all the Yankees fans, the greatest fans in the world. I wasn't perfect. I was far from perfect. I want to let you know I appreciate your support. I gave you everything I had. It wasn't always enough, but I tried to my best and I'm proud to have a World Series ring with the Yankees. It's something I'll never forget."
As far as the Yankees are concerned, this doesn't change a whole lot going forward. They were widely expected to move on from Teixeira after the season and install Greg Bird as their new first baseman. Bird's shoulder surgery may throw a wrench into that plan, but hopefully not. Tyler Austin may have played his way into first base consideration this season as well.
Teixeira was a pretty darn good Yankee despite the injuries in recent years. He was a key part of their most recent World Series title and is generally just a fun, likeable dude. Foul Territory and the way he mocked Hansel Robles during the sign stealing nonsense the other night are pretty good examples. You've done good, Tex. See you at Old Timers' Day.