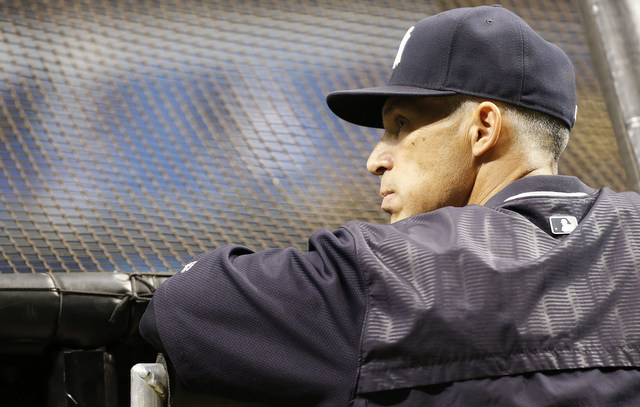 Moreso than at any point in the last 20 years, the Yankees are in the middle of a youth movement. Aaron Judge is playing right field every day, and, most notably, Gary Sanchez has taken over as the starting catcher. That's a big deal because Brian McCann is still on the roster. Judge is replacing the traded Carlos Beltran, so it's an easy. McCann's role has been reduced to make room for Sanchez. The Yankees are going all-in on the kids.
Beyond Judge and Sanchez, the Yankees have also called up Tyler Austin to take at-bats away from Mark Teixeira. Alex Rodriguez has been released too. Chad Green and Luis Cessa are in the rotation, though that's more out of necessity than anything. Once rosters expand we'll see Ben Gamel and Rob Refsnyder again, probably Luis Severino and others as well. Ben Heller will be back too. He was up last week but did not appear in a game.
The Yankees are making these moves and decisions because this season is close to a lost cause. Yeah, they're technically still in the wildcard race, but it is a long shot. They admitted as much when they traded away arguably their three best players at the trade deadline. The Yankees are looking ahead to the future and allowing their top young players, the guys they intend build around doing forward, to get their feet wet now.
So far everything is going pretty well. Judge and especially Sanchez have produced right away, and while the instant success is good, how do they handle the inevitable failure? That matters too. The young players are front and center, and the Yankees will evaluate them the rest of the season. They're not the only people the Yankees have to evaluate though. There's also Joe Girardi. Is he the right man to lead the team through what they're calling a "transition?"
I'm not here to criticize Girardi or call him a bad manager to anything like that. This is a legitimate question. The Yankees are trying to mold Sanchez and Judge and everyone else into the core of the next great Yankees team, and you want to have the right person leading them. This is important stuff. Managers don't just fill out lineup cards and change pitchers. There's a lot more that goes on behind the scenes. Here's what we know about Girardi's experience managing young players.
1. The Yankees have never asked Girardi to do something like this. Since hiring Girardi during the 2007-08 offseason, the Yankees have been a win-now team. That was the case even coming into this season. Things didn't work out that way, so the team shifted gears at the trade deadline and now the emphasis is on young players. There's been a Brett Gardner here and an Ivan Nova there over the years, but that's pretty much it. The front office is now dropping a bunch of kids in Girardi's lap, all at once. They've never done this before. The closest thing to this is when they started the 2008 season with both Ian Kennedy and Phil Hughes in the rotation, and that lasted barely a month.
2. Girardi did manage a lot of rookies with the Marlins. Thanks to one of the team's trademark fire sales, Girardi had to manage an incredible 22 rookies (!) with the 2006 Marlins. Heck, Girardi was a rookie himself. That was his first season as a big league skipper. He had a rookie middle infield (Hanley Ramirez, Dan Uggla), a rookie outfield (Josh Willingham, Reggie Abercrombie, Jeremy Hermida), four rookie starters (Josh Johnson, Ricky Nolasco, Anibal Sanchez, Scott Olsen) and more. That was an entire team of young players.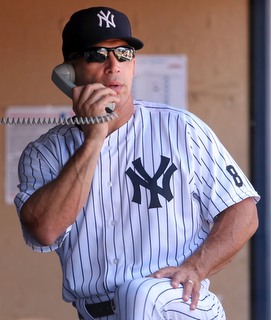 Managing a bunch of rookies with a Marlins team that has zero expectations and is under no microscope is a much different animal than managing rookies with the Yankees. Girardi had no choice but to play those guys in Florida. Hanley and Uggla were going to be his middle infield, the same way Didi Gregorius was going to be his shortstop last year. The difficult part is when you have a veteran like McCann and need to play a rookie like Sanchez. That can be tough and uncomfortable.
Last week was not Girardi's finest week with the Yankees. He said last Sunday he would play A-Rod as much as he wanted during his final week, then it didn't happen. That's not a good look. Anything that could potentially compromise the players' trust in the manager is bad. That also seemed to be an isolated incident, and I'm not entirely convinced Girardi wasn't under orders from above to keep A-Rod on the bench. It's not like that was part of a pattern. Quite the opposite, really.
Girardi generally defends his players tooth and nail and does what he can to take the heat off them. He's not above calling players out when they make a mistake, but it is rare. He's going to protect his players and I see that as quality you want in a manager in charge of a rebuild. The kids are going to make mistakes. They're unavoidable. They're going to throw to the wrong base, they're going to slump, they're going to do all of that. Being a young player trying to cut your teeth in the show can be overwhelming, especially in New York, and you want a manager who will guide the player through the tough times, not just pat him on the back when things go well.
At the same time, I'm a big believer in managers having a shelf life. Eventually things get stale and it's time for a new voice and fresh ideas. Every manager is different, so sometimes getting stale happens after three years, or five years, or 15 years. Is Girardi approaching his shelf life? Eh, that's tough to say. That's something for the players to decide. It does seem like we've seen more careless mistakes (baserunning, etc.) from the Yankees this year than in the past, and fair or not, that reflects poorly on the coaching staff and manager.
I don't think there's any chance the Yankees will fire Girardi after the season, so this is all probably a moot point. Trading away veterans at the trade deadline took all the heat off him as far as missing the postseason. The people above him too responsibility for that. Brian Cashman and, more importantly, Hal Steinbrenner seem to like Girardi, so I think he's safe. There's two years left on his contract too. Like it or not, all signs point to Joe being back in 2017.
With that in mind, I am curious to see how Girardi handles the young kids the rest of the year, and not just the playing time. I'm curious to see how he helps them deal with the media when they struggle, and also how he helps them learn and become better players. The objective has changed. For most of Girardi's time here it's been all about winning. Now it's about developing these young players into the next great Yankees, and the team wants to make sure they have the right man in charge to do that.