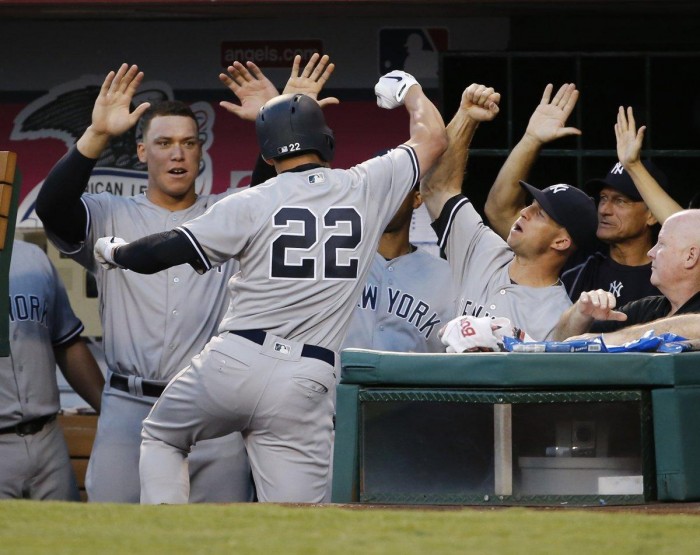 Torre-yes?!
The rookies continued to shine, while the underrated ace delivered yet another gem, and the Yankees opened their final West Coast trip of the season with a strong 7-0 win over the Angels on Friday night.
Gary Sanchez's record-breaking feats have become commonplace since his call-up a few weeks ago, and Friday night's superb 3-for-4, two-double performance was no exception. Through Friday, 10 of Sanchez's 21 hits as a major-leaguer had been for extra-bases, putting him in elite company at this point in his career.
The last Yankee to compile 10 or more extra-base hits within his first 16 MLB games was a fella by the name of Joe DiMaggio, who went 30-for-73 (.411) and had 10 doubles, a triple and two homers in the first 16 games he played as a rookie in 1936.
Sanchez had an unlikely Baby Bomber co-star, with the diminutive Ronald Torreyes contributing a 4-for-4 night. He had a double and a homer in his first two at-bats, matching the number of extra-base hits he had in his previous 72 at-bats, dating back to the third game of the season he played on April 13.
It was also a most unlikely performance from a guy hitting at the bottom of the order. The only other non-pitcher in franchise history to have at least four hits, three runs scored and two RBI in a game from the No. 9 spot was Juan Rivera on Sept. 27, 2003 against the Orioles.
Masahiro Tanaka dominated the Angels lineup, surrendering just five singles over 7 ? scoreless innings while striking out nine with no walks. It was his third straight game with at least eight strikeouts and no walks, the first Yankee pitcher since at least 1913 to put together a streak like that.
His effective mix of low-90s fastballs, nasty sliders and darting splitters was key in helping the Yankees stop their mini-two-game slide heading into this series. Tanaka is now 6-1 with a 1.85 ERA in 11 starts following a Yankee loss, and the Yankees are 9-2 in those games.
Through Friday's slate, 167 major-league pitchers had made at least five starts after a team loss this season. Tanaka's 1.85 ERA ranks first among that group.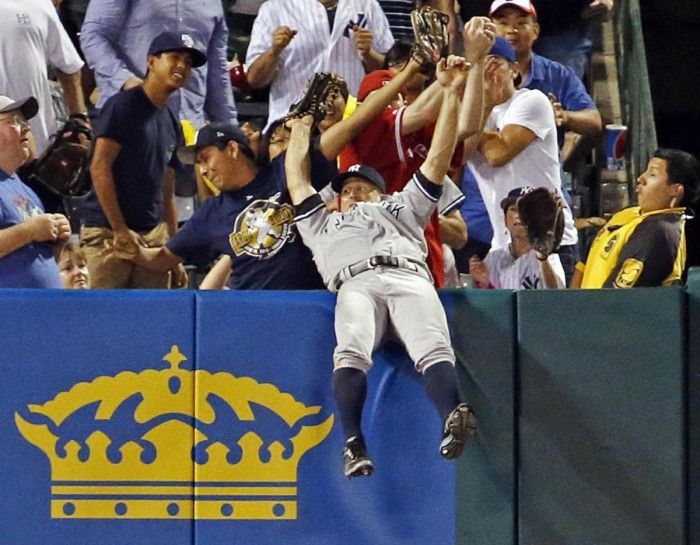 Cessa makes strong first impression
The Angels — and Angel Stadium — had become somewhat of a kryptonite for the Yankees over the past decade. From 2005-15, the Angels were the only AL team that the Yankees had a losing record against (45-49) , and their 16-30 record in Anaheim was easily their worst at any AL ballpark in that span.
The script has been flipped in 2016, though, as the Yankee improved to 6-0 against the Angels in 2016 following Saturday's 5-1 win. With only one game remaining in the season series, they clinched their best single-season winning percentage in franchise history against the Angels. The previous high-water mark was a 10-2 (.833) record in 1980.
The youngsters led the way again with Aaron Judge and Gary Sanchez combining to drive in three of the five runs and Luis Cessa pitching brilliantly in his first major-league start.
Sanchez opened the scoring with a two-out solo homer in the first inning, his sixth time going deep in the majors. The only other Yankee to hit six homers within his first 17 career games was Shelley Duncan (2007).
Judge's two-RBI single in the sixth inning gave the Yankees a nice 5-0 cushion, continuing his success in key situations so far in his brief big-league career. It's a very small sample size, but so far Judge hasn't been fazed by the pressure: he's 5-for-13 (.385) with men on base, 3-for-6 (.500) with runners in scoring position, and 6-for-12 (.500) in medium/high-leverage at-bats.
Cessa became the latest Yankee newcomer to take a turn as the star performer, tossing six-plus scoreless innings with three hits allowed and five strikeouts. He is just the second Yankee in the last two decades to pitch at least six scoreless innings and win in his first career start, joining Jose Contreras in 2003.
The elusive third win
After outscoring the Angels 12-1 in dominating the first two games of this series, the Yankee bats went limp in the finale on Sunday afternoon, getting blanked 2-0. Amazingly, the Yankees have yet to sweep a three-game set this season (although they do own a pair of four-game sweeps).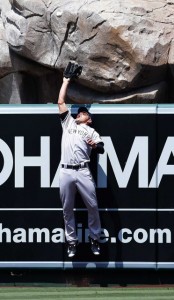 The loss snapped a seven-game win streak over the Angels dating back to last season, which was tied for their longest win streak in the history of this series (they also won seven in a row spanning the 1980-81 seasons).
The Yankees wasted a strong performance by rookie Chad Green, who took the loss despite throwing six innings of one-run ball. He is the only Yankee starter ever to lose a game against the Angels while allowing no more than one run and five baserunners. In fact, no Yankee had done that against any team in nearly two years (Michael Pineda on Sept. 5, 2014 vs. Royals).
The Yankees miserable trend of failing to hit in the clutch continued as they went 1-for-7 with men in scoring position. They are now batting .228 with RISP this season, which would be their worst mark since 1969 (.224).