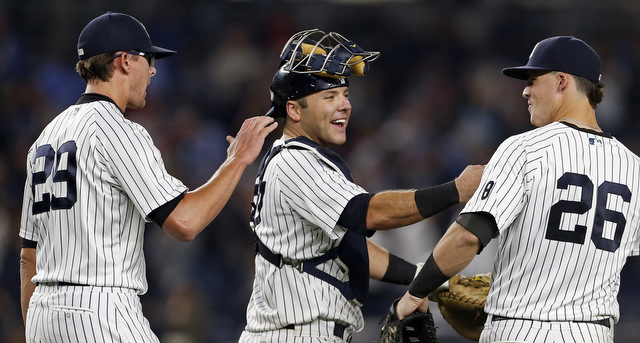 There are five games left this season and the Yankees are currently 81-76, so we know they won't have a losing record this season. With one more win, No. 82 of the season, the Yankees will clinch a winning record for the 24th (!) straight season. That would be the second longest streak in history, behind the 1926-64 Yankees, who did it in 39 straight seasons. Crazy.
Of course, the Yankees also need a win to keep their faint postseason hopes alive. Things broke their way last night — they won and the Orioles lost — and they need that to happen again tonight. Any combination of Yankees wins and Orioles losses totaling three these next two nights will make this weekend's series against the O's meaningful. Could be cool. Here is the Red Sox's lineup and here is the Yankees' lineup:
LF Brett Gardner
CF Jacoby Ellsbury
C Gary Sanchez
DH Brian McCann
2B Starlin Castro
SS Didi Gregorius
1B Mark Teixeira
3B Chase Headley
RF Mason Williams
RHP Bryan Mitchell
It's very cool and cloudy in New York today. Windy too. Fall weather, but not the good kind. There's a little bit of rain in the forecast later tonight, but it doesn't look like anything that will impact the game. Tonight's game will begin at 7:05pm ET and you can watch on WPIX. Enjoy the game.
Roster Update: Nick Goody has left the team and returned home to attend to a family issue, according to Chad Jennings. His locker is cleaned out, so it seems like he's done for the year. Hope everything's okay at home.