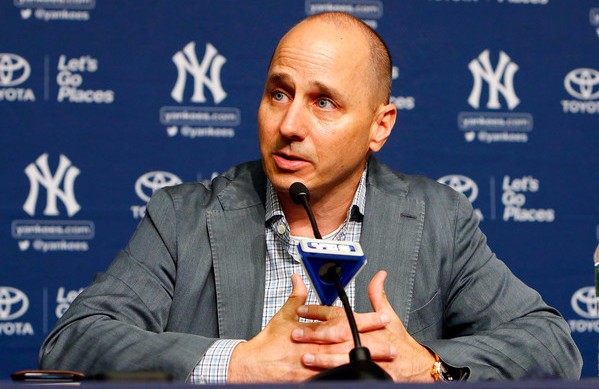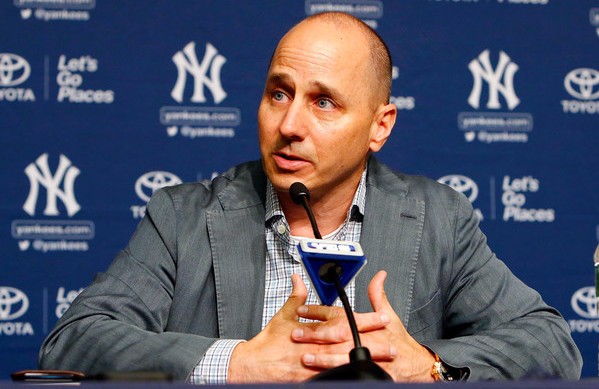 Brian Cashman held his annual end-of-season press conference this afternoon, and while it brought no major news, he did mention some important stuff. Here's a quick recap:
Sabathia having knee surgery. CC Sabathia is having a "routine cleanup" on his troublesome right knee at some point soon. This has been planned for weeks and it's not a serious concern.
Higashioka going on 40-man. Kyle Higashioka will be added to the 40-man roster, Cashman confirmed. Higashioka had a big year in Double-A and Triple-A and forced the issue. He was due to become a minor league free agent after the season.
Kaprielian healthy, still trying for AzFL. James Kaprielian is healthy and pitching at max effort, and if all goes well in Instructional League, he'll report to the Arizona Fall League. He's officially not on the AzFL roster right now. The league's website is not correct.
Several players on waivers. Without saying who, Cashman acknowledged the Yankees have started their 40-man roster cleanup and placed several players on waivers. We'll find out the results soon.
I'll have a full recap of Cashman's press conference tomorrow. This is only the important stuff.
Update: Both Kirby Yates and Blake Parker were claimed off waivers by the Angels, the Yankees announced. Also, Anthony Swarzak elected free agency rather than accept an outright assignment to Triple-A. So those are the waiver moves Cashman talked about.