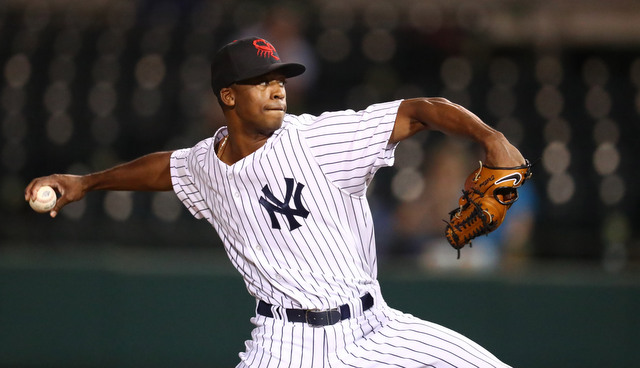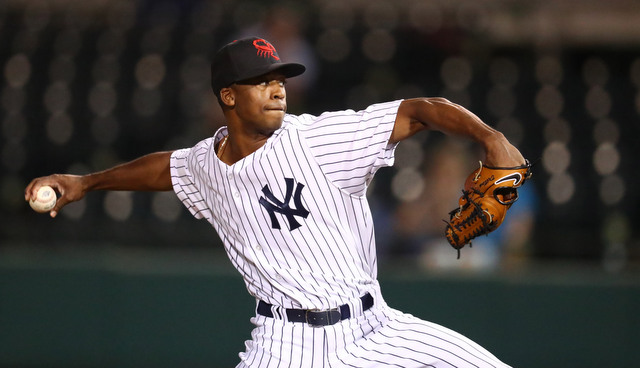 Dillon Tate | RHP
Background
Tate, 22, was born and raised in Southern California, and he attended Claremont High School in the Los Angeles suburbs. He earned all sorts of baseball and academic honors, and during the summers he trained at MLB's Urban Youth Academy in Compton.
Baseball America ranked Tate as the 79th best prospect in California and 391st best prospect overall in the 2012 draft class. Their scouting report said he "could develop into an impact prospect" in college, and noted there were "scouts who regard him as a sleeper worth gambling on inside the top 10 rounds this year."
Despite that praise, Tate went undrafted out of high school and wound up at UC Santana Barbara. He rarely pitched as a freshman — four games and three innings, that's it — before pitching for the Urban Youth Academy Barons of the California Collegiate League in the summer. Tate threw another 32.2 innings in the CCL. He told Grace Raynor he vowed to himself that summer to become a first round pick after watching the 2013 draft on television.
As a sophomore in 2014, Tate took over as the Gauchos' closer and pitched to a 1.45 ERA with 46 strikeouts and 17 walks in 43.1 innings. He was among the finalists for the National Collegiate Baseball Writers Association Stopper of the Year award as the nation's top reliever. Tate pitched for Team USA in the summer and was ranked the fifth best prospect on the team by Jim Callis, one spot ahead of James Kaprielian.
UCSB moved Tate into the rotation his junior year and he took over as the staff ace, throwing 103.1 innings of 2.26 ERA ball. He struck out 111 and walked 28. Because he'd thrown more innings than ever before, Tate started to wear down late in the season and the Gauchos had to lighten his workload. He was named a semifinalist for the Golden Spikes Award as college baseball's best player.
Prior to the 2015 amateur draft, Baseball America ranked Tate as the third best prospect in the draft class behind Brendan Rodgers and Dansby Swanson. MLB.com and Keith Law (subs. req'd) both ranked Tate as the fifth best prospect available. The Rangers selected him with the fourth overall pick — he was the first pitcher selected in 2015 — and signed him to a $4.2M bonus.
The Yankees acquired Tate and two others from the Rangers in the Carlos Beltran deal at the 2016 trade deadline.
Pro Career
Because he threw so many innings at UCSB last spring, the Rangers took it very easy on Tate following the 2015 draft. They assigned him to the short season Northwest League and Low-A South Atlantic League. He appeared in only six games and threw only nine innings after signing, during which he allowed one run on three hits and three walks while striking out eight.
Texas sent Tate back to Low-A to start this season, and after two dominant starts (10.2 IP, 9 H, 1 R, 0 ER, 1 BB, 16 K), he was placed on the disabled list with a right hamstring strain. It sidelined him for nearly three weeks. Tate struggled when he returned and he never really got going. He allowed 19 runs on 23 hits and seven walks in his first five games and 13 innings back. Yikes.
At the time of the trade Tate had a 5.12 ERA (4.37 FIP) with mediocre strikeout (19.0%) and walk (9.3%) rates in 65 innings. The Yankees moved him to the Low-A Charleston bullpen immediately and had minor league pitching coordinator Danny Borrell work on his mechanics. Tate had a 2.95 ERA (3.62 FIP) with 17.9% strikeouts and 8.3% walks in 18.1 relief innings with the RiverDogs after the trade.
The Yankees sent Tate to the Arizona Fall League after the season for more innings. He had a 3.86 ERA (5.21 FIP) in six relief appearances and 9.1 innings with the Scottsdale Scorpions before reaching his innings limit and being shut down, according to Randy Miller. On the bright side, his small sample size strikeout (29.7%) and walk (2.7%) rates were excellent.
Scouting Report
There are essentially two scouting reports on Tate. The good scouting report has him sitting mid-90s and topping out at 98 mph with his fastball, and backing it up with a killer upper-80s slider and a promising changeup. The bad scouting report has his fastball in the upper-80s/low-90s with a sweepy breaking ball and generally inconsistent secondary pitches.
The good version of Tate existed prior to the hamstring injury. The bad version showed up after his early season disabled list stint. Reports indicate Tate's stuff bounced back by time he got to the Arizona Fall League, which is promising. His velocity was more consistent in a relief role with the Yankees. That's for sure. The changeup looked good too.
Even when he's at his best, Tate's fastball is pretty straight, so there's some concern he'll be homer prone against advanced hitters. The Yankees could try teaching him a two-seamer or sinker, though that's easier than it sounds. Learning how to locate a pitch that moves unlike anything you've thrown before takes time.
Tate is listed at 6-foot-2 and 215 lbs., and he's very athletic with a repeatable delivery, generally speaking. His tempo was out of whack for much of the year however, and that's what the Yankees worked to fix. And for what it's worth, Tate's a really bright kid who did well in school. The good version of him is really, really good. The bad version might not get out of Double-A.
2017 Outlook
Brian Cashman told Randy Miller the Yankees are planning to move Tate back into the rotation next season. "(His velocity) has been good since we got him. We kind of let him go back to some of his mechanical ways before they made changes with him in Texas, and the velocity came back," said the GM.
My guess is Tate will open next season with High-A Tampa, and if he does well, the Yankees figure to move him up to Double-A fairly quickly. There's some thought he could reach the show as soon as next season if the team moves him to the bullpen full-time, but I think it's way too soon to do that. Give him a chance to start with your coaches and instructors first.
My Take
The Yankees were really smart to buy low on Tate in the Beltran trade. He was a top prospect coming into the season — MLB.com (36th), Keith Law (50th), Baseball Prospectus (59th), and Baseball America (69th) all ranked him as a top 100 prospect in the spring — and the Yankees were able to get him (and two others!) for a rental DH. Had he suffered an arm injury in April instead of the hamstring, things might be a little different, but his arm's healthy.
Now, that said, the Yankees took a pretty big risk here. Tate may not be fixable — the early returns suggests he's getting back on track, so hooray for that — and even if he does get back to where he was last year, he still may only be a reliever long-term. A really good reliever, but still a reliever. He was definitely a worthwhile pickup though. The Yankees have a ton of depth in the farm system are in position to roll the dice on a talented player like Tate.