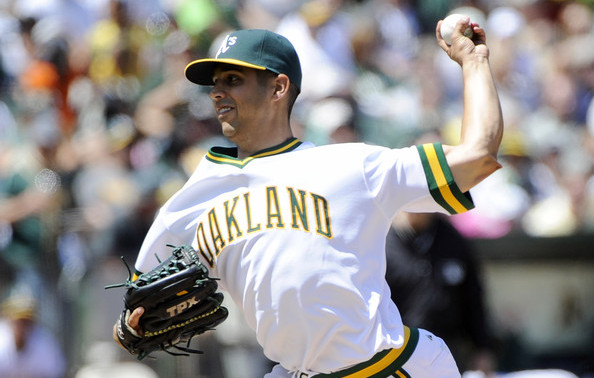 December is a wonderful month for baseball rumors. It's also a terrible month for baseball rumors. The first half of December is usually insane, thanks largely to the annual Winter Meetings. Then, around the holidays, things die down completely and it's total silence for, like, two weeks. So it's a big rush of rumors and then … nothing.
Our MLBTR Archive series now takes us to December 2011. The Yankees signed CC Sabathia to an extension back in October, before he could use his opt-out, but they still needed to add pitching. They managed to win 97 games with a rotation held together by Bartolo Colon and Freddy Garcia in 2011, and no one wanted to bank on them doing it again in 2012. Let's dive into the December 2011 rumors.
December 1st, 2011: AL East Notes: Valentine, Wilson, Howell, Johnson
The Yankees turned down a request by C.J. Wilson's agent for a visit to Yankee Stadium, reports ESPN New York's Andrew Marchand.  That's not a good sign for Wilson's chances of signing with the Bombers, which Marchand believes are "less than five percent."
At the time, I thought Wilson was a really nice fit for the Yankees. Lefties who can miss bats and get ground balls tend to mix well with Yankee Stadium. There were some silly off-the-field concerns with Wilson — he was pretty active on social media and folks thought that wouldn't go over well in New York — but mostly the Yankees didn't want to commit huge dollars to another pitcher after extending Sabathia. Declining a visit to the ballpark though? Geez. I guess the Yankees didn't want Wilson and his agent to use them to drive up their price.
December 2nd, 2011: Heyman On Braves, Wilson, Reyes, Astros, Minaya
The Yankees have looked at free agent left-hander Mike Gonzalez.
There was a time, between Mike Stanton and Boone Logan, in which the Yankees were completely unable to find a reliable lefty reliever. Whenever a southpaw popped up around the league and had a modicum of success, he was instantly connected to the Yankees in trade talks. Damaso Marte? Gotta have him. Scott Downs? Get him too. Brian Fuentes? Eddie Guardado? B.J. Ryan? Bring 'em all to me.
Mike Gonzalez was that guy for me. He was phenomenal for the Pirates from 2004-06 (2.08 ERA and 2.58 FIP) before landing in Atlanta in 2007 (1.59 ERA and 3.12 FIP). Gonzalez had some ups and downs from 2008-11, and by time free agency rolled around following the 2011 season, he was coming off a year with a 4.39 ERA (4.11 FIP). The Brewers signed him that offseason, he pitched to a 4.68 ERA (4.87 FIP) in 2012, and that was it. Never pitched in MLB again. Gonzalez was my white whale for a few years. I wanted him in pinstripes so bad. Alas.
December 3rd, 2011: Six Teams Pursuing Luis Ayala
There are six teams in on free agent reliever Luis Ayala, tweets Jim Bowden of ESPN XM radio, including the Mets, Yankees, Rays, Blue Jays, Angels and Red Sox.
The Yankees did a nice job finding Ayala during the 2010-11 offseason. The former Expos setup man had missed a few years with injury, and he was trying to get himself noticed in winter ball that offseason, which is when the Yankees saw him. They gave Ayala a minor league deal and he rewarded them with a 2.09 ERA (4.19 FIP) in 56 middle relief innings. Not too shabby, eh?
After that 2011 season, I remember saying the Yankees should let Ayala walk because he was 34 with a history of arm problems, and I prefer to let guys like that go a year too early rather than a year too late. It was a year too early. The Orioles signed Ayala to a one-year contract and he threw 75 innings of 2.64 ERA (3.67 FIP) ball in 2012. Womp womp. Middle relief wasn't the problem with the 2012 Yankees anyway.
Ayala broke down following his first season with the Orioles and hasn't pitched in the big leagues since 2013. He is still active though, believe it or not. He had a 3.56 ERA in 43 innings for a pair of Mexican League teams in 2016.
December 5th, 2011: White Sox Have Big Demands For Danks, Floyd
The White Sox are asking for big returns for starters John Danks and Gavin Floyd, tweets Joel Sherman of the New York Post.  The Yankees like Danks, tweets SI's Jon Heyman, but they're unwilling to meet Chicago's request of top prospects Manny Banuelos and Jesus Montero.  In fact, Heyman says the Yankees wouldn't trade either for Danks.
At the time, Danks was only one year from free agency, so trading Banuelos or Montero for him would have been nuts. He was good (3.77 ERA and 3.89 FIP from 2008-11) but you can't trade one of the best prospects in baseball (at the time) for one year of a guy like Danks. The White Sox didn't trade Danks and instead signed him to a five-year extension worth $65M later in December.
Danks pre-extension: 4.03 ERA (112 ERA+) and 4.14 FIP in 917.2 innings
Danks since extension: 4.92 ERA (81 ERA+) and 4.83 FIP in 585.2 innings
He blew out his shoulder capsule nine starts into the 2012 season, year one of that five-year contract, and hasn't been the same since. Pitchers, man.
December 6th, 2011: AL West Rumors: Bailey, Jackson, Gonzalez, Rangers
The Athletics are looking for young, high-upside outfielders in any Gio Gonzalez trade, tweets Joel Sherman of the New York Post. The Yankees may have to consider a three-team deal if they want to acquire the lefty, since they don't have any outfielders in the high minors that fit that bill.
The Yankees had some high upside outfield prospects at the time — Mason Williams, Ravel Santana, and Slade Heathcott were all among their top ten prospects at the time, according to Baseball America — but they were all in the very low minors. Not the kind of guys who could headline a package for a good young pitcher like Gio.
Of course, the A's wound up getting no outfielders in the Gonzalez trade later that offseason. They received a catcher (Derek Norris) and three pitchers (A.J. Cole, Tommy Milone, Brad Peacock) from the Nationals, so maybe the Yankees didn't need outfielders to get it done. Seems like the Athletics determined they weren't going to get the outfielders they wanted, so they took what they considered the best possible package. And as is often the case with the A's nowadays, that package was more quantity than quality.
December 6th, 2011: Nationals Center Field Rumors
The Yankees shot down the Nationals' attempts to trade for Brett Gardner, according to Pete Kerzel of MASNSports.com.
The Nats were just starting to rise to prominence at that time. They went 69-93 in 2010 but had some good young players. Then, in 2011, they made the jump to 80-81. It looked like they were ready to take another step forward in 2012 — and they did, they went 98-64 that year — but they needed a new center fielder. Rick Ankiel was their primary center fielder in 2011 and he stunk. Great story, below-average player.
Gardner, who was only 27 at the time and three years from free agency, hit .259/.345/.369 (97 wRC+) in 2011 while playing his usually strong defense. It's not a shock the Nationals walked him. The Yankees wouldn't budge and Washington never did acquire a center fielder that offseason. They started the 2012 season with Ankiel in center field before deciding to make a change in April, when they called up a young prospect named Bryce Harper. Worked out well, I'd say.
December 7th, 2011: Cashman: "I Think It's Going To Be Hard To Add"
Yankees GM Brian Cashman told Jack Curry of the YES Network that he's not optimistic about making a trade or signing a free agent (Twitter link). Said Cashman, "I think its going to be hard to add."
Didn't Cashman say pretty much the same thing at the Winter Meetings last week? Well, no, not exactly now that I look back through the archives, but close enough. From Wednesday's Winter Meeting open thread:
11:00am: Cashman reiterated he doesn't expect to land a starter at the Winter Meetings. "I don't anticipate it. It's a tough market and the price tags are extremely high. We could play on a lot of things because we have a lot of prospects people desire and we desire them, too. I would say it's less likely for us to acquire a starter," said the GM. [King]
Close enough. Every offseason Cashman seems to say he doesn't expect to do something. He said it last offseason. It's just one of those things GMs say. The Yankees did end up doing something during the 2011-12 offseason, but not until later in the winter. This was the Michael Pineda trade/Hiroki Kuroda signing offseason.
December 7th, 2011: Yankees Willing To Assume $8MM In Burnett Trade
The Yankees will listen to offers for starter A.J. Burnett, reports George A. King III of the New York Post, and they're willing to assume $8MM of the $33MM owed to him for 2012-13. 
The Yankees wound up eating $20M of the $33M left on Burnett's contract. Eating only $8M of that contract was a pipe dream given how poorly Burnett pitched from 2010-11. Still, saving $13M is better than nothing. If not for the 2009 World Series, the Burnett signing would have gone done as one of the team's worst in recent history. No doubt about it. Flags fly forever though.
December 8th, 2011: Overnight Links: Wise, Gonzalez, Fielder, Rule 5
The Yankees are discussing a minor league deal with outfielder Dewayne Wise, according to Ken Rosenthal of FOX Sports (on Twitter).
The Yankees did eventually sign Wise to a minor league deal. He started the year in Triple-A Scranton, and, not so fun fact: he was the guy the team called up when Mariano Rivera blew out his ACL on the Kauffman Stadium warning track. The Yankees were carrying eight relievers at the time and Nick Swisher was banged up, which is why they called up Wise and not another arm.
Anyway, the thing I remember most about Wise's tenure with the Yankees was his non-catch in the stands along the left field foul line:
Ah yes, the good ol' pre-instant replay days, when umpires could be lazy as hell and teams had no recourse. At least now there's some more accountability.
Wise went 16-for-31 (.262) with three homers in only 63 plate appearances with the Yankees in 2012. He got called up when Rivera got hurt and released when the Yankees traded for Ichiro Suzuki. His short stint in pinstripes was bookended by two future Hall of Famers.
December 8th, 2011: Angels Want Pujols And Wilson
ESPN's Buster Olney says that the Yankees are not the mystery team that's trying to set up a Pujols deal (Twitter link). That makes sense, given that Mark Teixeira has a full no-trade clause in his contract.
There was a "the Yankees are the mystery team on Albert Pujols!" conspiracy theory going around five years that never really made sense. The Yankees did have an opening at DH, so they could have stuck Pujols there, but why would you spend so much on a DH? Especially when there was a very good chance Alex Rodriguez — or even Teixeira — would need to finish his contract at DH? The Yankees signing Pujols was a fun idea that never made a lick of sense.
By the way, checked out that MLBTR headline. "Angels Want Pujols And Wilson." Well, they got them. The Halos have paid those two a combined $175M over the last five years for +17.4 fWAR and +19.9 bWAR. They still owe Pujols another $140M over the next five years too. Goodness.
December 8th, 2011: 2011 Rule 5 Draft Results
5. Royals take Cesar Cabral from Red Sox; traded to Yankees for cash.
29. Yankees take Brad Meyers from Nationals.
The Yankees haven't made a Rule 5 Draft pick since taking Meyers from the Nats. He hurt his shoulder during an offseason workout soon after the Rule 5 Draft and didn't pitch at all in 2012. The Yankees eventually returned him to Washington. Meyers spent the 2013-14 seasons with the Nationals and an an independent league. He hasn't pitched at all since 2014.
Cabral, on the other hand, very nearly made the Yankees out of Spring Training in 2012. He broke his elbow at the end of March though, and missed the entire season. That opened the door for Clay Rapada to make the Opening Day roster. The Yankees kept Cabral on the 40-man roster during the 2012-13 offseason, rehabbed him, and once he got healthy, they were able to outright him to Triple-A and keep him in the organization. The Red Sox, his original team, didn't take him back.
As a September call-up in 2013, Cabral struck out six of the nine left-handed batters he faced, and seemed to be putting himself in position for a 2014 bullpen job. It never came together. The Yankees released Cabral after his infamous three hit batsmen appearance against the Rays in April 2014. Cabral did get back to the show with the Orioles in 2015, and he spent the entire 2016 season in their farm system. He's still only 27, and since he's left-handed, I'm guessing he'll be able to hang around for a few more years.
December 8th, 2011: AL East Notes: Eyre, Jeroloman, Golson, Miller, Rays
The Yankees are close to signing former Indians prospect Adam Miller to a minor league deal, tweets Sherman. Miller ranked among Baseball America's top 100 prospects for five straight years from 2005 to 2009.
I was irrationally excited about the Miller signing. He was once a top pitching prospect — Miller topped out at No. 16 on Baseball America's top 100 list in 2004 — whose career was derailed by injuries. Not shoulder or elbow injuries though. Miller had all sorts of ligament and tendon problems in his right middle finger that required surgery and other treatment. His finger now hooks at the end because he can't fully extend it: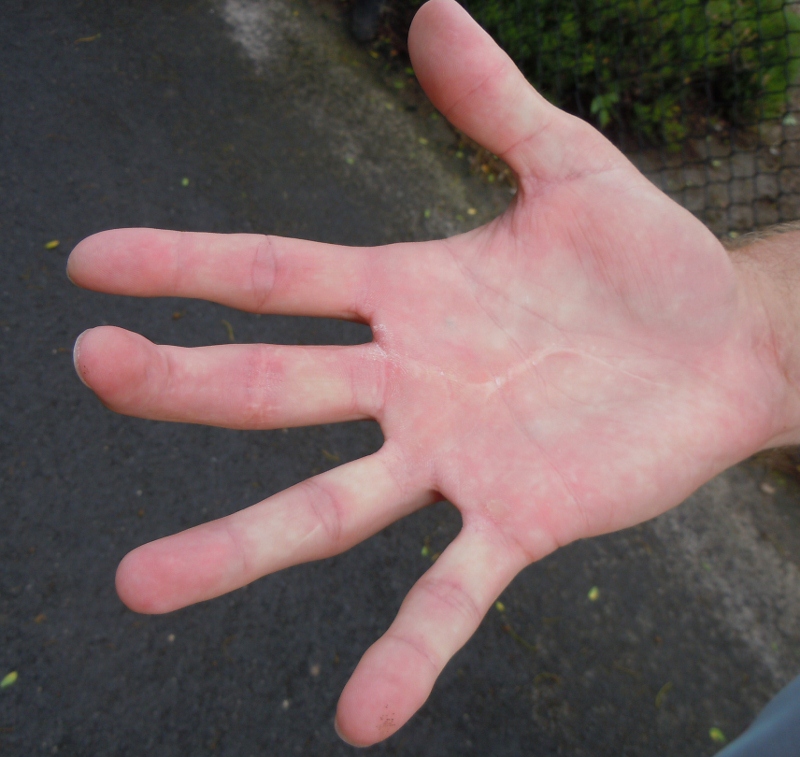 Miller was unable to grip the ball properly with the hook and he lost the hellacious breaking ball that once made him one of the game's top pitching prospects. He had a 4.96 ERA (4.15 FIP) in 49 innings between Double-A and Triple-A with the Yankees in 2012. Miller was still active as recently as 2015, though it doesn't appear he pitched anywhere this past season. Sucks. Poor guy spent all those years as a top prospect and was never called up to the big leagues. He didn't get that affordable health care for life.
December 9th, 2011: Yankees Haven't Made Offer To Hiroki Kuroda
9:59am: While no offer has been made, the Yankees indeed "like Kuroda very much," according to Jon Heyman of MLB Network (Twitter link). 

8:13am: The Yankees have offered Hiroki Kuroda a one-year contract worth approximately $12MM in U.S. dollars, reports Japanese news outlet Sponichi (passed on by Mike Axisa of River Ave Blues).
This was the first time we heard the Yankees connected to Kuroda that offseason. I was a huge fan and wrote a bunch about trying to get him in the previous months. I was hoping the Yankees could swing a trade to get him at the 2011 trade deadline, but alas, Kuroda said he was unwilling to waive his no-trade clause and leave his family.
Anyway, the Yankees shot down that Sponichi report — I rarely pass along those overseas reports I have to run through Google Translate now because I got burned by this Kuroda rumor — but did eventually sign Kuroda later in the offseason. He got $10M, not $12M. That one worked out well, I'd say.
December 9th, 2011: Minor Moves: Bianchi, Threets, Gallagher, Atilano
The Yankees have designated Colin Curtis for assignment, tweets MLB.com's Bryan Hoch.  The move creates space on New York's 40-man roster for Freddy Garcia, whose signing was made official today.  Curtis, a fourth-round draft pick in 2006, has 64 Major League plate appearances to his name.
Colin Curtis! He was part of New York's great 2006 draft class, which produced ten big leaguers, including seven with staying power: Ian Kennedy (first round), Joba Chamberlain (supplemental first), Zach McAllister (third), Colin Curtis (fourth), George Kontos (fifth), Dellin Betances (eighth), Mark Melancon (ninth), Daniel McCutchen (13th), David Robertson (17th), and Kevin Russo (20th). Nearly +60 bWAR worth of players right here.
Anyway, Curtis had a few stints with the Yankees in 2010. He hit his only career home run as a replacement for Brett Gardner, who was ejected in the middle of an at-bat for arguing balls and strikes. Curtis came off the bench and socked a dinger.
About a week later Curtis had a hand in that insane comeback against the Dodgers, when the Yankees broke Jonathan Broxton.
This game
. Curtis actually drove in the game-tying run with a ground ball. A shoulder injury sidelined him during the entire 2011 season, so he was never called up that year. Curtis split 2012 between Triple-A Scranton and an independent league, and he hasn't played since.
December 10th, 2011: Yankees Win Rights To Hiroyuki Nakajima
11:34am: The Yankees won the bid for about $2MM, tweets Jon Heyman.  Noting Nakajima's preference to play for a West Coast team, Rosenthal wonders if he'll be willing to be a utility player for the Yankees.

Oh man, I forgot about Hiroyuki Nakajima. He was 29 at the time and coming off a season in which he hit .297/.354/.433 with 16 home runs and 21 steals for the Seibu Lions. It was a surprise when the Yankees won his negotiating rights with a $2M bid. Most expected him to fetch more.
Contract talks did not go well. The Yankees saw Nakajima as a utility infielder and wanted to pay him accordingly. Also, they wanted six full years of control through pre-arbitration and arbitration, like most players. Nakajima's camp balked and there was some talk of a sign-and-trade, but that never happened. He returned to Seibu for another year, hit .311/.382/.451 in 2012, then signed a two-year deal worth $6.5M with the Athletics as a true free agent during the 2012-13 offseason.
In his two seasons with the A's, Nakajima never made it out of Triple-A, and hit .267/.326/.356 in 175 minor league games during that two-year deal. Seems the Yankees were right about him being nothing more than a utility guy. Nakajima returned to Japan after his contract with the A's expired. He hit .290/.346/.439 with eight homers for the Orix Buffaloes in 2016.
I remember folks saying the contentious negotiations with Nakajima would hurt the Yankees in the future because no Japanese player would want to sign with them. L-O-L. As if this was the first contract negotiation to turn ugly. They're the Yankees. No agent in their right mind would allow their client to rule the Yankees out as a potential landing spot because the club's pockets are so deep.
December 14th, 2011: Bidding Period For Yu Darvish Ends
The Yankees' bid is modest, according to Jon Heyman of CBSSports.com (on Twitter). Indications are the winning bid is "sky high."
Eventually word got out the Yankees bid somewhere close to $20M. The Rangers bid $51.7M, which reportedly blew everyone else out of the water. They had the high bid by a mile. The Yankees supposedly had some concerns about Darvish and New York, which I thought was kinda silly. The guy was a rock star in Japan. He was used to the attention. And, of course, he's shown he can thoroughly dominate MLB hitters these last few years. Me thinks the Yankees would like a do over on Darvish. Their evaluation was off the mark.
December 22nd, 2011: Indians, Others Have Inquired On Nick Swisher
The Indians are one of several clubs that has called the Yankees about Nick Swisher, according to Ken Rosenthal of FOX Sports. Cleveland GM Chris Antonetti, a finalist for free agent Carlos Beltran, is also considering trades to improve his club's offense. 
The Yankees never did trade Swisher that offseason and it wouldn't have made sense anyway. The Yankees were still a legitimate contender at the time and he was one of their most productive players. It's not like the team had a young right fielder waiting in the wings.
The Swisher acquisition goes down as one of the best moves of the Cashman era. Here's the timeline:
November 13th, 2008: Yankees acquire Swisher and Kanekoa Texeira from the White Sox for Wilson Betemit, Jeff Marquez, and Jhonny Nunez.
2009-12: Swisher hits .268/.367/.483 (128 wRC+) and averages 26 homers and 150 games played per season. The Yankees paid him $31.6M for +14.6 fWAR and +11.5 bWAR.
2013: Swisher declined the qualifying offer and the Yankees used the compensation draft pick to select Aaron Judge.
All transactions should work out that well.
December 23rd, 2011: AL East Links: Red Sox, Blue Jays, Jones Beltran
The Yankees considered pursuing Carlos Beltran earlier this offseason according to Bob Klapisch of The Bergen Record (on Twitter), but ultimately decided against it because of his balky knees.
The Yankees during the 2011-12 offseason: We can't sign Beltran because his knees are too risky.
The Yankees during the 2013-14 offseason: Okay fine here's a three-year contract.
The Beltran signing worked out about as well as the Yankees could have hoped considering his knees were still a concern and he was about to turn 37. Too bad they only played one postseason game during his three years in pinstripes, though that's not Beltran's fault.
December 28th, 2011: Yankees To Sign Hideki Okajima
The Yankees agreed to a minor league deal with reliever Hideki Okajima, tweets David Waldstein of the New York Times.  Earlier, Sports Hochi in Japan reported talks between the two parties were in the final stages and a deal could be reached shortly after the new year (as translated by NPB Tracker's Patrick Newman).
The token ex-Red Sox signing of the offseason. Okajima never actually played with the Yankees though. He failed his physical in Spring Training and was released. Okajima spent the 2012 season in Japan, tried one last time to make MLB work with the Athletics in 2013, then returned to Japan for the 2014-15 seasons. He's retired now.
December 28th, 2011: Yankees Notes: A-Rod, Nakajima, Chavez, Andruw
Third baseman Alex Rodriguez recently traveled to Germany for an experimental therapy called Orthokine on his right knee, reported Mike Puma of the New York Post.  Orthokine is similar to Platelet Rich Plasma therapy, which reliever Takashi Saito had done several years ago.  The procedure, which was recommended by Kobe Bryant, came with the blessing of the Yankees and the commissioner's office.  Puma explains, "Orthokine involves taking blood from the patient's arm and spinning it in a centrifuge, a machine used in laboratories to spin objects around a fixed axis. The serum is then injected into the affected area."  Yankees GM Brian Cashman told reporters the procedure was done on Rodriguez's left shoulder as well.  For more on the topic, check out this article from Teri Thompson and Christian Red of the New York Daily News.
Oh man, A-Rod's experimental knee procedure was a Very Big Deal at the time, even though the Yankees and MLB both approved the treatment. A-Rod haters were convinced he was doing something against the rules. They said it was some kind of German super-PED. The internet tells me the difference between PRP and Orthokine involves the cells being isolated. PRP isolates red blood cells. Orthokine isolates white blood cells to produce a natural anti-inflammatory. The Yankees and MLB gave Rodriguez the okay, but it didn't matter, there were many folks convinced it was somehow illegal.
December 30th, 2011: Olney's Latest: Yankees, Ethier, Angels, Blue Jays
The Yankees have "quietly checked around" on possible right field alternatives to Nick Swisher as they prepare for his possible free agent departure after next season.
I was a big Nate Schierholtz guy. He was my idea for a long-term right fielder post-Swisher. Schierholtz hit .278/.326/.430 (112 wRC+) with nine homers in 362 plate appearances with the Giants in 2011, but there was some bad blood between him and the team over playing time, so they put him on the trade block. He was only 27 at the time and had three years of control left, so I figured he could help the Yankees as a part-time outfielder/part-time DH in 2012 before taking over in right field in 2013. Didn't happen. Schierholtz bounce around a bit, hit 21 homers with a 109 wRC+ for the 2013 Cubs, and has spent time in Japan too. The Tigers stashed him in Triple-A all of this past season.
December 30th, 2011: Yankees Agree To Sign Andruw Jones
The Yankees and Andruw Jones have agreed to a one-year deal with a $2MM base salary and $1.4MM in incentives, reports Jon Heyman of CBSSports.com (Twitter links). The deal is pending a physical. The Yankees have a full 40-man roster and will need to clear a spot once the signing becomes official.
Jones was awesome for the Yankees in 2011, hitting .247/.356/.495 (132 wRC+) with 13 homers in 222 plate appearances. That includes a .286/.384/.540 (152 wRC+) batting line against lefties. For some reason, I'll always remember Andruw drawing a 14-pitch walk with one out to start the Yankees' go-ahead rally in the seventh inning of this game, Jesus Montero's debut:
Andruw's second season in pinstripes didn't go nearly as well as the first. He hit .197/.294/.408 (89 wRC+) overall and .202/.294/.411 (88 wRC+) against lefties. Jones never played in MLB after that 2012 season. He went to Japan for a few years and will make his first appearance on the Hall of Fame ballot next year. I'm pretty sure I'd vote for him. Andruw was arguably the greatest defensive outfielder in history, and he hit over 400 homers. Borderline for sure considering he was done as an everyday player at 30, but I think I'd vote for him.