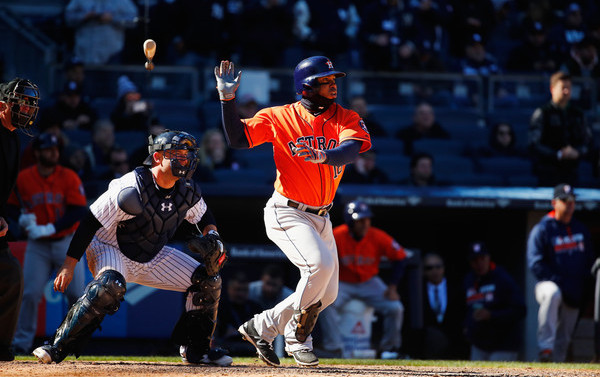 Now that we're in January, the bargain-hunting period of the offseason has begun. Teams use these last few weeks before Spring Training to round out their rosters, and lots of free agents, especially the second and third tier guys, start to get antsy the longer they remain unemployed. That can lead to some nice value signings, the kind of signings that can be the difference in a division or wildcard race.
The Yankees are fairly well set on the position player side at the moment. A Brett Gardner trade or especially a Chase Headley trade would throw a wrench into things, but since those two are still Yankees, it's not a problem at the moment. The only realistic spot to look for an upgrade is the bench, and even then New York has several young players who could fill out the roster, such as Rob Refsnyder.
If the Yankees are willing to go out into free agency to add another bench or platoon player, a possible target is former Astros third baseman Luis Valbuena, who remains unsigned even though the free agent infield market was so weak this winter. Justin Turner and Neil Walker were fair and away the best available non-first base infielders and both returned to their former teams. Valbuena is still out there. Does he make sense for the Yankees? Let's break it down.
Offensive Performance
Valbuena, who turned 31 in November, finally settled in as a starting player the last three years after bouncing around earlier in his career. From 2014-16, his three seasons as a starter, he's hit .243/.334/.442 (115 wRC+) with a 21.7% strikeout rate and an 11.5% walk rate. He's averaged 27 doubles and 22 homers per 150 games during those three seasons.
Before a hamstring injury ended his season in July, Valbuena managed a .260/.357/.459 (123 wRC+) batting line with 13 homers in 90 games. His strikeout (23.7%) and walk (12.9%) rates were right where they normally sit. Most importantly, Valbuena's quality of contact has remained steady. No spike in ground balls or increase in soft contact. Nothing like that. Via FanGraphs: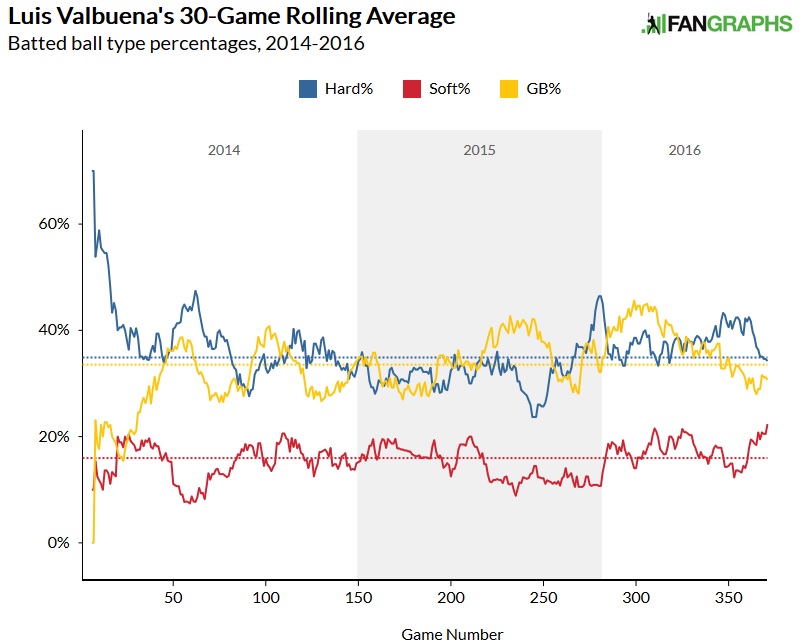 Valbuena is, quite simply, a left-handed pull hitter who hits the ball in the air quite often. His 46.7% pull rate is 23rd highest among the 235 players to bat at least 1,000 times over the last three seasons, on par with guys like Brandon Moss (47.0%) and David Ortiz (46.2%). Also, his 33.6% ground ball rate is eighth lowest among those 235 batters. Dude hits lots of fly balls to right field.
I needn't tell you what happens when a left-handed hitter pulls the ball in the air at Yankee Stadium. We've seen some players change their approach in an effort to take advantage of the short porch over the years, most notably Mark Teixeira, but Valbuena doesn't have to change anything. His natural swing produces fly balls to right field. Here are his last two seasons with the Astros, via Baseball Savant: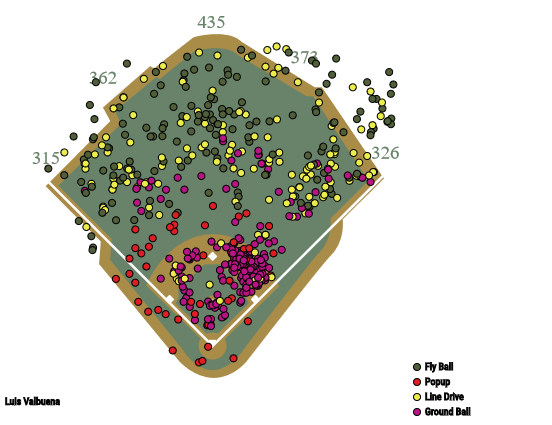 There are some opposite field dingers in there and that's cool, but yeah, it seems Valbuena and the short porch would get along well. He's basically unplayable against southpaws — Valbuena has hit .253/.344/.473 (126 wRC+) against righties and .206/.299/.335 (79 wRC+) against lefties the last three years — but a left-handed platoon player with pull power and lots of walks is a nice little role player.
Baserunning is part of offense too, and it's important to note Valbuena is a net negative on the basepaths. He doesn't steal bases (4-for-11 in attempts since 2013) and over the last three years, he's taken the extra base just 30.5% of the time. That's going first-to-third on a single, things like that. The league average is right around 40%. So, when it comes to creating runs, Valbuena does it by drawing walks and pulling the ball in the air against righties. That's it.
Defensive Performance
Back in the day, Valbuena broke into the big leagues as a shortstop with the Mariners. He then moved to second base and later third base, where he's played almost exclusively since 2012. Valbuena hasn't played short since 2011 and he's played only 210 innings at second since 2012. The Astros had him dabble at first base these last two seasons, but not much (277 innings).
The various defensive stats agree Valbuena is not a good defensive third baseman. Some say he's close to average, others say he's far below that. Here are his last three defensive seasons at the hot corner:
| | Innings | UZR | DRS | FRAA | Total Zone |
| --- | --- | --- | --- | --- | --- |
| 2014 | 971 | -4.9 | -10 | -12.3 | -3 |
| 2015 | 835 | -9.3 | -1 | -4.4 | 1 |
| 2016 | 683 | -0.8 | -1 | +6.2 | -5 |
| Total | 2,489 | -15.0 | -12 | -10.5 | -7 |
Yeah, not great. Valbuena can stand over at third base and fake it at first, maybe even second in an emergency, and that's about it. He'll cost his team runs in the field. So, if he stops hitting homers and drawing walks, there's nothing to salvage Valbuena as a player. He can't contribute in any other way.
Injury History
As I mentioned earlier, a hamstring injury ended Valbuena's season in July last year. He suffered the injury running out a ground ball against the Yankees:
The injury was originally diagnosed as a strain, and during his rehab a few weeks later, Valbuena suffered a setback that required season-ending surgery to repair his hamstring tendon. I can't find any recent updates, but reports at the time of the surgery indicate he's expected to be 100% healthy well before Spring Training.
Aside from the hamstring, Valbuena has had no serious injuries in his career. He missed a month with a right oblique strain in 2013 and that's it. The oblique and hamstring are his only two disabled list stints. The fact Valbuena is coming off surgery right now is a concern, it has to be, but injuries haven't been a chronic problem. The guy pulled him hamstring, pushed his rehab too hard, and suffered a setback. C'est la vie.
Contract Estimates
The Astros did not tender Valbuena the qualifying offer — the hamstring injury put an end to that, I think maybe they would have given him the qualify offer had he stayed healthy — so he's not tied to draft pick compensation. He's a true free agent with no strings attached. Anyway, here are some contract estimates:
Less than I expected! Even with the injury, I feel like plenty of teams could use Valbuena at $7M a year for two years. Of course, third base is loaded around the league at the moment, so the demand might not be there. Based on my quick glance, the Braves and Padres are the only teams that could offer Valbuena their full-time third base gig at the moment. Maybe the Twins too if they commit to moving Miguel Sano to DH.
The hamstring injury and the lack of available third base jobs are the reasons Valbuena remains unsigned, and they could cause him to settle for a smaller than expected contract. I wonder if Valbuena will end up taking a one-year deal worth $6M or $7M, something in that neighborhood. That's Mitch Moreland (one-year, $5.5M), Welington Castillo (one-year, $6M), and Jon Jay (one-year, $8M) territory. Remember, David Freese is a solid third baseman himself, and it wasn't until mid-March that he signed a one-year deal worth $3M last offseason.
Does He Fit The Yankees?
The Yankees were said to be in "ongoing" talks with Valbuena during the Winter Meetings last month, and, at the time, it seemed like they were talking to him as a backup plan in case a Headley trade went down that week. His market has been very quiet since then. The last hard Valbuena rumor at MLBTR involved some interest from the Rays on December 17th. Prior to that it was the Yankees at the Winter Meetings. Yeah.
Okay, so anyway, as it stands, the position player portion of New York's projected 2017 roster looks something like this:
Catcher: Gary Sanchez
First Base: Greg Bird or Tyler Austin
Second Base: Starlin Castro
Shortstop: Didi Gregorius
Third Base: Headley
Outfield: Gardner, Jacoby Ellsbury, Aaron Judge
Designated Hitter: Matt Holliday
Bench: Austin Romine, Ronald Torreyes, Aaron Hicks, Austin or Refsnyder
There's some wiggle room there — Judge could strike out his way to Triple-A during Grapefruit League play, for example — but that seems to be it. Barring a Headley trade, which seems unlikely, Valbuena would fill that "Austin or Refsnyder" spot on the bench. I suppose he could replace Torreyes, which would mean Castro serves as the backup shortstop, but the Yankees didn't like that idea last year.
Is Valbuena a better player than Austin or Refsnyder right now? Almost certainly. In a vacuum, signing him to fill that roster spot makes the Yankees a better team. This isn't a vacuum though. Filling the Austin/Refsnyder spot with Valbuena comes with some consequences, namely:
No fifth outfielder. Austin and Refsnyder have outfield experience, mostly right field but also left, so they're options out there. Valbuena is not. Hicks would be the lone reserve outfielder.
No platoon bat for Bird. Austin or Refsnyder, whoever gets that bench spot, will presumably platoon with Bird at first base, at least against really tough lefties. The Chris Sales and David Prices of the world. Valbuena can't do that as a lefty with platoon issues.
Maybe these are minor considerations. Torreyes has played a tiny little bit of outfield in his career and the Yankees might feel comfortable relying on him as the fifth outfielder since that guy usually only plays the outfield in emergencies anyway. And Bird might not need a platoon partner. The Yankees could force feed him at-bats against southpaws to help him develop.
The Yankees supposedly need to shed salary before making any more additions, so this might all be moot. I like the idea of adding Valbuena on a cheap one-year contract to bolster the bench — he could see time at both corner infield spots as well as DH — but who knows if he'll actually have to settle for a cheap one-year contract. And if he does, would he be willing to be a bench player with the Yankees? The short porch is nice, but other clubs could offer more playing time.
There are some drawbacks to signing Valbuena as well, namely the imperfect roster construction. The Yankees are probably eager to see what Austin can do with more playing time, for example, and Valbuena would cut into that. It's hard not to get excited about Austin's opposite field power at Yankee Stadium. At this stage of the rebuild transition, seeing what a young player can do should take priority over adding a win or maybe two to the bench with someone like Valbuena, shouldn't it?