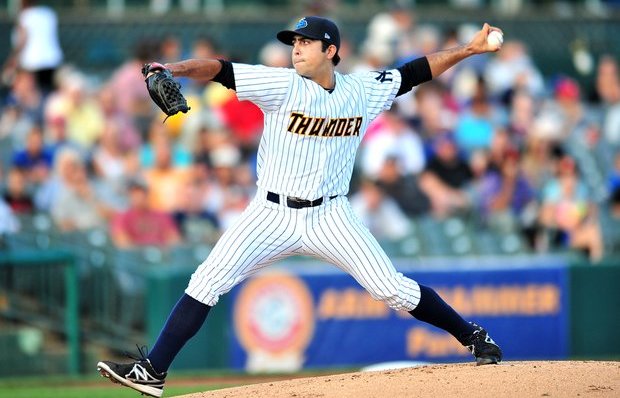 Twelve days from now pitchers and catchers will report to Tampa, and the Yankees will officially open Spring Training. Hooray for that. Earlier this week the Yankees announced their list of 23 non-roster invitees to camp. Some are top prospects (Gleyber Torres, Clint Frazier), some are journeymen (Pete Kozma, Jason Gurka), and others are there just to catch bullpen sessions (Kellin Deglan, Jorge Saez).
As always, some non-roster invitees are more notable than others. Some are flat out surprises. There were no reports the Yankees had re-signed Kozma this offseason, for example, so seeing his name among the non-roster players was a surprise. And, of course, there are always some notable omissions each year. Last spring Tyler Austin did not get an invite to big league camp after being designated for assignment and clearing waivers the previous September. His stock was down. Way down.
So, with that in mind, let's look at three of this year's biggest surprise non-roster invitees and three of the most notable omissions from big league camp.
Three Surprise Invitees
LHP Daniel Camarena: Two weeks ago I mentioned the 24-year-old Camarena as a potential longtime minor leaguer turned prospect for this coming season, a la Kyle Higashioka last year and Ben Gamel the year before, so I'm glad to see him getting an invite. (Validation!) I still didn't expect it though. Camarena had a fine 2016, throwing 147 innings with a 3.55 ERA (3.52 FIP) at mostly Double-A. He struck out 19.8% of batters faced and walked 4.2%. That's a nice bounceback season. Camarena missed all of 2015 after having bone spurs removed from his elbow. He's not a top prospect by any means, but a three-pitch lefty with good command is worth keeping an eye on. The Yankees liked what they saw from Camarena last season enough to give him his first invite to big league camp this year. (It's worth noting he can become a minor league free agent after 2017.)
RHP Brady Lail: Lail, 23, was a non-roster invitee last spring. He only threw two Grapefruit League innings, but he was there. That speaks to his standing in the organization at the time. Lail was considered a potential call-up candidate. His 2016 season didn't go so well — he had a 4.34 ERA (4.27 FIP) in 137 total innings, including a 5.07 ERA (4.50 FIP) in 92.1 innings at Triple-A — and he kinda got lost in shuffle later in the season, but the Yankees still like Lail enough to bring him to camp as a non-roster player again this year. They have plenty of arms. He's not there as a roster filler or anything. It can be easy to overlook Lail given all the quality pitching prospects the Yankees have right now, but the Yankees still believe in him. He wouldn't be in camp otherwise.
LHP Evan Rutckyj: Last spring Rutckyj was in camp with the Braves as a Rule 5 Draft pick. He didn't make the team, was returned to the Yankees, then became a minor league free agent after the season. New York re-signed the 25-year-old and invited him to their big league camp for the first time. Rutckyj missed most of last season with a minor elbow injury — he returned in mid-August and threw ten innings in the regular season — but the year before he had a 2.63 ERA (2.59 FIP) with 31.5% strikeouts and 8.1% walks in 61.2 innings at High-A Tampa and Double-A Trenton. We know the Yankees are looking for a cheap lefty reliever. Even if he doesn't win an Opening Day roster spot, Rutckyj could put himself in position for an early season call up should the Richard Bleiers and Chasen Shreves and Joe Mantiplys (Mantipli?) of the world not work out.
Three Notable Omissions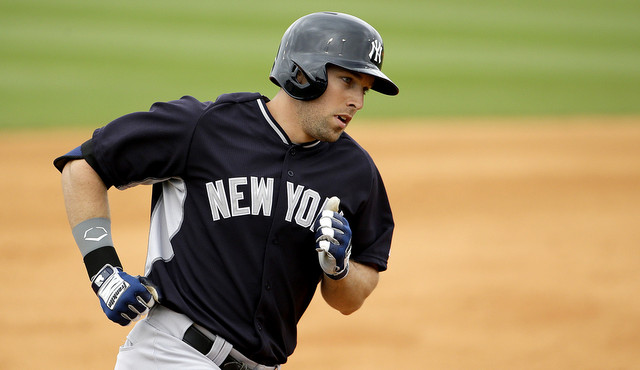 OF Jake Cave: Like Rutckyj, Cave was a Rule 5 Draft pick last spring. He was in camp with the Reds, and again like Rutckyj, he didn't make the team, so he was returned to the Yankees. Cave had a good 2016 season with Double-A Trenton and Triple-A Scranton, hitting .274/.339/.435 (119 wRC+) with nine homers and seven steals in 124 games. You'd think a young (24) left-handed hitting, good defending outfielder would get a non-roster invite to camp, but nope. You'd also think that player would get popped again in this offseason's Rule 5 Draft as a potential cheap fourth outfielder, but again nope. Any team could have selected Cave in the Rule 5 Draft and kept him long-term — as a two-time Rule 5 guy, Cave would have been able to elect free agency rather than return to the Yankees, allowing him to re-sign with his new team and remain on the 40-man, even in Triple-A — yet it didn't happen. Cave might not even have a starting spot in Scranton this year. The lack of a non-roster invite suggests his days in the organization are numbered.
RHP Branden Pinder: This is trivial, though I couldn't help but notice Nick Rumbelow received a non-roster invite to camp and Pinder did not. Both are currently rehabbing from Tommy John surgery and they figure to be on similar timetables — Rumbelow had his surgery on April 19th and Pinder had his on April 26th — yet one got a non-roster invite and the other did not. Hmmm. Is this is an indication Rumbelow is further along in his rehab? Perhaps it has to do with their contract statuses. Pinder was outrighted back in November. Rumbelow was released and re-signed. Maybe Rumbelow leveraged an opportunity with another team into a non-roster invite with the Yankees. Pinder didn't have that same opportunity because he was never actually a free agent. This isn't a huge deal in the grand scheme of things. Chances are neither guy will pitch in spring games anyway, but the difference between big league camp and minor league camp is pretty substantial. Better lodging, more meal money … it can mean a lot to a young player.
RHP Dillon Tate: I'm not completely shocked Tate isn't coming to camp as a non-roster player. He wasn't great statistically last season (4.56 ERA and 4.30 FIP in 92.2 innings), and, more importantly, his stuff and mechanics were all over the place. The Yankees moved him to the bullpen to simplify things after the trade, and they're reportedly moving him back into the rotation this year, which is the smart thing to do. I still thought there was a chance they would bring Tate to Spring Training, even if only to show him off for a Grapefruit League inning or two. Tate, 22, was the headliner in the Carlos Beltran trade — you could argue only Clint Frazier was a bigger "name" prospect among those acquired by the Yankees last summer — and I thought the Yankees would want the big league coaches to get to know him a bit. He'll have to wait until next year to get his first taste of big league camp.
* * *
The Yankees have a very deep farm system and it's just not possible for them to invite all their big name prospects. There are only so many innings and at-bats to go around. Blake Rutherford, for example, is a 19-year-old kid fresh out of high school. You won't see many players fitting that description in big league camp around the league in any year. Ian Clarkin, Domingo Acevedo, and Albert Abreu have yet to pitch above Single-A. Billy McKinney? He hasn't shown enough to deserve to come to big league camp. Non-roster invites aren't arbitrary. There's a method to this madness.