For the first time since August 22nd, 2015 — 616 days ago — the Yankees are in sole possession of first place in the AL East. At least one of my ten bold predictions will come true. The Yankees followed Friday night's stunning come-from-behind win with a 12-4 depantsing of the Orioles on Saturday. They've now won four straight and 14 of their last 17 games. And because the Mets beat the Nationals, the Yankees now have baseball's best record at 15-7. Their +46 run differential is tops in the game too. They play today, they win today. Das it.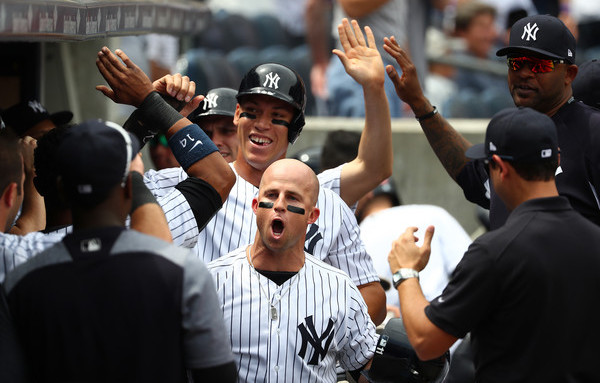 Gardner Plants Two
The Yankees started Saturday's game with back-to-back home runs, kinda. After Matt Holliday ended Friday's game with a walk-off home run, Brett Gardner led off this game with home run into the right field second deck for a quick 1-0 lead. I'm making the executive decision to count those as back-to-back home runs. They came in consecutive at-bats, right? Right. Back-to-back dingers it is.
Gardner has not had a good start to the season overall and the home run was his first in 303 plate appearances and 69 games dating back to July 30th of last season. He didn't have to wait long to go deep again. Just one inning. In the second Gardner homered again, this time hitting a three-run shot into the home bullpen to give his club a 5-0 lead. Ubaldo Jimenez cured whatever ailed him, I guess. The Yankees have been scoring plenty early on this year. Getting Gardner going would make them even more dangerous.
That second inning four-run rally started with a Didi Gregorius single to right center. It continued with back-to-back walks by Aaron Judge — based on how carefully they pitched him Saturday, the O's are terrified of Judge (as they should be!) — and Greg Bird. Ubaldo gonna Ubaldo. That loaded the bases for Austin Romine, who lifted a sacrifice fly to right field to get the run home. That made it 2-0 good guys before Gardner homered for the 5-0 lead.
Big Mike's Big Grind
Two runs in 5.1 innings is a good start overall, though it didn't come easily for Michael Pineda. He had just one 1-2-3 inning, the fourth, and his defense saved him at least one run and possibly two in the third inning. The Orioles had men on first and second with one out when Chase Headley made a spectacular diving catch to rob Manny Machado of extra bases. The ball was ticketed for the left field corner. The best part? Headley's reaction. He was fired up: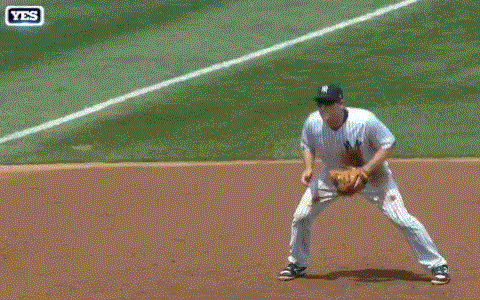 Thanks to that play, Pineda got through the first five innings scoreless, though he allowed some baserunners along the way and needed 93 pitches to do it. It wasn't until the sixth inning that the O's broke through — the Yankees had a healthy 7-0 lead at the time — thanks to a Machado double (he's so good I hate it) and a Headley error. Headley made another great diving stop, but he pulled Bird off the bag with the throw, allowing Machado to score.
All told Pineda was charged with two runs (both unearned thanks to Headley's error) on five hits and one walk in 5.1 innings. He threw 104 pitches total and had eight strike 'em outs. There were just a lot of long at-bats. Nine of the 23 batters Pineda faced saw at least five pitches. Machado alone saw 20 pitches in his three at-bats against Pineda, including a 12-pitch battle in the first inning. Not the crispest outing for Big Mike, but he worked through it. This was the kind of start that could have gotten out of hand in previous years.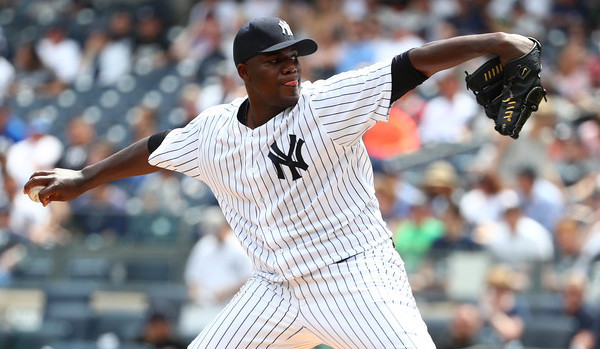 Keep Adding On
One thing these 2017 Yankees do that the 2013, 2014, and 2016 Yankees did not do often enough is tack on insurance runs. Those teams would build a one or two-run lead and try to protect it the rest of the way. This team keeps adding on. That's why they have six wins by at least five runs and only four by two runs or fewer so far.
The first four of Saturday's insurance runs came courtesy of Romine. He drove in two runs with a single back up the middle in the fourth inning and another two runs with a homer in the sixth inning. Romine drove in five runs on the afternoon and became the first No. 9 hitter to drive in five runs for the Yankees since … Joe Girardi! Girardi drove in seven runs as the No. 9 hitter during a game against the Rangers in August 1999. Love it. Here's that box score.
That fourth inning rally was set up by a Judge single and a Bird walk. Judge stole third with one out (!) and Bird took second on the throw. The homers get all the attention, but Judge is a well rounded player. Offense, defense, baserunning, the whole nine. Of course he then homered too, because that's what he does. Judge's seventh inning two-run shot the other way into the right field bleachers (lol) stretched the lead to 12-2. Look at this: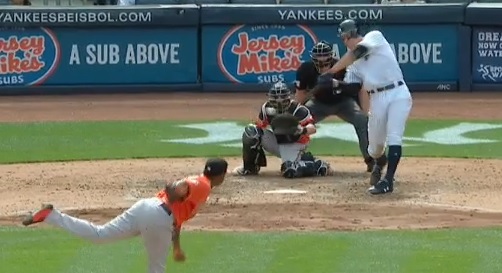 How does a 6-foot-7 guy get his hands like that and inside-out a ball into the damn bleachers? Who does that? Judge joins Graig Nettles (11 in 1974) and Alex Rodriguez (14 in 2007) as the only Yankees with double-digit home runs in April. He should have eleven too if not for that stupid triple. Judge went 2-for-2 with two walks, a homer, four runs scored, and a steal of third base on the afternoon. He's hitting .301/.393/.767 (217 wRC+) overall. My large adult baseball son is all grown up.
Leftovers
Adam Warren replaced Pineda in the sixth inning and looked a bit shaky at first. He allowed a single to Hyun-Soo Kim, hit Jonathan Schoop with a pitch to load the bases — Schoop left the game an inning later, by the way — then uncorked a wild pitch to give the O's a run. Warren escaped the jam when Caleb Joseph swung through a hanging slider. He then settled down and retired six of seven batters faced in the seventh and eighth innings.
The 6-7-8-9 hitters went a combined 6-for-10 with a double, two homers, and five walks. They drove in eight of the team's 12 runs. The Yankees rarely got production like that from the bottom of the lineup the past few years. Now it seems to happen every other day. Add Gardner to the mix and the wrap-around 6-7-8-9-1 portion of the lineup went 8-for-14 (.571) with a double, four homers, and five walks. Goodness.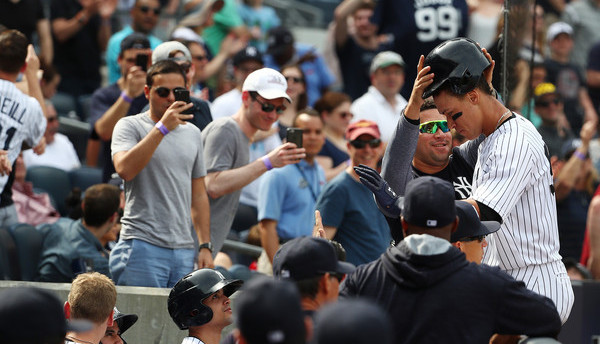 Tommy Layne, who had thrown 14 pitches total the previous 16 days, finished the game with a messy ninth inning. His inning went single (Ryan Flaherty), homer (Joseph), single (Craig Gentry), strikeout (Joey Rickard), walk (Machado), strikeout (Mark Trumbo), fly out (Trey Mancini). I know Layne hasn't pitched a whole lot, but he's been pretty bad so far. The Yankees need him to straight it out sooner rather than later since he's the only non-Aroldis Chapman lefty in the bullpen.
And finally, Judge has tied the MLB rookie record with ten home runs in April. Trevor Story did it last year and Jose Abreu did it in 2014. Judge has one more April game remaining to break that record.
Box Score, WPA Graph & Standings
For the box score and updated standings, go to ESPN. For the video highlights, go to MLB.com. For our Bullpen Workload page, go to RAB. Here's the lopsided win probability graph:

Source: FanGraphs
Up Next
The Yankees will go for the sweep when they wrap up this three-game series with the Orioles on Sunday. That's another 1pm ET start. Rookie lefty Jordan Montgomery and veteran lefty Wade Miley are the scheduled starting pitchers. There are four games remaining on the homestand and RAB Tickets can get you in the door for all four of them.