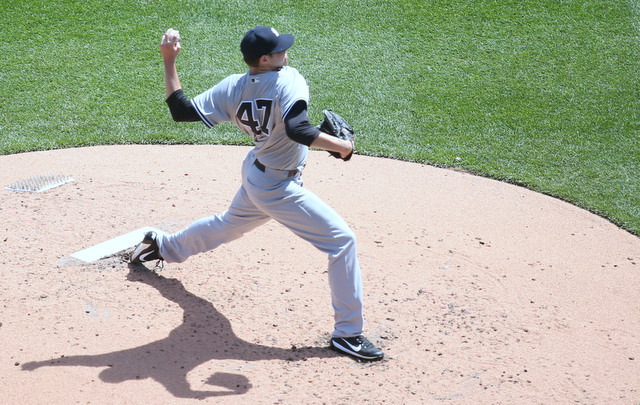 I can't imagine many pitchers have made starts at Yankee Stadium and Wrigley Field within the first five games of their MLB career, yet Jordan Montgomery will join the club tonight. This will be Montgomery's biggest challenge as a big leaguer. He'll face the defending World Series champion Cubs and their great lineup on the road in an intimidating classic ballpark. Can't simulate outings like this in the minors.
Anyway, the Yankees stunned the Cubs yesterday afternoon with their latest come-from-behind win. It would be cool to get a lead and not play from behind tonight, you know? Comeback wins are fun! But I could use an easy win one of these days. Jump out to an early lead and protect it the rest of the way. That sort of thing. Just win the series though. That's the most important thing. Do that and everything will take care of itself. Here is the Cubs' lineup and here is the Yankees' lineup:
LF Brett Gardner
CF Aaron Hicks
2B Starlin Castro
RF Aaron Judge
C Gary Sanchez
SS Didi Gregorius
3B Chase Headley
1B Chris Carter
LHP Jordan Montgomery
It has been sunny in Chicago all day and it'll be clear tonight. Very cold though. Temperatures in the 40s, but at least there isn't as much wind as yesterday. Tonight's game will begin at 7:15pm ET and you can watch on regular old FOX. Not FOX Sports 1. There is no YES broadcast. Enjoy the game.
Injury Update: Jacoby Ellsbury (elbow) is still receiving treatment and hopes to play tomorrow. Right now throwing is the problem more than anything. I assume he's available to pinch-hit and run today.