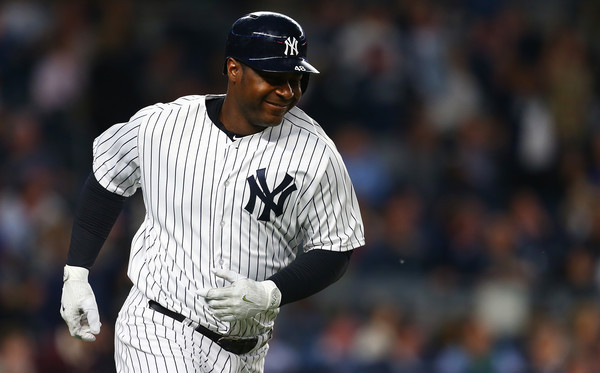 The Yankees lost their seventh straight game last night, and the biggest reason was the bullpen. Again. The offense didn't light the world on fire, but Tyler Clippard and Jonathan Holder combined to allow five runs in three innings. That simply is not good enough. The bullpen has been a major sore spot for more than a week now.
Another reason the Yankees lost: Chris Carter. His second inning error on a routine ground ball contributed to two runs, and he also went 0-for-3 at the plate. Joe Girardi lifted him for pinch-hitter Austin Romine (!) in the ninth inning. When asked about Carter being his starting first baseman after the game, Girardi said, "That's what we have." Yikes. Not exactly a ringing endorsement!
Based on his tone over the last few days and weeks, it's clear Girardi's patience with Carter has run out. He doesn't want to use him at first base but he has to because, well, there's no one else. The Yankees could play Matt Holliday at first base more often, though I hate that idea given Holliday's age, and the other option is Rob Refsnyder Eek. The first base depth chart looks like this while Greg Bird is out:
Chris Carter
Tyler Austin
Rob Refsnyder
Matt Holliday
Ji-Man Choi
Austin is down in Triple-A, where he's hitting .287/.357/.494 (132 wRC+) with two homers and a 28.6% strikeout rate in 24 games. The Yankees don't think he's ready to help at the MLB level, however. I know that because they haven't called him up. Brian Cashman said yesterday Austin is striking out too much, which is true. Heck, Austin himself said the other day that his timing at the plate still isn't right. From D.J. Eberle:
"I was trying to get a feel of staying inside the ball," Austin tells the media that night. "It's one of those things where I feel like my swing has been a little long for me the past few days and I feel like (Wednesday) was good for me to get some of that work done."

…

"I feel good. I feel like I'm making strides every day at the plate and defensively," he said. "I think its more of just getting reps, picking up spin of the ball and swinging at pitches in the zone. I feel like that's the big thing for me right now and I'm trying to do every time I go up there."
The Carter/Austin situation reminds me of the Stephen Drew/Refsnyder situation back in 2015. Drew was terrible that year — he hit .201/.271/.381 (76 wRC+) in 2015 — and we all wanted to see Refsnyder, the kid tearing the cover off the ball in the minors who happened to play the same position. I know I did. Why aren't they calling him up? The Yankees obviously hate Refsnyder, right? Well, no. Refsnyder just wasn't as good as we all thought.
I feel like the same thing is happening here, though Carter this year has been worse than Drew in 2015. (Drew at least played above-average defense at an up-the-middle position.) Austin isn't being called up because the Yankees don't think he's an upgrade over Carter, the same way they didn't think Refsnyder was an upgrade over the Drew, and the Yankees have more information than us. When it comes to minor league promotions and all that, the team knows better than we do. Always and forever. The Yankees are not stupid. They know what they're doing.
A few things about the ongoing first base situation. One, Carter has been better of late. He's hit .228/.290/.456 (95 wRC+) with four homers in 15 games in June. Still bad! But better than April and May. If Bird or Austin had done something like that after a terrible April and May, the internet would be abuzz with GIF-filled posts about adjustments and small sample size signs of life and blah blah blah. I know this because I've done it myself, and I hate myself for it. When it comes to a young guy, we microanalyze everything. When a veteran we don't like does it, no one cares.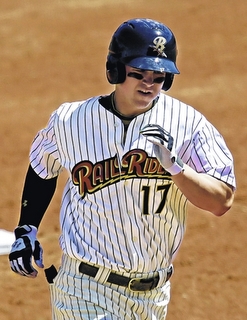 Two, the Yankees are not cutting Carter without feeling good about Bird's health. And I don't mean "okay he's playing in rehab games again" feeling good. We've been there, done that. They don't have the first base depth to cut a dude with legit 40-homer power. If they cut Carter and Bird needs more time to get ready, they're looking at Austin and Refsnyder at first base. No. Just … no. And three, there's no way to carry Austin and Carter on the roster. They're basically the same player in that they're right-handed hitters and provide no defensive flexibility. Can't have two of those guys in the age of four-man (and often three-man) benches.
Like all of you, I'm at my wits' end with Carter. I could live with all the empty at-bats if he were hitting more homers, but he's not. He has eight homers in 181 plate appearances. Last season he had 13 homers in his first 181 plate appearances. A little bit behind that pace, he is. Add in some egregious errors and you've got a sub-replacement level player. Not the reason the Yankees have lost seven straight games. A reason though, undoubtedly.
As bad as Carter is though, I'm not convinced Austin is an upgrade. The guy himself said he still isn't right at the plate. (If you're into projections, ZiPS pegs Austin as a true talent .231/.291/.419 (98 OPS+) big league hitter.) I want to see the Yankees try Austin, though that has more to do with me not wanting to watch Carter than it does me believing Austin is an upgrade. Girardi seems to be in the same boat. He's over Carter. You can see it every time he is asked about the guy.
The front office makes roster decisions, not Girardi (I'm certain Girardi has some input though), and they have to look at the big picture. And part of that big picture is the team's thin first base depth chart, Austin admitting he still isn't himself at the plate, and the potential reward each player offers. Carter is one of the most frustrating players I can remember wearing pinstripes. All things considered though, sticking with him is probably the best move right now, at least until Austin is where he needs to be and we know more about Bird's injury.