After scoring 4 runs in the first inning, the Yankees gave the lead back, tied it up again, but let go of the game after experiencing some RISPFails and allowing a go-ahead HR to Andrelton Simmons. That was an annoying series – lost a starter and two games that were quite winnable. The Yankees still have the division lead but it has shortened to two gmes after the Red Sox beat the Phillies again. Let's recap this game and move on to the next one.
Exchanging runs early
The Yankee bats got out of the gate early today. In the first inning, Brett Gardner led off the game with a base hit and Aaron Judge's single made it runners on corners with one out. Judge followed it up with a stolen base and Matt Holliday hit a sac fly to make it 1-0 Yankees. Starlin Castro got hit in the hands to make it runners in the corners. Gary Sanchez, as he does often, annihilated a second pitch slider into the left field seats for a 3-run homer. 4-0 Yankees. The game seemed like a cake walk for the Bombers at that point.
Big Mike, however, wasn't that big tonight. The Angels hitter threatened rallies from the first inning. Cameron Maybin, Albert Pujols and Yunel Escobar hit singles against Pineda to make it one-out, bases-loaded situation for the Angels. Luis Valbuena hit a deep flyball to center that was on its way over the fence and Aaron Hicks did this: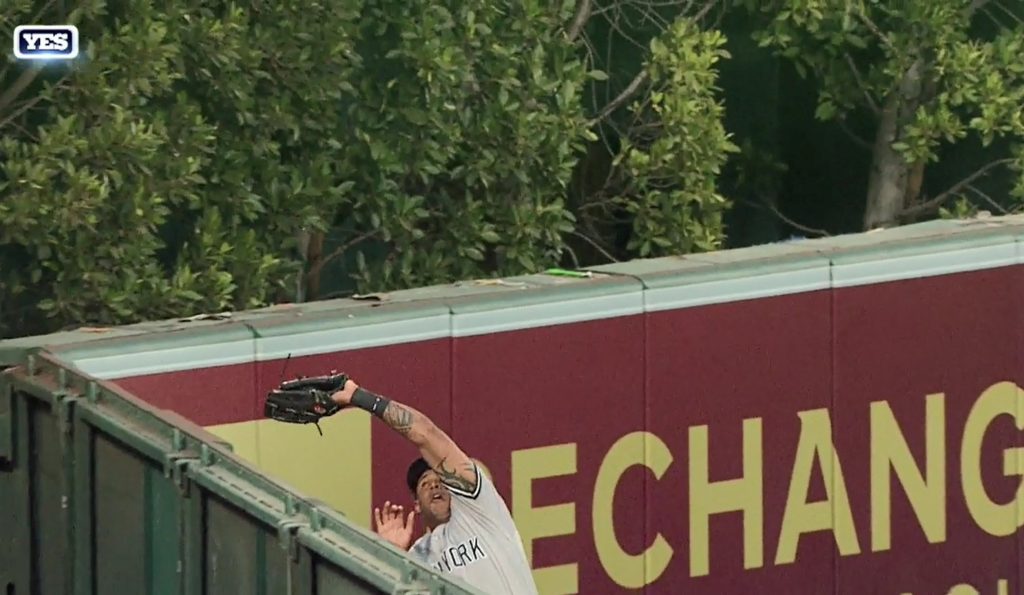 Yep, in case you are wondering, he robbed it. Hicks robbed a grand slam and held the Angels to a sac fly. Pineda got out of it with allowing only one run. However, more trouble was coming for Big Mike in the upcoming innings.
Eric Young Jr., as he did all series, bugged the Yanks again with a leadoff single in the 2nd. Danny Espinosa, who came into the game with a .164 batting average, hit a 94 mph fastball into the right field seats for a 2-run homer, making it a one-run game. The Angels tacked on two more in the third. Pujols led off with a single and advanced to second and third on two consecutive groundouts. With two outs, Pineda walked Andrelton Simmons to make it runners on corners. Facing Eric Young Jr., Pineda spiked a slider in front of the home plate that Sanchez couldn't come up with and the ball rolled to the backstop. Pujols scored easily on the wild pitch to tie the game. Young Jr. followed it up with a single to right to give Angels a go ahead run and just like that, Yankees blew an early 4-run lead. 5-4 Angels.
The score stayed 5-4 until the top of the sixth. The Yankees had two great scoring chances in both fourth and fifth, but failed to cash in in either. Sanchez and Didi Gregorius led off the fourth with back-to-back singles. Chase Headley followed it up with a grounder to second… that hit jumping Didi's back leg. Espinosa probably would've caught it for at least a force out but it forced Sanchez going to third back to second base. Rob Refsnyder hit a liner hard but it went right into Espinosa's glove and Sanchez got doubled off at second. Yes, it's that kind of game!
The Yanks' RISP misfortunes continued in the fifth. With two outs, Judge reached on base with an Escobar throwing error. Holliday followed it up with a single to make it runners and first and second. Castro hit a sharp single to left and third base coach Joe Espada waved Judge to run home. The problem was that Judge was doomed from start: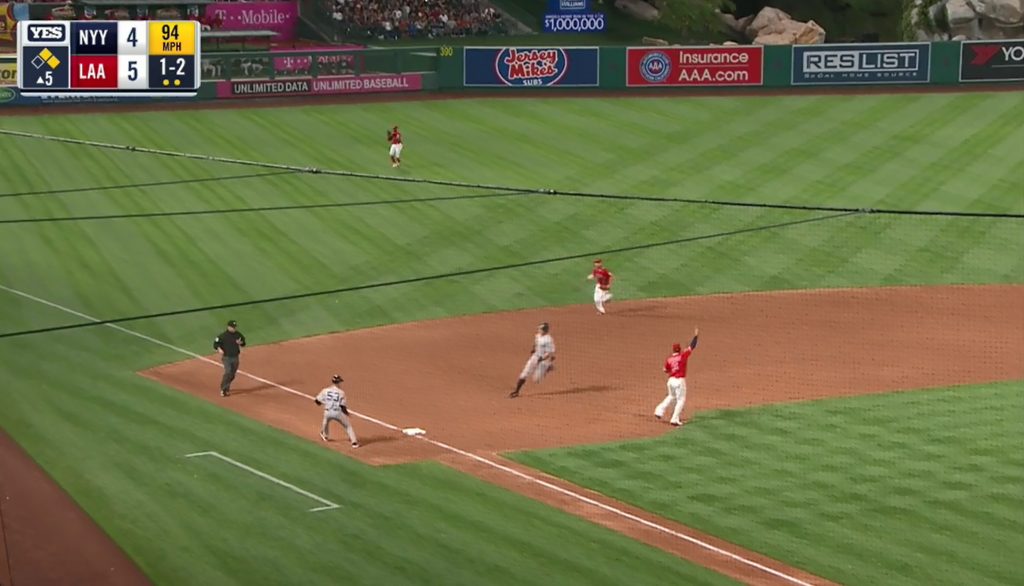 That's Eric Young Jr. getting ready to throw while Judge was not even at third base. Judge is not a slow runner but that was a terrible send. Young's throw from outfield got Judge out at home pretty easily and Yankees came up empty-handed again. Had Judge held up, Yankees would have had Sanchez (who was 2-for-2 at the time) at the dish with bases loaded.
The bats finally got the tying run in the sixth inning. Sanchez reached second with an infield single + throwing error. After Gregorius struck out swinging, Headley singled to drive in Sanchez. Tie game!
The debut
A few days after Domingo German made his ML debut, another prospect got his first outing in the bigs tonight. Ronald Herrera (acquired from trading away Jose Pirela to Padres after the 2015 season), who has been lights out in Double-A this year (7-0, 1.03 ERA in 8 GS), faced Pujols in the bottom of the seventh in a 5-5 game. No pressure kid. However, he retired the first two hitters on first two pitches. Things went downhill from there. He walked Valbuena in five pitches and allowed a two-run, go-ahead HR to Andrelton Simmons on the first pitch. He hit Eric Young Jr. with a pitch on the foot but struck out Espinosa to get out of the inning.
I thought the timing of putting in Herrera was interesting. Tie game in the 7th, and a rookie making a ML debut is the first pitcher out of the bullpen? If it was in the 4th inning, it would make more sense but in the late inning situation, I would have gone with someone like Adam Warren to get an inning or two soaked. At the same time, the bullpen has been quite used lately, especially after last night's 11-inning affair. Herrera was brought up to be the fresh arm guy out of the bullpen. Just not in an ideal situation to make a debut.
The Yankees had a bit of a two-out rally going on in the top of the ninth inning. Aaron Hicks hit a deep flyball into the right that Kole Calhoun caught with a leaping catch at the wall… or did he? Yankees asked the umps to look it over and they ruled that the ball hit the wall and Calhoun trapped it. It was pretty darn close and looked like it could have gone the other way. Anyways, that brought up Judge with two-outs, runner on second situation… which ended with a groundout. 7-5 Angels.
Leftovers
Pineda had a rough first three innings but settled down nicely after. From the fourth to sixth innings, he only allowed three baserunners and struck out two. As much as his poor outing engineered the Yankee loss, credit to Pineda for bouncing back nicely.
The Yankees had 14 hits total and every starter had a base hit each. Rob Refsnyder hit his first MLB triple and started in the right field today, giving Judge a day off with the glove. The offense definitely had it going but just ran into some rotten, rotten RISP lucks many a times tonight. Welp. You play 162 games and there will be a few annoying ones like this.
Box score, standings and WPA graph
Here's tonight's box score, updated standings and WPA graph.

Source: FanGraphs
---
The Yankees now head to the Bay Area to face the Athletics for a 4-game series on Rickey Henderson Field (great name). Jordan Montgomery will be on the hill against Sonny Gray on Thursday.