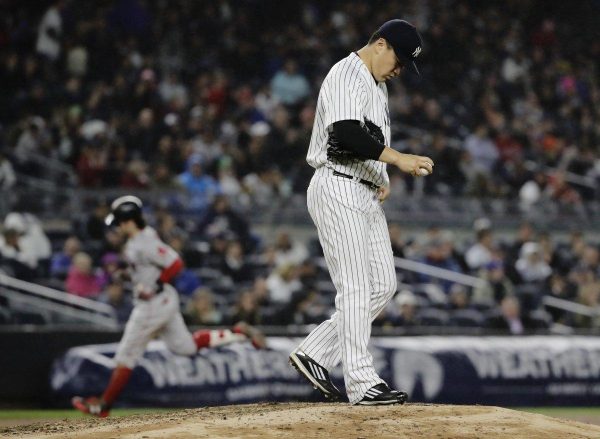 Numbers Never Lie
A home run derby broke out at Yankee Stadium on Tuesday night, but in a very depressing way for the hometown fans. Masahiro Tanaka's batting-practice fastballs and cement-mixer sliders were flying out of the park, while the Yankees' repeated clutch-hitting woes sealed their fate – a disappointing 5-4 loss to their AL East rival.
The Red Sox entered the game with the fewest homers in the league, but that statistic mattered little on a chilly night in the Bronx as they went deep three times against Tanaka, who gave up five runs in five innings. Tanaka's longball issues have reached crisis mode, with 14 surrendered in his last 32 innings pitched dating back to the fifth inning of his May 2 start vs Toronto.
That's a remarkable number considering that:
It's more home runs than any Yankee pitcher had given up the entire season through Tuesday
77 of the 86 other qualified pitchers in MLB had allowed fewer than 14 home runs for the entire season through Tuesday
If those stats aren't sobering enough, how about this: he gave up more homers to the Red Sox (3) than guys he struck out (2) … and it's not even the first time he's done that in a game this season! Unsurprisingly, he never did that in any game during his first three seasons in pinstripes.
The bottom line: Tanaka is the only pitcher in the majors this year who has multiple starts where he struck out at least two batters and still managed to allow more home runs than strikeouts in the game. Send help, please.
Not only did Tanaka serve up meatballs left and right against the Red Sox, his overall "stuff" was severely diminished and his pitches showed little deception. He got just three swings-and-misses (yup, the same number of homers he allowed), tied for the fewest in any of his 87 career starts.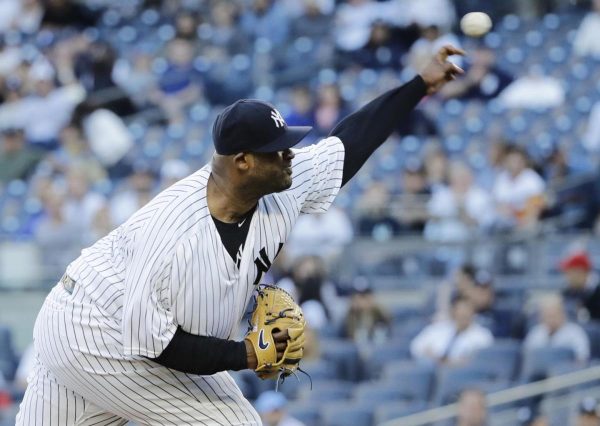 CC's lead the way
While the team's improbable comeback wins have been getting a lot of buzz this season, an underrated theme for this Yankees squad has been their resiliency and avoiding long losing streaks. They haven't lost more than three games in a row and haven't been swept in any series so far. They assured both those milestones would remain intact on Wednesday, snapping their two-game slide and taking the second game of the series, 8-0.
This was a historic rout of their longtime division rival, marking their largest shutout win vs Red Sox since June 27, 1991 at Fenway. The last time they blanked the Red Sox by this large of a margin at Yankee Stadium was more than 50 years ago – on September 3, 1965!
The Yankees definitely had the right guy on the mound – Carsten Charles Sabathia – to stop their losing streak. After twirling eight scoreless innings, the 36-year-old lefty improved to 6-0 with a 1.25 ERA in seven starts following a Yankee loss. That's the lowest ERA in games after a team loss for any pitcher in the majors this season (min. five starts).
This brilliant outing continued a string of ace-like performances by Sabathia, who is 5-0 with a 1.11 ERA in his last five starts. He's just the third lefty in franchise history to win five starts in a row, allowing no more than two earned runs and six hits in each game: Ron Guidry had two such streaks (in 1978 and 1981) and Lefty Gomez also had a similar stretch in 1937.
On Wednesday, Sabathia's slider was in peak form as the Red Sox went 0-for-8 in at-bats ending in the pitch – including four punchouts. Here's a beautiful pitch chart of the 30 sliders he threw: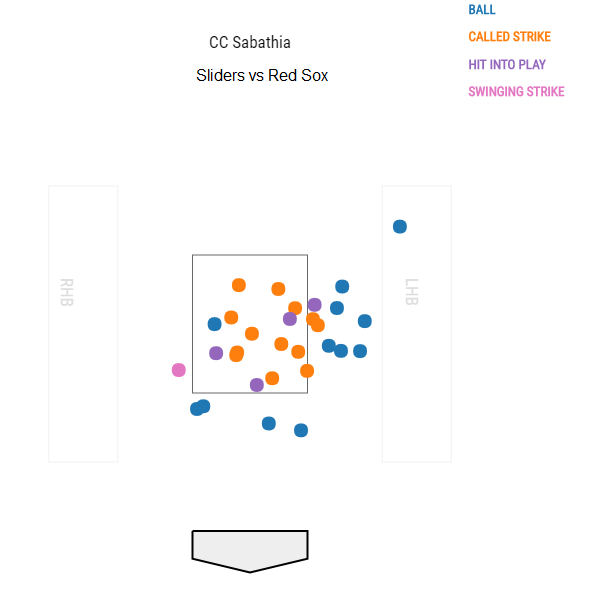 As you can see in the graphic above, he got only one whiff with his slider, but instead relied on its nasty movement to paint the edges of the zone and generate a whopping 13 called strikes. That matches the most he's gotten with the pitch in any game since joining the Yankees.
His backdoor slider has been among the toughest in baseball for hitters to pick up this season. Sabathia's 14 looking strikeouts with the slider are tied with Jhoulys Chacin for the most in MLB, and his slider called-strike rate is the second-highest among pitchers that have thrown at least 200 sliders this season.
While Sabathia was dealing on the mound, the other CC was a monster at the plate. Chris Carter went 3-for-4 with a towering home run and a season-high four RBIs, providing us with our Obscure Yankeemetric of the Week: he joins Scott Brosius (2000) as the only Yankee No. 9 hitters to drive in at least four runs and have at least three hits in a game against the Red Sox.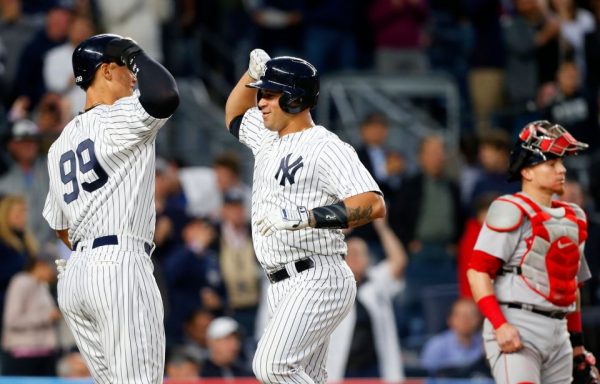 Who's Your Daddy?
The Yankees finished off the series with another dominant win over their AL East rival, 9-1. This is just the third time in the last 30 years that they've notched back-to-back wins by at least eight runs against the Red Sox; the other two instances were Sept. 18-19, 2004 and May 23-24, 1998.
The Yankees pummeled David Price, scoring six runs in five innings against the former Cy Young winner. It was the sixth time over the last two seasons that Price has given up at least six earned runs in a game — and four (!) of those six disaster outings have come against the Yankees.
Gary Sanchez broke the game open with a towering three-run homer in the third inning to give the Yankees a 4-0 lead. But he was just getting warmed up… Sanchez took Price deep again two innings later, making him a ridiculous 4-for-7 with four homers in his career vs the Boston lefty.
He is one of six players with at least four homers vs Price — Manny Machado, Curtis Granderson, Edwin Encarnacion, Nelson Cruz, Jose Bautista are the others — and those five guys have faced him at least 40 times.
It was also Sanchez's fifth multi-homer game in the big leagues, a staggering figure for someone playing in his 87th career game. He became the second-fastest player in major-league history to reach five multi-homer-games, behind only Mark McGwire (who did it in his 84th career game).
And, oh yeah, he also was the first Yankee catcher ever to have at least five RBIs and two homers in a game against the Red Sox. #FunFacts
While Sanchez was re-writing the Major-League record books, Aaron Judge continued his assault on the Statcast leaderboards. Judge's sixth inning single left his bat at 119.8 mph, the third time this season he's hit a ball 119 mph or faster. The rest of the players in major-league baseball have combined to do that zero times in 2017.