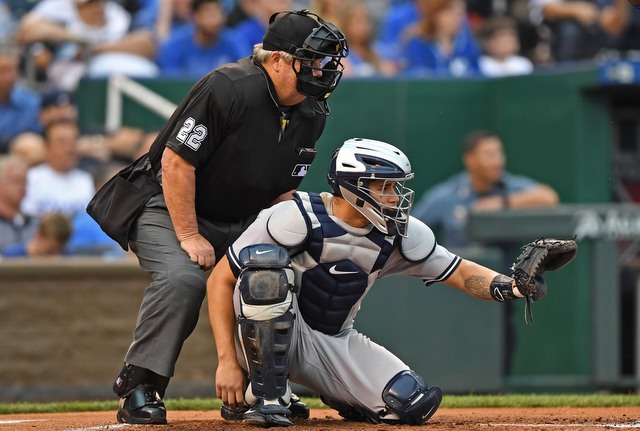 Because Aaron Judge is out there crushing everything in sight, it can be easy to overlook Gary Sanchez's impressive .276/.358/.530 (138 wRC+) batting line this season. Among the 21 catchers with at least 150 plate appearances, Sanchez is third in wRC+ and third with ten homers. He's been awesome! Judge has been otherworldly.
One area in which Sanchez has seemed to struggle this season is blocking balls behind the plate. For what it's worth, the blocking numbers at Baseball Prospectus say he's been better this year (+0.2 runs) than last year (-1.4 runs). That doesn't really match the eye test, I don't think. Sanchez has appeared to have trouble keeping the ball in front of him at times this year. At least moreso than last year.
Either way, the Yankees acknowledge Sanchez has had some blocking issues, and Ken Rosenthal says they want him to shed some of the bulk he added over the winter to improve his mobility behind the plate. From Rosenthal:
Gary Sanchez, like Severino, had only good intentions when he packed on 12 pounds of muscle last winter. But rival scouts all season have noted that he is again struggling to block pitches.

Yankees general manager Brian Cashman believes that the added weight affected Sanchez's mobility behind the plate, but adds that Sanchez is working to address the problem and become more like the catcher he was last year.

Sanchez holds a slightly different view — he said through an interpreter that he is indeed working on losing some weight, but didn't think the added bulk created an issue with his catching.
Luis Severino, you may remember, added quite a bit of muscle last offseason, then all of a sudden last year his fastball command disappeared and his delivery was too stiff. Severino trimmed down a bit this past winter and he regained the fluidity in his delivery. His tempo is so much better.
Something similar could be happening with Sanchez behind the plate, and given Cashman's comments to Rosenthal, the Yankees seem to think it is at least a possibility. Sanchez is not a great defender. He's a bat first, second, and third guy. But he is adequate back there and he has improved quite a bit over the years. Sanchez doesn't need to be peak Yadier Molina defensively to have value. Just be okay.
Because he is such a big dude — Sanchez is listed at 6-foot-2 and 230 lbs., and he is rock solid — Sanchez is always going to have to work hard to keep his weight in check, and that doesn't necessarily mean bad weight either. Severino bulked up last year and it hurt him on the field. Sanchez bulked over the winter and now he's not moving well behind the plate. There's a happy medium somewhere and Sanchez is still searching for it.