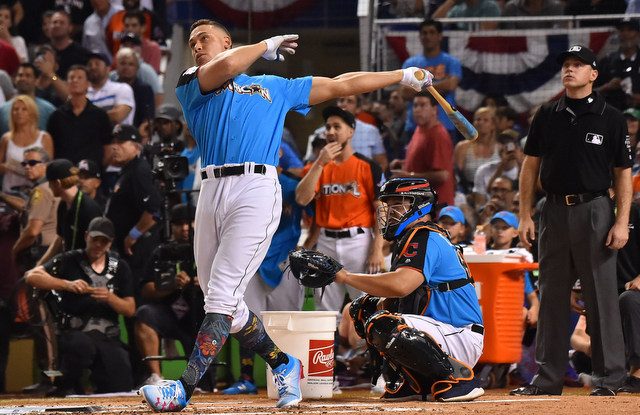 Monday night at Miami, Aaron Judge stole the show and won the 2017 Home Run Derby. He beat Justin Bour 23-22 in the first round, Cody Bellinger 13-12 in the second round, and Miguel Sano 11-10 in the third round. Judge was on another level. The last two rounds were actually anticlimactic.
The first round matchup with Bour was the highlight of the night. The hometown Marlin clubbed an incredible 22 home runs and had the crowd going nuts. Judge came back to hit 23 with time to spare. It was amazing. Bour had an amazing and fun round, and Judge knocked him right out.
In the second round Judge socked home runs measuring 504, 507, and 513 feet. He also hit one off the Marlins Park roof that didn't count, so he really socked 24 against Bour. Judge also went opposite field into the second deck a few times, where the lefty power guys were hitting bombs. It was insane. Here's some video:
Is @TheJudge44 real life?@TMobile #HRDerby pic.twitter.com/jrngUAQlX8

— All-Star Game (@AllStarGame) July 11, 2017
Judge is the fourth Yankee to win the Home Run Derby, joining Tino Martinez (1999), Jason Giambi (2003), and Robinson Cano (2011). His 47 home runs are a Yankees record for the Home Run Derby. He could have topped Stanton's record of 61 homers had they allowed him to hit until time expires. (As the higher seed, his round ended as soon as he topped his opponent's total.)
As for Gary Sanchez, he knocked off Stanton in the first round 17-16 before losing to Sano in the second round 11-10. Sanchez seemed to run out of gas in the second round. Oh well. Nice try, Gary. Not bad for the second most awesome young Yankees slugger.