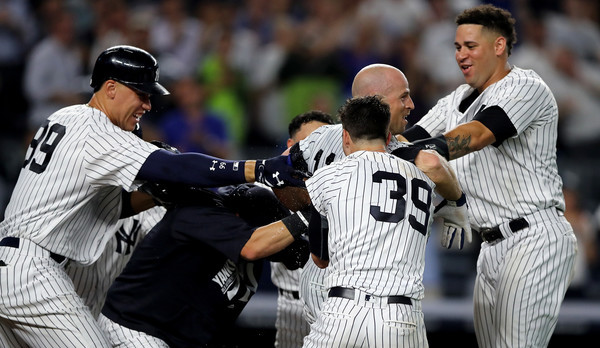 The Yankees have won four straight games and six of their last seven, so things are finally starting to look up after that month of misery. Last night's win was a big one. The Yankees got a gift that allowed them to tie the game in the ninth, and they took advantage by going on to win in extras. A big win made even bigger by the fact it was against an AL East rival and postseason spot competitor.
On paper, tonight's pitching matchup is a mismatch. The Rays are starting rookie Austin Pruitt, who got knocked around pretty good (including by the Yankees) in his first MLB go-round, in place of the injured Jake Odorizzi. The Yankees have their Opening Day starter on the bump. Hopefully the Yankees can jump out and take command of this game early, then cruise the rest of the way. Here is the Rays' lineup and here is the Yankees' lineup:
CF Brett Gardner
LF Clint Frazier
RF Aaron Judge
C Gary Sanchez
SS Didi Gregorius
DH Matt Holliday
1B Chase Headley
3B Todd Frazier
2B Ronald Torreyes
RHP Masahiro Tanaka
It is cool and cloudy in New York this evening, and there is some rain in the forecast, though not until much later tonight. They'll have no trouble getting the game in. Tonight's game will begin a little after 7pm ET and you'll be able to watch on YES locally and MLB Network nationally. Enjoy the game.
Injury Updates: Aaron Hicks (oblique) hit and ran the bases today, as scheduled. He's scheduled to begin a minor league rehab assignment next week, though it's unclear how many games he'll need. Hicks is a switch-hitter and they need to make sure he's good to go from both sides of the plate … Judge, obviously, is fine after chipping a tooth during last night's walk-off celebration. He had it fixed today.