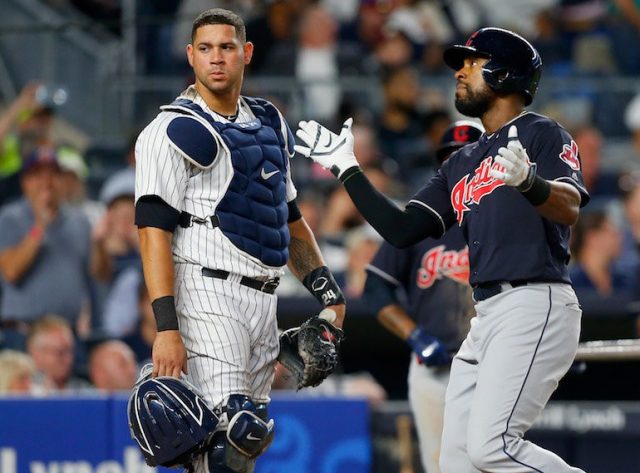 Kluber'd
Monday's lackluster 6-2 loss to the Indians was not the way the Yankees wanted to kick off perhaps the toughest week of their schedule so far – a grueling seven-games-in-seven-days stretch against two first-place teams.
Cleveland's ace, Corey Kluber, put on a masterful performance in silencing the Yankee bats, which is hardly surprising given his history of shutting down the Bombers (and the way he's dominated the rest of the league this year).
He's made two starts against the Yankees this year, and in each of those games has pitched eight-or-more innings while allowing no more than three hits. Before Kluber, the last pitcher on any team to have two such outings in a season against the Yankees was Roger Clemens in 1991. Kluber's success goes back further than this year, too. He's riding a streak of five straight starts against the Yankees with at least seven strikeouts and two earned runs or fewer. The only other pitchers in baseball history to do that are Roy Halladay (2001-02) and Nolan Ryan (1973-75).
Kluber has also won each of those five starts, earning an Obscure Yankeemetric award for this stat: he is the only guy ever to win five consecutive starts against the Yankees, while striking out at least seven and allowing no more than two earned runs in each game.
The Yankees had their ace on the mound, too, but Luis Severino was ultimately outdueled in the matchup of Cy Young contenders. It was a confusing performance by Sevvy, who mixed some good (9 strikeouts), a little bad (3 walks) and too much ugly (3 homers).
The only other time in his big-league career he allowed three longballs in a game was May 8 last year vs the Red Sox, and it's just the ninth time in 59 career appearances that he's allowed more than one home run. The Yankees are now 0-9 when Severino surrenders multiple homers in a game.

The good news is that there's some statistical evidence that this was just a rare blip in what has been a fantastic season for Severino. He did a reasonably solid job of limiting hard contact and dangerous flyballs, aside from the three that went over the fence, indicating some random bad luck.
Per statcast, only five of the 108 pitches he threw (4.6%) were hit with solid contact. This season, he allowed a higher rate of hard contact in 18 of his 25 other starts.
His average exit velocity on batted balls was 85 mph, his sixth-lowest mark in a game this year.
He gave up only three flyballs that were hit beyond the infield; and somehow all three of them went over the fence!
According to ESPN's Hit Tracker, Jose Ramirez's first-inning homer to right-center would have been a home run in only three other ballparks besides Yankee Stadium.
Bad luck aside, the three home runs were real, and the freezing-cold Yankee bats couldn't overcome those three mistakes.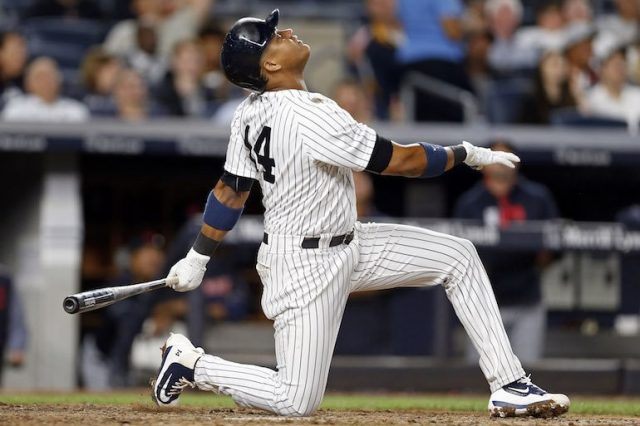 One is the loneliest number
Did I mention freezing-cold bats? Trevor Bauer and the Indians bullpen kept the Bronx Bombers' bats on ice in the first game of Wednesday's doubleheader and the Yankees added to their growing list of frustrating games lost by one run.
The tally is now at 23 one-run losses, the most in the American League and the third-most in baseball. They fell to 15-23 (.395) in 1-run games, putting them in danger of posting just the fifth sub-.400 record in such games in a season in franchise history (also 1981, 1966, 1935, 1925).
Jaime Garcia (with some help from Gary Sanchez) put the Yankees in an early hole when he gave up two runs on three singles and a passed ball in the first inning. While Sanchez has been above-average in framing pitches and throwing out baserunners this season, he continues to struggle with his blocking. This was his 13th passed ball (in 699 innings caught), the most by a Yankee since Jorge Posada also had 13 in 2007 (1,111 innings caught).
While Garcia threw his best game so far in pinstripes, Chad Green was the true pitching superstar on Wednesday afternoon. He replaced Garcia in the sixth and then tossed 2⅔ scoreless innings, allowing one hit with seven strikeouts.
Green has been a strikeout machine all season, and in this game he etched his name in the franchise and MLB record books:
His seven strikeouts are the most for any Yankee who pitched fewer than three innings in a game.
He is the only major-league pitcher ever to strike out at least seven guys in an outing where he faced eight or fewer batters.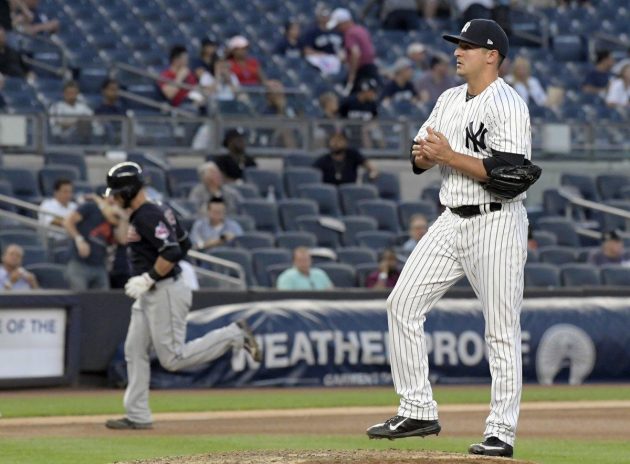 A new low
The Yankees capped off a miserable day in the Bronx with another uninspiring loss, 9-4, as the Indians completed a rare series sweep of the pinstripers.
This was just the third time in the last 50 years that the Yankees were swept by the Indians in a series of at least three games – it also happened April 7-9, 1989 and September 11-13, 1970. And entering this week, the Yankees had only been swept once the entire season, which was the second-fewest in the majors; the Dodgers are the lone team that hasn't yet been swept in a series this year.
It was deja vu all over again for the hometown team to start the nightcap of the twinbill. Before they even swung a bat, the Yankees faced another insurmountable deficit, as Jordan Montgomery coughed up four runs on five hits in the opening frame. That snapped a streak of 16 straight games in which Yankee starters had allowed no more than three earned runs, their longest such streak since June/July of 1988.
Greg Bird and Aaron Hicks were a two-man offensive show, with Bird driving in all four of the Yankees runs and Hicks getting half of the team's eight hits. There was little to celebrate from this game (and the series), so let's end with a couple #FunFacts:
Hicks is the first Yankee since Bernie Williams on October 5, 1991 with at least four hits and a run scored in a loss to the Indians.
Bird's three-run homer in the bottom of the inning kept them from getting "blown out" and preserved this obscure stat: the Yankees are still the only team in the majors that hasn't lost a game by a margin of eight or more runs this season.