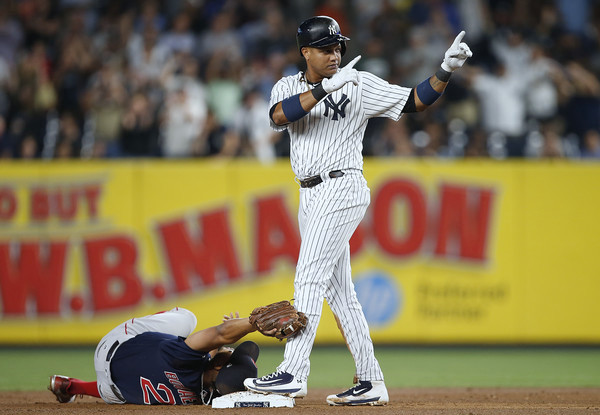 This CC Sabathia/bunting story is peak baseball stupid. But! I am pro-trash talk, and Sabathia said if the Red Sox have a problem with him, they can meet him in center field. I'm sure Andrew Benintendi has the finest hair product recommendations and Dustin Pedroia knows when Gap Kids will have their fall collection available. If it takes a dumb bunting story to add some spice to the Yankees-Red Sox rivalry, I am all for it.
Anyway, as for the actual baseball game, this is yet another important one for the Yankees, who are trying to chase down the BoSox in the AL East. Last night's win was great, but last night is last night, and if the Yankees are not on their game, that 4.5 game deficit in the AL East could become 5.5 games again real quick. One game at a time. Win tonight, then worry about tomorrow tomorrow. Here is the Red Sox's lineup and here is the Yankees' lineup:
LF Brett Gardner
RF Aaron Judge
C Gary Sanchez
SS Didi Gregorius
2B Starlin Castro
1B Greg Bird
DH Chase Headley
CF Jacoby Ellsbury
3B Todd Frazier
RHP Sonny Gray
Pretty much perfect weather in New York today. Not too hot and not too hold. It's a bit cloudy out now, so it might even be chilly at the ballpark. Tonight's game will begin shortly after 7pm ET. YES and MLB Network will have the broadcast. Enjoy the game.
Roster Moves: In case you missed it earlier, the Yankees added five players to the active roster earlier today, the first day rosters can expand. Matt Holliday has been activated off the disabled list and Jordan Montgomery, Ben Heller, Bryan Mitchell, and Erik Kratz were all called up from Triple-A Scranton. Luis Cessa was transferred to the 60-day DL to clear a 40-man roster spot for Kratz.
Injury Update: Clint Frazier (oblique) is throwing and hitting in the batting cage. He's not going to travel with the Yankees on their next road trip and is instead expected to begin a minor league rehab assignment. The minor league regular season ends this weekend, so one of the affiliates is getting Frazier for their postseason run.
Appeals Update: Sanchez and Austin Romine were scheduled to have their appeals today. I assume they happened. No reason to think otherwise. The rulings may not be handed down until the middle of next week, however, because MLB's offices are closed for Labor Day weekend. Also, apparently Sanchez and Romine will not have to serve their suspensions at the same time. They'll be staggered.