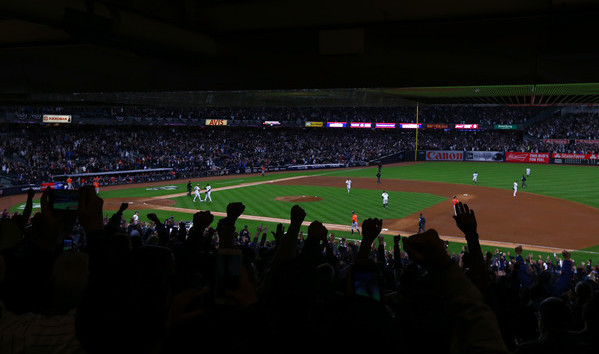 So are we having fun this postseason or what? Once again, the Yankees have fought back from down 0-2 in a series to even things up 2-2. They did it against the Indians in the ALDS, and now the Astros are getting a taste of the Fighting Spirit in the ALCS. That win was amazing yesterday, but the series is far from over. You know that. It's a best-of-three now. Anyway, let's get to the thoughts.
1. Now that the series is tied 2-2, the hard part begins. Mathematically, the Yankees have to do two things to win this series. They have to beat Dallas Keuchel or Justin Verlander, and they have to win a game in Houston. Can't do it any other way. Today's game is huge for both teams, because neither wants to go back to Houston needing to win Games Six and Seven. That's true for the Astros, not just the Yankees. Because there's an off-day tomorrow, I imagine Joe Girardi is ready to go all out with his bullpen to nail down a win today. In a perfect world Masahiro Tanaka would throw seven brilliant innings like he did in Game Three of the ALDS, when the Yankees were facing elimination. If not, Tommy Kahnle and David Robertson could both be asked to throw multiple innings. So could Aroldis Chapman if there are some stray outs that need to get got in the eighth. Girardi knows these guys will get to rest Thursday, and a win today in Game Five would make things so much easier going forward. Hopefully Tanaka continues to pitch well and takes the ball deep into the game. If not, I expect Girardi to use that bullpen aggressively.
2. Speaking of the bullpen, the Astros seem to have some issues down there, huh? Steven wrote about this last week. Ken Giles, last night's blowup aside, has been pretty great all year. Chris Devenski and Will Harris have been very home run prone since the All-Star break though — Harris gave up Aaron Judge's three-run home run in Game Three — and neither Luke Gregerson nor Francisco Liriano inspire much confidence right now. There's a reason neither see high-leverage work. The Yankees sent 15 batters to plate against Houston's bullpen yesterday and none of the 15 struck out. That seems impossible. Could you imagine the Yankees bullpen going 15 batters without a strikeout? Keuchel and Verlander are workhorses of the first order. The Astros can reasonably expect them to pitch deep into Games Five and Six because they've been doing it all year. Now that the Yankees are seeing these guys a second time, hopefully they work the count a little more and not only be more effective against them, but also get into the bullpen a little sooner. The Astros have some issues down there right now, and I'll take my chances in a battle of the bullpens any day of the week.
3. Man, how great was it to see Judge and Gary Sanchez play such huge roles in the comeback yesterday? Forget about their recent strikeout-filled slumps for a second. I'm just talking about two young cornerstone players getting huge hits in a postseason game. That is an awful lot of fun, isn't it? These two are the faces of the franchise now. These are the types of hits and moments the Yankees are going to count on them to provide the next five or ten or however many years. And to see them do it now, in their first postseason and first full MLB season? Gosh that is awesome. Sanchez and especially Judge have looked more dangerous at the plate the last two games and it's not a second too soon. The Yankees need those two to beat Keuchel and Verlander. I'm just glad they were able to snap out of their slumps and contribute in a huge way to that memorable win last night. That alone is really exciting and memorable.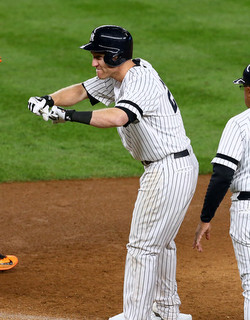 4. Todd Frazier has been exactly the right player at exactly the right time for the Yankees. He's been involved in basically every notable rally so far this postseason. He had the run-scoring double against Trevor Bauer in ALDS Game Four. He worked a nine-pitch walk in front of Brett Gardner's monster 12-pitch at-bat in ALDS Game Five. He slugged the three-run home run in ALCS Game Three the other day. Then, last night, he started that four-run eighth inning rally with a leadoff single. Frazier is a flawed hitter. He pops up a lot and it drags down his average. That's just who he is. But, so far this postseason, Frazier has shown he's not afraid of the bright lights and he embraces the biggest moments. And that's on top of all the intangibles he adds. His teammates love him and he brings so much energy to ballclub. No one is having more fun than this dude. Given his role as a complementary player who bats near the bottom of the order, he's been as good as the Yankees could've possibly hoped. Sometimes teams make a trade and that player just fits in perfectly. That's Frazier.
5. Austin Romine catching Sonny Gray is absolutely going to be a thing now. Assuming the Yankees advance and Gray makes another start, of course. I hope he gets that chance. Following the game yesterday Gray said he and Romine were on the same page — he shook him off only once in five innings — and they had a good rhythm going. That sounds like more than enough for Girardi to justify keeping them together. Gray's last four starts prior to yesterday were rough, mostly because he struggled to throw strikes, so I imagine anything that makes him comfortable and effective will remain in place going forward. That's Romine. Gray said himself they were working well together. What can you do? I guess this is a thing now.
6. With each passing round this postseason, the atmosphere at Yankee Stadium has gotten better and better. The place was electric last night. The atmosphere was great during the Wild Card Game, it was even better during the ALDS, and now it's better than it's ever been since the new place opened. I went to postseason games in 2009. Aside from maybe Alex Rodriguez's game-tying home run against Joe Nathan, I don't ever remember the ballpark getting as loud and as rowdy as it did during the eighth inning rally last night. It's been amazing. Really amazing. This team is lovable — how weird is it that the most lovable team left in the postseason is the Yankees? — and fans are buying into it. The fact they've exceeded expectations makes it so much better. This has been such a fun ride, from the young players having so much success on down to being at the ballpark.