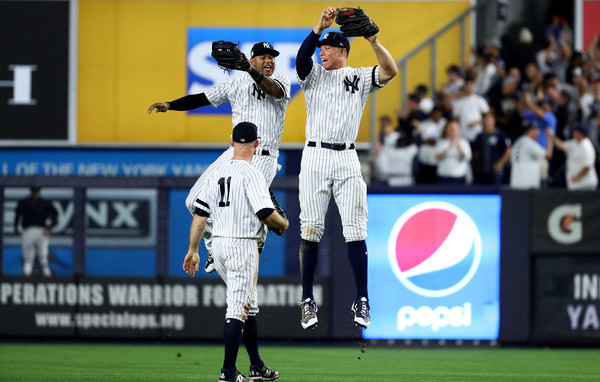 Once again, the Yankees will play with their season on the line tonight. It'll be their fourth elimination game in the last eight days. Not sure I need this much baseball-related stress in my life right now but whatever. Game Five is tonight. Yankees vs. Indians, winner faces the Astros in the ALCS and the loser goes home. Lets get to today's thoughts.
1. I don't know about you, but I am oddly zen about this whole series. Don't get me wrong, I still feel the nerves once the game gets underway. That's unavoidable. But I don't live and die with every pitch like I did when I was younger. Maybe it's just a function of getting older, or maybe it has to do with the fact the Yankees have wildly exceeded expectations this season, and I feel fortunate they've gotten this far. I'm enjoying the ride. That's all. This has been the most fun Yankees season for me in quite some time. It's been better than 2009 in a lot of ways. In 2009, the Yankees were expected to win, and when they did, it almost felt like a relief. This is nothing like that. The Yankees are (a lot) better than I expected, the team is ultra-likeable, and they're just a lot of fun to watch play. Whatever happens tonight, win or lose, I've enjoyed the heck out of this season. It's been a very long time since a Yankees team made me feel this way.
2. Against a guy like Corey Kluber, who is legitimately one of the five best pitchers on the planet, it can be easy to get caught up in the "work the count, raise his pitch count, get him out of the game as fast as possible" mentality. Of course you want to do those things. You want to do that against every pitcher. But I also think there's something to be said for hunting a certain pitch (a fastball, usually) early in the count and taking a big rip if you get it. Kluber's not going to give you many hittable pitches. If you happen to get one first or second pitch, you don't want to pass it up for the sake of working the count. The downside here is that if you do hunt those early count fastballs and don't do damage, you might look up in the sixth inning and see Kluber cruising at 65 pitches. At the same time, if you take pitches and try to drive up his pitch count, Kluber's going to be ahead in the count 0-2 on a lot of guys, and that's no way to hit. The Yankees have several smart, patient hitters in the lineup — Didi Gregorius and Starlin Castro are the only real hackers — so I trust that they'll work the count against Kluber, and also jump on that hittable early count fastball should it present itself.
3. A crazy idea that won't and shouldn't happen: Ronald Torreyes at DH. Or maybe Castro at DH and Torreyes at second. The idea is Torreyes in the lineup over the hodgepodge of unproductive DHs the Yankees have used this postseason. Kluber is super tough and it's not just that hard contact is hard to come by, contact in general is hard to come by against him. Torreyes excels at putting the ball in play. That's his thing. And hey, he sure as heck won't let a hittable fastball go by early in the count. Chase Headley and Jacoby Ellsbury have contributed nothing this series and Matt Holliday hasn't played in over a week. Putting him in the lineup for the first time in nine days in an elimination game against Kluber is asking for trouble. Torreyes hasn't played much either, but he does get the bat on the ball, and maybe that'll lead to something big in Game Five. Like I said though, this ain't happening. It was just a thought.
4. Speaking of the DH, rumor has it Edwin Encarnacion will be back in the lineup tonight. Terry Francona hinted at the possibility yesterday, when Encarnacion ran in the outfield and took batting practice to test the ankle. They're not paying this guy to run. As long as he is healthy enough to mash a baseball, the Indians will put him in the lineup, and live with the station-to-station baserunning. It's not like he gives them that much more than that when healthy anyway. I can't imagine Encarnacion is 100% physically right now — that was a really ugly ankle roll, they're lucky the injury wasn't worse — but I expect him to tough it out and be in the lineup tonight, and that's unfortunate for the Yankees. Encarnacion changes the entire complexion of Cleveland's lineup.
5. So I guess I need to make another prediction? I mean, I already predicted the Yankees in five, so I can't go back on that. I also predicted Aaron Judge will have the big game-winning hit against Andrew Miller in Game Five, so I'm sticking with that too. Furthermore, I'm thinking this game will be low-scoring into the late innings thanks to two very different pitching performances — Kluber dominates while CC Sabathia pitches in and out of jams before giving way to the bullpen in the fifth inning — before the Yankees get the lead late. The final three outs? Painful. Tying run on base, middle of the order due up, something wild like that. Isn't that always how these games go? I don't foresee a quick 1-2-3 ninth inning with two ground balls and a strikeout on ten pitches. I'm expect a good ol' makes-you-want-to-puke ninth inning in Game Five.