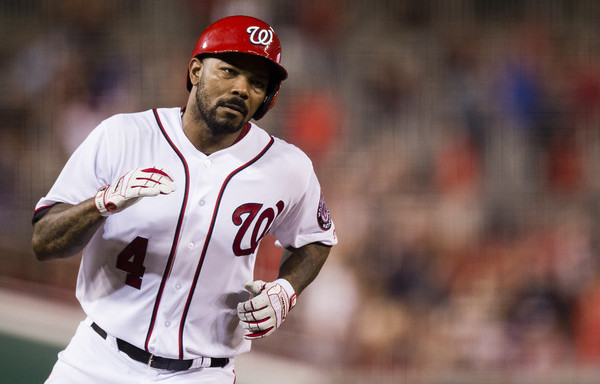 The Yankees have traded away their starting second and third basemen within the last two weeks, and while they have a bevy of young infielders on the cusp of the show, a contender may not want to go with two rookies on the infield. The Yankees have put a lot of faith in young players the last year or two, but things are different now. Last year they were talking about being a team in transition. Now they're clearly a World Series contender.
A veteran infielder, someone who can help bridge the gap to the Gleyber Torreses and Miguel Andujars of the system, could be on the Yankees' shopping list this winter. Will they break the bank for an infielder? Almost certainly not given the plan to get under the $197M luxury tax threshold. A lower cost free agent would be ideal, if such a thing exists. One possible candidate: Howie Kendrick. Let's see whether the 34-year-old is a potential fit.
Offensive Performance
Well, one thing is for sure, playing for the Yankees would hurt Kendrick's numbers. He's a career .346/.411/.481 (137 OPS+) hitter in 61 career games against the Yankees, including .311/.378/.459 (122 OPS+) at the new Yankee Stadium. Too bad signing with the Yankees means he wouldn't get to face Yankees pitching.
Anyway, Kendrick hit .315/.368/.475 (121 wRC+) with nine home runs in 334 plate appearances for the Phillies and Nationals this past season, making it his best offensive season in several years. A year ago he put up a .255/.326/.366 (90 wRC+) batting line with eight homers in 543 plate appearances with the Dodgers. Some quick numbers:
2016 BABIP and wOBA: .302 and .309
2016 xBABIP and xwOBA: .325 and .341
2017 BABIP and wOBA: .382 and .368
2017 xBABIP and xwOBA: .332 and .334
In 2016, Kendrick underperformed his (theoretical) expected BABIP and wOBA based on his batted ball data. In 2017, he outperformed his (theoretical) expected BABIP and wOBA based on his batted ball data. And, coincidentally enough, Kendrick's expected BABIP and wOBA were similar both years. Aside from a little spike late last season, his ground ball rates as well as his hard and soft contact rates have held pretty steady.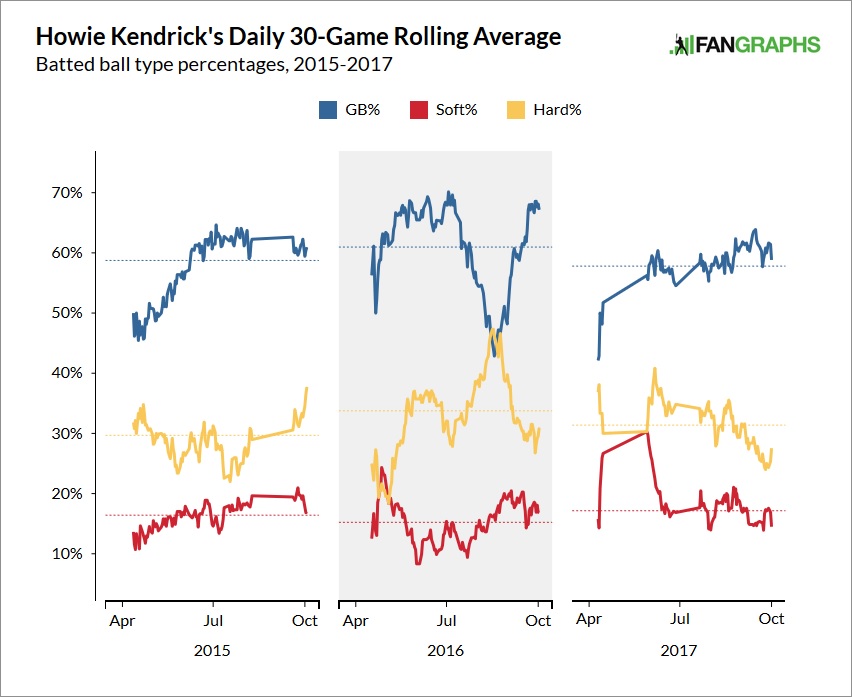 Baseball can be weird. One year a player won't be rewarded for the quality of his contract, then the next he'll be rewarded too much for the quality of his contact, if that makes sense. That's kinda what happened to Kendrick. There's reason to believe he's not really as good as he was in 2017 nor as bad as he was in 2016.
The real Kendrick is probably somewhere in the middle, likely close to his .278/.342/.408 (102 wRC+) combined line in 877 plate appearances from 2016-17. Of course, he is 34 years old now, and things tend to start going south at that age. For what it's worth, Steamer projects a .275/.334/.414 (98 wRC+) line from Kendrick next season, so again more or less league average.
Defensive Performance
Kendrick's days of playing second base full-time are over. He hasn't been a regular second baseman in two years now. The Dodgers moved him into more of a utility role two years ago, when he played mostly left field but also some third base. That continued this past season as well. Here's a quick breakdown of Kendrick's defensive assignments from 2016-17:
First Base: 15 games (+0 DRS)
Second Base: 47 games (-3 DRS)
Third Base: 17 games ( -1 DRS)
Left Field: 156 games (-4 DRS)
Right Field: 3 games (+0 DRS)
Kendrick is my favorite kind of versatile. He can play lots of different positions but he can't play any of them well. Is that really a positive attribute, that a player can hurt you at many more positions instead of one? If the Yankees consider Kendrick for one of their infield positions, I think they have to look at him at third base, not second. And, when time comes for Gleyber or Andujar or whoever, the Yankees could move Kendrick into more of a supersub role.
Injury History
Hamstring injuries have been a thing for Kendrick throughout his career. He missed time with hamstring issues in 2008 (ten weeks total), 2011 (two weeks), 2015 (six weeks), and 2017 (two weeks). Broken fingers (2007), offseason elbow cleanup surgery (2012), a hyper-extended knee (2013), a calf strain (2016), and an oblique strain (2016) have also sidelined him over the years. Kendrick has been in the league for 12 years now and he's had plenty of bumps and bruises. I suppose the good news is he's only had one surgery, and it was a relatively minor procedure in 2012.
Contract Estimates
This is only the second time Kendrick has been a free agent. He signed an extension with the Angels way back when, and when that expired, he re-upped with the Dodgers for two years and $20M. That is the contract that just expired, and he had to wait until February 4th to sign it. Here are two contract estimates:
Given their payroll situation — the Yankees have about $25M to spend under the luxury tax threshold, though some of that has to be set aside for midseason additions — I would be surprised if the Yankees spent $8M for an infielder next year. Not with all the young guys coming. Would they spend $6M? Eh, maybe. Would they guaranteed someone like Kendrick two years? I don't think so. Gleyber, Andujar, Tyler Wade … they're all coming.
Unless you're a reliever, the free agent market is moving very slowly this offseason, so I wonder whether Kendrick will have to wait until right before Spring Training to sign again. If that happens, the Yankees might be able to swoop in with a low lost one-year contract ($4M?) and convince Kendrick to come to New York, accept a third base/super utility role, and have a shot at his first career ring.
Does He Make Sense For The Yankees?
I think so. For sure. It has to make sense financially under the luxury tax threshold, of course, but I think Kendrick would fit nicely as a stopgap infielder. Put him at third — or hold your nose and put him at second if Andujar blows everyone away in Spring Training — until the kids start to force the issue, then adjust. Kendrick can cover multiple positions and he can still hit a bit. What else are the Yankees looking for, exactly?
Maybe I'm wrong, but I have a really tough time believing the Yankees will go into next season with two neophyte infielders after spending so much time and effort upgrading the roster. That doesn't mean I think they'll go bonkers and sign Mike Moustakas or trade for Jason Kipnis. I think they'll look for a bargain free agent for depth and Kendrick could be an option, assuming the free agent market continues to move at a slow pace.