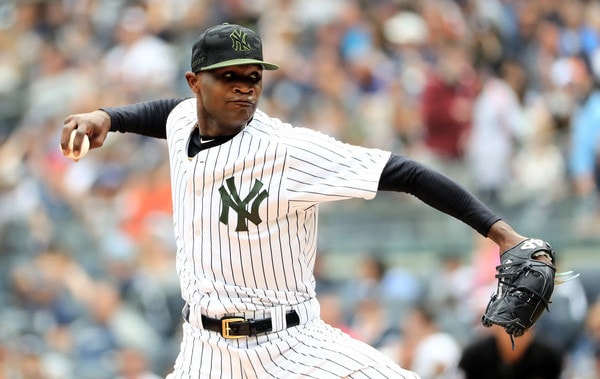 Yesterday afternoon the Yankees dropped the series opener to the Astros, mostly because the offense couldn't do anything against Justin Verlander (again). The Yankees were held to seven hits — it felt like fewer — and no walks in the loss. Verlander will do that. The guy doesn't have a 1.11 ERA by accident.
Anyway, the Yankees fell behind early yesterday when Domingo German allowed a three-run home run to J.D. Davis. A Didi Gregorius misplay didn't help matters, but German walked the generally un-walk-able Evan Gattis (career 6.1% walk rate) and fell behind in the count 3-1 to Davis, then grooved a pitch middle-middle. Can't blame Gregorius for that.
Since throwing six no-hit innings against the Indians in his first MLB start a few weeks ago, German has allowed 16 runs (15 earned) in three starts and 14.1 innings, which is bad. Quite bad. At the moment German owns a 5.45 ERA (4.55 FIP) in 34.2 total innings, which is as close to replacement level as it gets. The numbers speak for themselves.
Despite that, the Yankees should continue to stick with German as their fifth starter, and not only because the alternatives (A.J. Cole?) are unappealing. A few things have stood out to me recently.
1. German settled down after the homer. That game yesterday was one of those games where a young and inexperienced pitcher could've folded like lawn chair after giving up the early homer. Down three in the second inning against the defending World Series champs? That's the kinda situation that can spiral out of the control.
It did not spiral out of control for German, however. I was glad to see him settle down and pitch into the sixth inning. German faced 17 batters after the homer and five reached base, including one on a lackadaisical Gleyber Torres error and another on a well-placed bloop. Three of those 17 batters hit the ball out of the infield.
Everyone wants to see a young pitcher come up and dominate. Rarely do things go that smoothly though. Luis Severino had his bumps in the road too. You can often learn more about players when they struggle than when they succeed, and yesterday German showed everyone he knows how to stay composed and compete even when things go wrong.
2. There were lots of whiffs and chases. German's stuff is so good. He has three lively pitches with velocity and movement, and, in the case of his fastball, a very high spin rate. German threw 104 pitches yesterday and got 16 swings and misses. Many of those swings and misses came on pitches out of the strike zone too: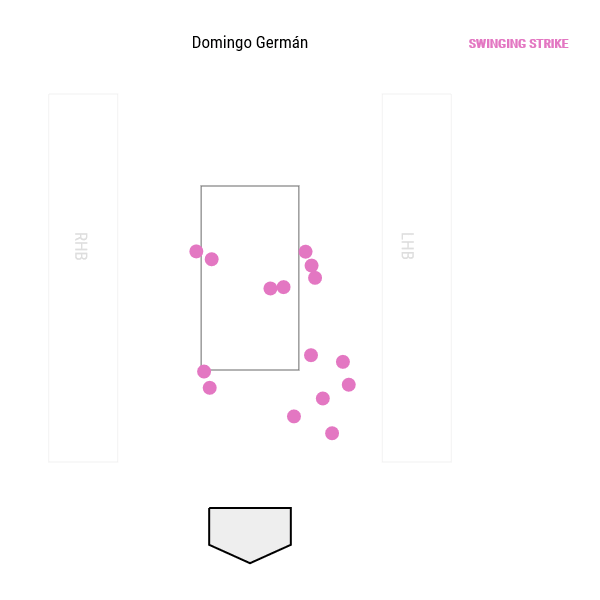 According to Coley Harvey, German coaxed 25 swings on pitches out of the strike zone yesterday, which is the most this season by a Yankees' starter and the most by an opposing starter against the Astros. The Astros as a team have a 28.2% chase rate this season, only of the lowest in baseball. German had them expanding the zone all day yesterday, and remember, they saw him a few weeks ago. It's not like he was a mystery.
The swings and misses and all those chases are a testament to the quality of German's stuff. He generated swings and misses with all three pitches, which is not easy to do. Not against the Astros. This isn't some nothing stuff spot starter like Aaron Small or Sidney Ponson or Darrell Rasner. German has a power arsenal that is worth a longer look, to see whether he'll ever be able to command it.
3. He's be back on a normal schedule. Last time out German walked three Rangers in 3.2 innings and was generally all over the place. His command isn't great overall, but he was also pitching for the first time in ten days that game, and I'm inclined to give him a bit of a mulligan. Yesterday's start was on regular rest (well, one extra day) and German looked much better overall. Sometimes a guy can be too strong after too much rest.
The Yankees are four days into a 14 games in 13 days stretch and that means German will be able to take a regular rotation turn these next few weeks. No ten days between starts or anything like that. German is a young guy pitching for a contending team that expects to win every game and has a hitter friendly home park. That's tough enough. Throw in an irregular schedule and it complicates things further. Let's see what he can do with consistent work.
* * *
Jordan Montgomery started playing catch a few days ago and is not particularly close to returning. When he was placed on the disabled list his recovery timetable was said to be 6-8 weeks, which puts him on track to return late next month. The Yankees are going to need someone to fill in as the fifth starter until then, and although German has had three less than stellar starts in a row, he is the obvious choice for that fifth starter's spot in my opinion.
The Yankees are where they are — and in case you need a reminder, they have baseball's second best record (33-17) and third best run differential (+69) — because they've committed to their young players and stuck it out during the growing pains, whether it be Severino's 2016 or Aaron Judge's debut. German has ability. That much is clear. He is still learning the ropes through, and there have been enough positive signs that the Yankees should stick with him going forward rather than replace him with Cole or someone else.