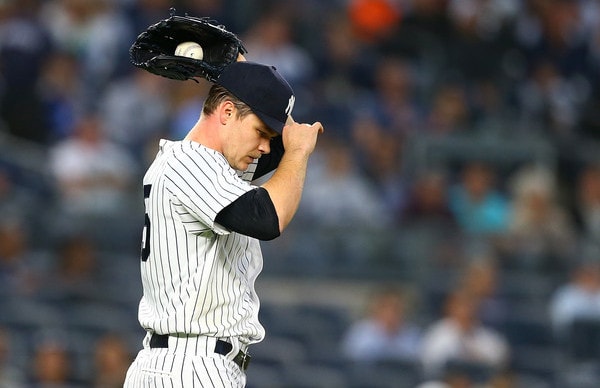 So here we are again. Last night's series opener at Camden Yards was rained out and rescheduled for next month, so this four-game weekend series is now a three-game weekend series. Except there's more rain in the forecast tonight. Not nearly as much as last night, thankfully. Looks like they'll be able to play tonight's game in its entirety at some point. There is some rain in the forecast though. Yuck.
Anyway, whenever they play tonight, Sonny Gray will be on the mound looking to once again bounce back from a poor start. It's been one step forward, one step back all season. Really more like one step forward, two steps back. It's June now. The season isn't young. It's time for Gray to right the ship, otherwise the Yankees are going to have to replace him. The AL East race is too close to keep running him out there without signs of improvement. Here are the starting lineups.
New York Yankees
1. LF Brett Gardner
2. RF Aaron Judge
3. 1B Greg Bird
4. DH Giancarlo Stanton
5. SS Didi Gregorius
6. CF Aaron Hicks
7. 3B Neil Walker
8. C Austin Romine
9. 2B Gleyber Torres
RHP Sonny Gray
Baltimore Orioles
1. 3B Jace Peterson
2. CF Adam Jones
3. SS Manny Machado
4. DH Mark Trumbo
5. 2B Jonathan Schoop
6. 1B Chris Davis
7. LF Trey Mancini
8. C Chance Sisco
9. RF Joey Rickard
RHP Andrew Cashner
Like I said, there is some rain in the forecast tonight, though not as much as last night. We'll see how things go. Tonight's game is scheduled to begin at 7:05pm ET and YES will have the broadcast. Enjoy.
Injury Updates: Gary Sanchez is okay. Aaron Boone said he wanted to give him back-to-backs days away from catching this week, partly because of his calf issue last weekend, and yesterday's rainout is a chance to give him back-to-back-to-back days away from catching, so they're taking advantage of it … Miguel Andujar is fine too. Boone just wanted to get Walker into the lineup … Jordan Montgomery (elbow) played catch again today. He's progressing well but still has a ways to go in his rehab work.
Rotation Update: The Yankees will call someone up to start one of the doubleheader games Monday, according to Boone. They won't start A.J. Cole or Adam Warren. Masahiro Tanaka pitches tomorrow, Domingo German starts Sunday, Luis Severino and a call-up will pitch in the doubleheader Monday, and CC Sabathia will pitch Tuesday. For what it's worth, David Hale threw 6.1 innings for Triple-A Scranton on Wednesday and lines up perfect to start Monday.