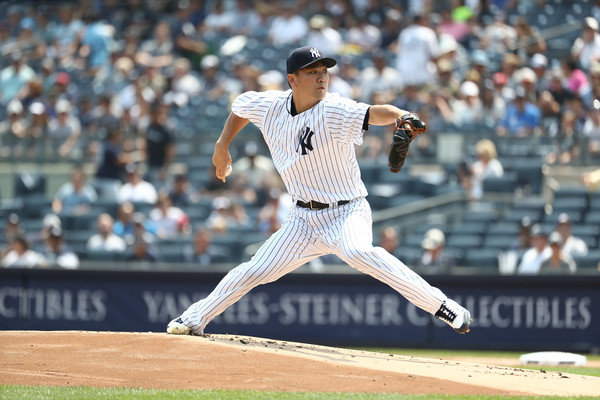 The Yankees have had a decent amount of rotation changes from 2014 and on. One of the few constants, however, has been the presence of Masahiro Tanaka. Since signing with the Yankees in January 2014, you could count on Tanaka being in the rotation and turning in a solid season. In five seasons as a Yankee, Tanaka has compiled a 15.5 fWAR in 132 games started, which averages out to roughly ~3.1 fWAR season in 27 starts. He's a type of pitcher that any team would want in their rotation.
2018 was no different. In 27 starts, Tanaka had a 12-6 record with a 3.75 ERA/4.01 FIP and a 2.7 fWAR. Looking at his numbers closer, he's shown that he pretty much performed true to his style – high strikeouts (9.17 K/9), low walks (2.02 BB/9) and giving up home runs more than once in a start or so (1.44 HR/9). It's perfectly fine for a No. 2-to-mid-rotation starter.
First Half
For the first 12 starts of the season, Tanaka was 7-2. That's a pretty good win-loss record for that many appearances, right? The numbers beneath that surface wasn't as good. In those 67.2 IP, Tanaka had a 4.79 ERA. While he struck out a good amount (65) and limited walks (18), the amount of home runs allowed (15) was the thorn in his side. He was allowing a dinger about every three innings. Basically, he was doing everything pretty well besides gopher balls, and that's a biggie.
There is no way to sugar coat this: Tanaka was throwing pitches that were too hittable. One of the causes may be that the hitters weren't chasing his offspeed pitches as much. In 2017, Tanaka was literally the best at it – hitters chases his pitches out of the zone 42.1% of the time. That is ahead of guys like Corey Kluber, Chris Sale, Max Scherzer, etc. This may have been the result of the Yankees' anti-fastball philosophy. Tanaka doesn't have a great fastball to begin with, so not only did he rely on his better pitches, but also he eliminated one of his weaknesses out of the equation.
Unfortunately, big league hitters are not suckers. The approach may work for awhile, but the teams keep tab on guys like Tanaka. They notice things and start adjusting accordingly. That may have caught up with him in early 2018, as teams just started chasing way less. It's almost like he needed to change something up to get things going later in the season (this becomes important later).
Injury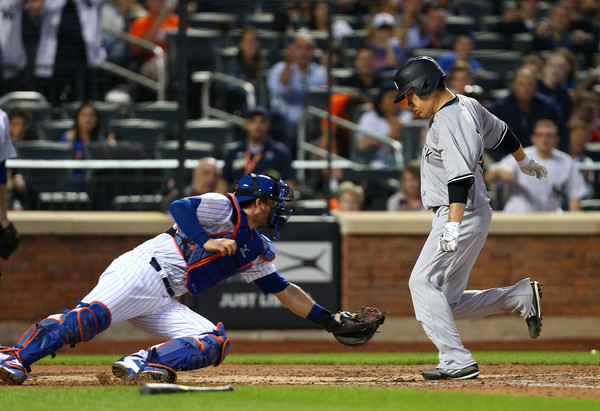 After a less-than-ideal first half, Tanaka needed to turn his season around a bit. Against the Mets on June 8, Tanaka threw 5 brilliant innings, striking out 8, allowing only one hit (a home run) and a walk. There was a major problem though: Tanaka exited the game after the top of the sixth. Because it was a Mets home game, the Yankees had to abide by the NL rules and Tanaka had to hit for himself. It seemed like, right away, that Tanaka hurt his lower body tagging up from the third base on a sac fly. As soon as Tanaka did not return to the mound, Yankee fans' mind flashed back to Chien-Ming Wang in 2008. Take a look.
Well, the good news was that Tanaka's injury was not as bad as what Wang suffered. The bad news is that it was an injury – to both of his hamstrings. It's a very Mets injury and of course, it happened in the Citi Field.
"I don't think it's anything special," Tanaka said after the game. "I've been doing this since I was a little kid. It's on me that I got hurt."
Tanaka indeed was a position player (a catcher at one point, actually) and pitcher growing up, all the way through high school. But since being drafted into NPB, he's not really had to do much hitting. From 2007 to 2018, he's compiled only 70 plate appearances. I doubt he's had to do baserunning training/drills as position players would. It sucks that he was thrown into a situation where he had to run more than what he's usually asked to and got hurt. I'm not going to go full-force on "ban the DH" sentiment here since vast majority of AL pitchers who end up baserunning in NL field come out unscathed. It feels more like a thing that happened in unfortunate series.
Second Half Brilliance
A month after he was shelved, Tanaka returned to action on July 10 vs. the Orioles. While his first outing back was a dud (4.1 IP, 6 H, 3 ER), the rest of the season wasn't. In the 14 starts after coming off the DL, Tanaka went 5-4 with a 3.02 ERA in 83.1 IP. Not only he kept striking out hitters (86) and limiting walks (16), he kept the ball in the yard (9 homers). There was a streak of four starts from August 27 to September 14 in which he did not allow a home run at all (with three of them at the Yankee Stadium for what it's worth). So what changed?
Here is one noticeable thing: he threw more fastballs towards the end of the year. Here is his monthly fastball usage log from Brooks Baseball:
March: 16.9%
April: 21.9%
May: 20.3%
June: 16.9%
July 16.9%
August: 19.4%
September: 29.7%
The rate in September is almost as twice as much as that of March/June/July. September also happened to be the month where he marked a 2.79 ERA with only 2 home runs allowed in 29.0 IP. He threw less cutters, curveballs and sinkers, kept up with slider and splitter usage and bumped up the fastball frequency.
My theory? Maybe he was going against what the book had on him. I'm sure Tanaka was aware that opponents knew he had offered a steady diet of breaking stuff. At some point, that can become predictable, getting opposing batters to sit on non-straight pitches. However, he chose to keep up with slider and splitter because, frankly, those are two that he just can't do without. They also happen to be the only two pitches that's rated positively on FanGraphs pitch values.
So while he continued using his best pitches, Tanaka decided to turn heads by attacking hitters with fastball. His fastball isn't really anything to write home about so I'm guessing the league could catch up to up, in which case he can tweak his approach again. It may not be an ideal outcome, but all big league pitchers go through it.
Postseason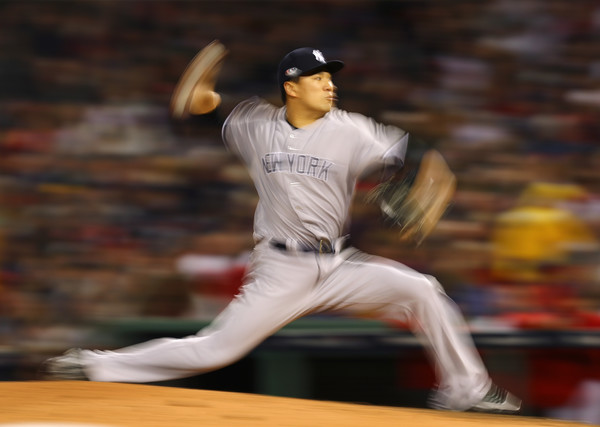 Tanaka had such a strong postseason last year that he became a realistic candidate for a one-game AL Wild Card Game vs. Oakland. He and J.A. Happ were the two sturdiest starting pitchers going into the postseason, so most guessed that it would be one of those two (spoiler: it wasn't). If one would weigh a pitcher's postseason/big game history, Tanaka would be an easy choice. The man's pitched big games all his life. In 2006, before getting drafted by the Rakuten Golden Eagles, Tanaka led his high school team to the Koshien Finals with his bat and arm. He won the 2009 World Baseball Classic gold medal with Team Japan. He had that legendary 2013 Japan Series where he closed out the title game with a save one day after throwing a 160-pitch complete game. With the Yankees, he had thrown 25 innings in the postseason with only 4 runs allowed. I'm not a huge "postseason genes" guy, but if I were, Tanaka would be someone I'd definitely give the tag.
That being said, the Yankees went with their best starting pitcher in the past two seasons for the AL Wild Card game (it's Luis Severino, btw). Because they won that and made it to the ALDS, Tanaka was slated to make at least one start in the postseason. He got the call to pitch against the Red Sox in the Game 2 of the ALDS.
Against the eventual World Champions, Tanaka held on his own. He pitched five innings, allowed only a run and struck out four. He earned the win and that would be the only win the Yankees would earn in that series. That was the last outing for Tanaka in 2018. Let's hope he gets more postseason starts in 2019.
What's Next?
It is a very sure thing: Tanaka will be a Yankee for at least two more years. In the winter of 2017-18, Tanaka chose to stay in New York by exercising a three-year, $67 million option. This was an ultimate win-win move. The Yankees retained a reliable starter for three more years, and Tanaka got to escape what it turned out to be a hellish offseason for free agents. I'm not sure if he would have suffered the same fate as that of Alex Cobb or Yu Darvish, but making ends meet very early in the winter turned out to be a good decision.