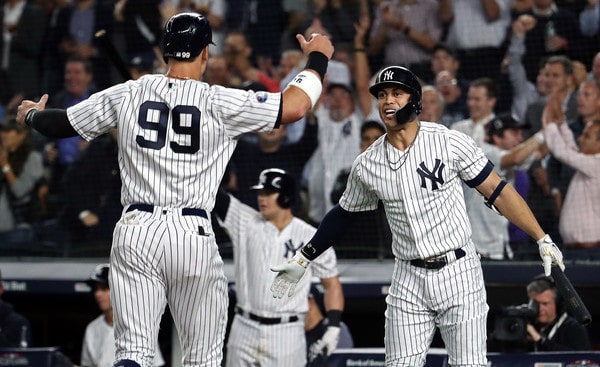 After seven weeks and 38 posts, our 2018 Season Review series finally comes to an end today. It was a good run. Time to put 2018 in the rear-view mirror and look ahead to 2019 and beyond. If you missed any of the season review posts, or simply want to check them out again, there's a link in the sidebar.
Anyway, there are still a few stray miscellaneous 2018 items I want to cover as part of the season review series, so we're going to lump them together in this smorgasbord post. Here's the last little bit of "what you need to know" from this past season.
Dingers. So many dingers.
If you're a fan of home runs — I sure am! — this was the season for you. The Yankees set a new Major League record with 267 home runs this season, three more than the 1997 Mariners. They did that even though Aaron Judge missed seven weeks, Gary Sanchez missed two months (and was pretty bad when healthy), and Giancarlo Stanton had a down year. With a healthy Judge and a typical Stanton season, the Yankees might've hit 300 homers in 2018. Golly.
The raw home run total is impressive. How the Yankees did it is downright staggering. Prior to 2018 only five teams in baseball history hit at least 250 homers in a season, and all five had at least one 40-homer guy plus another 30-homer guy. The list:
1997 Mariners (264): Ken Griffey Jr. (56), Jay Buhner (40), Paul Sorrento (31)
2005 Rangers (260): Mark Teixeira (43), Alfonso Soriano (36)
1996 Orioles (257): Brady Anderson (50), Rafael Palmeiro (39)
2010 Blue Jays (257): Jose Bautista (54), Vernon Wells (31)
2016 Orioles (253): Mark Trumbo (47), Chris Davis (38), Manny Machado (37)
The Yankees had neither a 40-homer guy nor multiple 30-homer guys. Stanton led the team with 38 homers. Judge, Miguel Andujar, Aaron Hicks, and Didi Gregorius all tied for second with 27 apiece. The Yankees did have 12 different players hit at least ten homers this year though. That's a record. Also, 24 times a Yankee hit multiple home runs in a game in 2018. That ties the record.
Perhaps most amazingly, the Yankees received at least 25 homers from eight of the nine positions — they received at least 30 homers from six positions — and at least 20 homers from all nine lineup spots. Check it out:
Homers by Position
Catcher: 30
First Base: 34
Second Base: 25
Shortstop: 33
Third Base: 26
Left Field: 19
Center Field: 30
Right Field: 38
Designated Hitter: 31
(Plus one as a pinch-hitter)
Homers by Lineup Spot
1. 27
2. 39
3. 27
4. 44
5. 35
6. 26
7. 23
8. 26
9. 20
Twenty homers from each lineup spot is insane. Absolutely insane. That's the attack the Yankees had this season. They didn't have that one guy who had a monster season. They had a lot of guys who had really good seasons. I mean, 20 homers from each lineup spot? Twenty-five homers from each position? A dozen different players with double-digit homers? This was the Year of the Dinger and it was glorious.
Bad Weather & Bad Travel
The Yankees had a rough weather year this season, starting with a home opener snowout. Second time in three years the home opener had to be postponed. And with the home opener scheduled for March 28th next year, it might be three postponements in four years. Anyway, the Yankees had nine games postponed this year plus another game suspended. The list:
April 2nd vs. Rays: Made up the next day (home opener).
April 14th at Tigers: Made up during a June 4th doubleheader.
April 15th at Tigers: Made up during a June 4th doubleheader.
May 15th at Nationals: Suspended after five innings and completed June 18th.
May 16th at Nationals: Made up during the June 18th one-and-a-half-header.
May 31st at Orioles: Made up during a July 9th doubleheader.
June 3rd at Orioles: Made up during an August 25th doubleheader.
July 22nd vs. Mets: Made up on August 13th.
July 27th vs. Royals: Made up during a doubleheader the next day.
September 18th vs. Red Sox: Game "postponed" from 1pm ET to 7pm ET.
The September 18th game was officially "postponed" rather than "delayed" because a postponement allowed fans to exchange their tickets for the Yom Kippur game. Anyway, that is nine postponements (eight if you don't count September 18th) plus one suspended game. This season the Yankees played four doubleheaders and one one-and-a-half-header to complete the suspended game, and they gave up four off-days to makeup dates. The Yankees went 5-5 in the nine makeup games plus the suspended game, by the way.
Furthermore, the Yankees had to threaten to boycott ESPN to make their travel less hectic. ESPN flexed the July 8th game between the Yankees and Blue Jays into their 8pm ET Sunday Night Baseball slot. So the Yankees would've had to play in Toronto on Sunday night, then play a doubleheader in Baltimore on Monday. The doubleheader was scheduled long before ESPN flexed the game too. They knew about the doubleheader and tried to get the Yankees to play Sunday Night Baseball anyway. The Yankees said move the game or we'll ignore your reporters and refuse to cut promos, and that took care of that. The fact they had to do that to get the game moved was ridiculous.
The Yankees had some travel problems in addition to all the postponements this season too. After that May 16th rainout, the Yankees spent the night at Dulles International Airport due to the bad weather and a mechanical issue with the plane. They didn't leave for Kansas City until the following morning. On May 23rd the Yankees left Dallas after a game with the Rangers but had to return to the airport shortly after takeoff due to mechanical problems. They didn't takeoff for home until six hours later. And finally, on June 3rd, the Yankees were stuck on the tarmac for a while because of a radar issue. Sheesh.
Back In The Attendance Lead
It takes some time for team performance to result in noticeable attendance and ratings changes. Those changes usually don't show up until the next season, in fact. People aren't out there saying "hey, the Yankees went 20-10 this month, let's go buy a bunch of tickets" or anything like that. I mean, that does happen a little bit, but it takes some time to see a meaningful change in attendance and ratings.
In 2016 the Yankees went 84-78 and missed the postseason. They sold at the trade deadline, in fact. In 2017 the Yankees went 91-71 and fielded a young up-and-coming team that went to Game Seven of the ALCS. In 2018 the Yankees went 100-62 and lost the ALDS in four games. A very good but ultimately disappointing season relative to expectations. Now, the attendance numbers:
2016: 3,063,405 (37,820 per game)
2017: 3,154,938 (38,950 per game)
2018: 3,482,855 (42,998 per game)
Last season's winning and general excitement helped the Yankees increase attendance roughly 10% and draw more than 4,000 more fans per game in 2018 than 2017. It was their best attendance season since 2012 (3,542,406 total and 43,733 per game). The Yankees led the AL in attendance this year — they led the league in attendance every year from 2003-15 before slipping behind the Blue Jays in 2016-17 — and were second in MLB behind the Dodgers (3,875,500 total and 47,043 per game).
As for primetime ratings, Maury Brown passed along Nielsen numbers, which show the Yankees were again the most watched team in baseball. By a mile too. Ratings for Yankees games were 57% higher than Red Sox games, the second most watched team. YES Network ratings were the highest since 2012. Primetime Yankees games on YES outdrew the eleven highest rated primetime entertainment shows combined in the New York market. Attendance and ratings went up this year. Big time. (Wouldn't it be cool if some of that extra revenue was put into the roster?)
The New Score Bug
The worst part of the 2018 season was not watching the Red Sox win the World Series, or Judge getting hurt, or Sanchez forgetting how to hit, or Luis Severino going all Sonny Gray in the second half. No, the worst part of the 2018 season was the YES Network changing their score bug in the middle of the season (I may be exaggerating). This is the old score bug: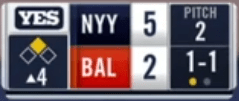 Nice and concise. Tells me all the essentials in one easy to read box. The score, the baserunners, the inning (top or bottom!), the count, the outs, and the pitcher's pitch count all clear and easy to see. The pitch velocity showed up in the pitch count box after each pitch and was easy to read. It was beautiful in a way only baseball score bugs can be beautiful. Then this monstrosity showed up on August 30th: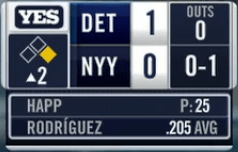 What in the world is that? I kept looking at the outs box to see the pitcher's pitch count. I'm a simple man. I have a 36-inch television and a cramped New York apartment. My couch isn't that far from the television, but I constantly had to squint and strain my eyes to see the pitcher's pitch count in that little box under the score bug. Oh, and that line with the pitch count? That's where the pitch velocity shows up, so you have to strain your eyes to see that too.
And what's up with the batting average? I don't need to see that. You showed it to me before the at-bat! I don't need the constant reminder. To be fair, the batting average is replaced by the player's game performance in subsequent at-bats. It'll say he's 1-for-1 or 0-for-4 or whatever, which is nice, but there's no additional information (homer? walk? etc.), and it's still clutter. There's too much to look at there.
I'm not normally someone who complains about change. I am embrace change. New and interesting things happen all the time and I want to know all about them. This new score bug though? No. No no no. I applaud the folks at the YES Network for trying to improve the viewer's experience. There's just too much going on here and important information like the pitch count and velocity — stuff I look at after literally every pitch — is too difficult to read. The old score bug was fantastic. Simple, easy to read, didn't take up much real estate. I miss it.