Got a dozen questions in the mailbag this week. Good mailbag, I think. As always, send your questions to RABmailbag (at) gmail (dot) com and I'll get to as many as I can. Don't take it personally if yours doesn't get answered. We get a lot of questions each week and can only answer so many. Keep tryin'.
Steve asks: While Hicks' contract is a great deal for the Yankees, this has to be one of the weirder contracts of recent memory, no? The combination of years and salary are just odd. Typically the type of players that get 7 years get way more $$, can you think of any comps? Thanks.
It is an unusual structure. It's a lot of years with a relatively low average annual value, which leads me to believe the Yankees traded extra years for luxury tax savings. The Reds gave Eugenio Suarez a seven-year, $66M extension last year, but he was three years away from free agency, not one year away like Hicks.
I went back ten years to find players with at least five years of service time (like Hicks) who signed contracts with at least seven guaranteed years. Here are the smallest average annual values:
Dustin Pedroia: $13.75M (eight years, $110M)
Matt Holliday: $17.14M (seven years, $120M)
David Wright: $17.25M (eight years, $138M)
Eric Hosmer: $18M (eight years, $144M)
Jayson Werth: $18M (seven years, $126M)
Shin-Soo Choo: $18.57M (seven years, $130M)
Those are the only contracts that fit our criteria (5+ years of service time, 7+ years long) with a sub-$20M average annual value over the last ten years. The lowest average annual value is still nearly 40% larger than Hicks'. Crazy. You have to go all the way back to Scott Rolen's eight-year, $90M contract ($11.25M per year) in 2002 to find a contract that fits our criteria with a lower average annual value than Pedroia's. So yes, Hicks' contract is very usual. Contracts this long with an average annual value this low basically never happen. Until now, anyway.
Steven asks: Lets say (and pray) that Bird and Voit both have good spring training. Any chance they both make the team, and one of them typically DHs with Stanton moving to left?
Aaron Boone has indicated the Yankees won't carry both Luke Voit and Greg Bird on the Opening Day roster. With a three-man bench, carrying two first base only guys really hurts roster flexibility. Also, given what we've seen out of Bird the last two years, there's a decent chance 35-year-old Brett Gardner is still a better player given his defense and baserunning. I'm not sure there's anything Bird can do this spring to win a roster spot. I'm really not. He was so bad last year — it wasn't just bad BABIP luck or something, there was no life in his bat — that I don't think anything he does this spring will change the team's mind. Spring Training is full of lies. Don't trust the numbers. Let Bird go to Triple-A, show he can stay healthy and produce, then figure out a way to get him into the lineup if he responds well. Opening Day is too soon and he's lost the benefit of the doubt.
Doron asks: I dunno why, but I am getting a strong Jose Quintana vibe on Nestor Cortes. What do you think?
Nah. Cortes' fastball averaged 88.2 mph during his stint with the Orioles last year and his Triple-A strikeout (20.8%) and swing-and-miss (8.8%) rates don't exactly scream MLB success. Quintana had a better fastball and a much better curveball, and he didn't walk as many batters at the time the Yankees let him go. He went to the White Sox, they taught him a cutter, and he took a big step forward. Maybe Cortes can hang as an up-and-down lefty specialist. There's no out-pitch here though, and not enough fastball to keep hitters honest. He is a great Triple-A pitcher but there's little reason to believe he can get big leaguers out consistently. He and Quintana are very different animals. Quintana had much better pure stuff, better control, and he's shown he has a great feel for pitching as well. I wouldn't worry about Cortes turning into the next "one who got away."
Steven asks: NYY paid more for DJ LeMahieu (2 yrs/24M) than Twins paid for Marwin Gonzalez (2 yrs/21M). Who you rather have?
Gonzalez. He's a better hitter — Gonzalez will never hit .303/.377/.530 (144 wRC+) like he did in 2017 again, but four times in the last five years he's been a 100 wRC+ or better player — and a switch-hitter, plus he's a good defender who is actually versatile and doesn't have to learn other positions like LeMahieu. The money is essentially a wash and they're basically the same age, but Gonzalez is a switch-hitter, a better hitter, and more versatile. To me, that makes up for LeMahieu being a Gold Glove second baseman and Gonzalez being merely a solid defender. LeMahieu is fine but I'd rather have Marwin. Keep in mind though, these guys signed a month apart, and you can't assume Gonzalez would've taken the same offer to come to New York. Had the Yankees passed on LeMahieu and continued to wait out the market, it is entirely possible they could've wound up with neither guy. In a vacuum, give me Gonzalez.
Travis asks: So, apart from wanting the Yankees to have signed either/or Machado and Harper…as Yankees fans, did we get a best case scenario (if Harper signs with Philly) in that neither of them are in the American League (or the AL East) and not on the same team?
Pretty close to the best case scenario, I'd say. The best case would've been Manny Machado and Bryce Harper going to National League teams with no real shot at contention anytime soon. I guess that means the Marlins? As good as those two are, the Marlins would likely still be a few years away from a postseason (or World Series) appearance even after signing both of them. The Padres are on the rise because of their farm system, though they're probably a year or two away from really breaking out. The Yankees will see Machado this year (three interleague games) but probably don't have to worry about facing him in the World Series for a little while. Harper signing with the Phillies definitely puts him in "the Yankees might see him in the World Series this year" territory. This isn't the absolute best case scenario, but it's close. Keeping them away from the AL East is the next best thing to signing them.
Alessandro asks: Hick's extension has got me thinking: Who has better long term upside, Florial or Frazier? Who would you rather keep?
Estevan Florial has more long-term upside but I'd rather keep Clint Frazier. The best case scenario for both is a bona fide middle of the order masher. Florial is a better defender and a better runner though, plus he plays the more premium position, which is why he has the higher upside. That said, Frazier is about as close to big league ready as it gets. Florial didn't have a great year in High-A last season — surely the wrist injury had something to do with that — and his pitch recognition is a real problem. If it clicks, forget it, he'll be a star. The odds of it clicking are small though. Frazier has shown some skills at the big league level and is much closer to reaching his ceiling as a non-switch-hitting version of Nick Swisher than Florial is to reaching his ceiling as … lefty hitting George Springer?
Paul asks: How much longer do you think Cashman will be the Yankees GM? He's awesome, but he's been around forever. At some point you have to think either he'll retire or not get renewed.
Brian Cashman is the longest tenured general manager in baseball and it is not close. He was named GM in February 1998. Rangers GM Jon Daniels is the second longest tenured GM. He was hired in October 2005. (Billy Beane was promoted to president of baseball operations in 2015.) I've given up trying to guess when Cashman will no longer be the GM, either because he gets promoted or leaves the organization. I thought he might leave when his contract was up during the 2004-05 offseason and the Phillies reportedly chased him hard. I thought he would get promoted to president of baseball operations (or something along those lines) during the 2014-15 offseason, with Billy Eppler taking over as GM, but nope. Cashman signed a new five-year contract last offseason, so he's not going anywhere anytime soon, not unless something crazy happens and the Yankees collapse. Twenty years is an eternity for a GM in any sport but there are no indications Cashman's time will be up soon. He is very loyal to the Yankees — they are literally the only employer he's had in his adult life — so my guess is when the time comes and Cashman is no longer the GM, it's because he transitions into another role with the organization.
Rob asks: Hey Mike, do you see MLB ever expanding to four divisions of four (north, south, east, west alignment), removing the unbalanced schedule, and going back to the four best teams in the playoffs?
Yes to expansion and four divisions, maybe to eliminating the unbalanced schedule, no to four teams in the postseason. The Wild Card Game is too successful (i.e. a moneymaker for MLB) for me to think it's going away. Maybe they'll turn it into a best-of-three series at some point, but I don't think we're going back to four teams in the postseason. More teams in the postseason equals more revenue and that's the entire point. MLB is only adding postseason spots from here on out. Not taking them away.
Expansion is inevitable. I don't know if it's five years away or ten years away or 50 years away, but it is coming. Two new teams equals two 16-team leagues and four four-team divisions. I guess the four division winners and the best non-division winner go to the postseason each year? The worst division winner and the fifth team play the Wild Card Game? I dunno. Interleague play isn't going anywhere and balancing the schedule with 32 teams and a 162-game season probably doesn't work. They'd have to shorten the schedule, which the MLBPA is pushing for anyway.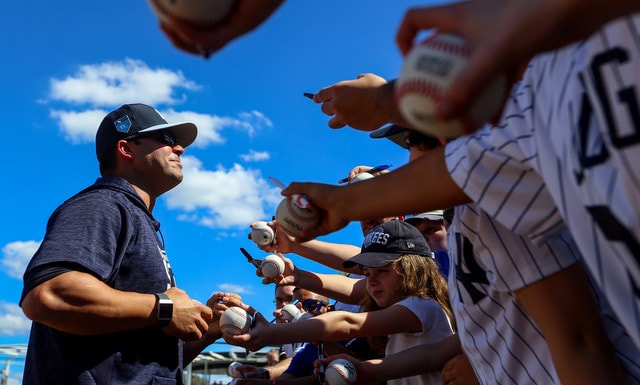 Brandon asks: In light of the Aaron Hicks extension, I figured this would be a good time to ask. Which trade was the bigger steal: Swisher for Wilson Betemit or Hicks for John Ryan Murphy?
Hicks is awesome but it has to be Nick Swisher. The extension and the trade are two separate entities, and the Yankees gave up nothing in both trades, so that isn't a factor. The Yankees acquired four years of Hicks and, at best, he will give then three above-average seasons. The Yankees acquired four years of Swisher and he gave them four above-average seasons. To put it another way, Swisher was at +14.2 WAR in his four seasons in pinstripes. Hicks is at +8.0 WAR in three years. Does he have a +6.2 WAR season in him in 2019? It is definitely possible. Right now though, I lean Swisher because he was very good all four years with the Yankees. Hicks had the dud year in 2016. Both were phenomenal trades. The Swisher, Hicks, and Didi Gregorius trades were massive wins that, individually, would headline the resume for many other general managers. Cashman and the Yankees made all three trades in the span of seven years. Pretty amazing.
Anonymous asks: I'm a huge Dellin Betances fan & felt he should have made the all-star team in 2018. Where do you rank him amongst the Yankee relievers?
I think there's a good case to be made Betances is the third best reliever in Yankees history. Mariano Rivera is in his own little world, obviously. To me, Dave Righetti is a distant second to Rivera but also a good bit ahead of the next tier, which includes Betances, David Robertson, Goose Gossage, and Sparky Lyle. Here is the franchise WAR leaderboard for relievers:
Mariano Rivera: +56.3 WAR (+2.6 WAR per 60 IP)
Dave Righetti: +23.0 WAR (+1.2 WAR per 60 IP)
Goose Gossage: +18.9 WAR (+2.1 WAR per 60 IP)
Sparky Lyle: +15.0 WAR (+1.2 WAR per 60 IP)
Johnny Murphy: +14.1 WAR (+0.9 WAR per 60 IP)
David Robertson: +13.1 WAR (+1.6 WAR per 60 IP)
Dellin Betances: +11.6 WAR (+1.8 WAR per 60 IP)
Betances is seventh in WAR but everyone ahead of him has thrown at least 117 more innings in pinstripes, which is why I included WAR per 60 innings. There is definitely something to be said for longevity, that's why I have Righetti second on my personal list, but on a rate basis Betances has been as good as anyone other than Rivera. (It's silly to pretend WAR is so exact that a +0.3 WAR/60 difference between Betances and Gossage is meaningful.)
Dellin has at least one more year to go with the Yankees and hopefully many more after that. By the end of a hypothetical three-year extension, Betances could very well be the clear cut third best reliever in team history behind Rivera and Righetti, and at that point, he might be closing in on Righetti as well.
Update: I included Righetti's time as a starter in the list above like the dope I am. He was at +12.7 WAR (+1.2 WAR per 60 IP) as a reliever. So I guess that makes the argument Betances is one of the top three relievers in team history even stronger.
Lawrence asks: In your column on Wednesday, you stated that Betances's feat of striking out at least one batter in 44 straight appearances was the longest such streak in American League history. You didn't qualify that as just a record for relievers. Hard to believe that Ryan, or Clemens or Johnson (Randy or Walter) never went 44 straight with at least one strikeout. How far did they go? And who has the National League record? Another reliever?
Yeah, that's my bad, I should've noted it is the reliever record. It's an important distinction. Betances has the American League record (and MLB single-season record) with 44 straight appearances with a strikeout. Aroldis Chapman has the National League record with 49 appearances spanning two seasons back when he was with the Reds. Here's the leaderboard for starting pitchers:
Tom Seaver: 411 straight starts with a strikeout (1967-78)
Nolan Ryan: 382 starts (1979-92)
Curt Schilling: 378 starts (1993-2007)
David Cone: 347 starts (1989-2003)
Doc Gooden: 347 starts (1984-97)
Cole Hamels is ninth with 332 straight starts with a strikeout and that's the longest active streak. Clayton Kershaw (316 starts) and Gio Gonzalez (307 starts) are both working on active streaks longer than 300 starts and David Price (289 starts) and CC Sabathia (283 starts) are both closing in on 300 consecutive starts with a strikeout. If we look at all pitching appearances, not just starts, Ryan's 382-game streak is the longest in history. At some point during his 411-start streak Seaver made a relief appearance and failed to strike out a batter.
Jeremy asks: What is the reasoning behind not televising all Spring Training games? Sure, viewership will be far lower than a regular season game but I have to imagine ratings would be higher than a Centerstage rerun or whatever YES will air during that time.
It's all about cost. At some point the cost of broadcasting games (paying the broadcasters and crew, covering their travel and lodging, etc.) outweighs how much money those broadcasts bring in. The network does the math, says profits are maximized at X number of broadcasts, so that's how many games they broadcast. That's all it is. Every network has scaled back on spring broadcasts in recent years but the YES Network still shows more than most. They're broadcasting 12 games this spring, all at home in Tampa so the crew and equipment doesn't have to move around. Fortunately other networks usually broadcast games when their team plays the Yankees because the Yankees equal ratings, so we get a lot of road broadcasts on MLB.tv and MLB Network. Other fans aren't so lucky.