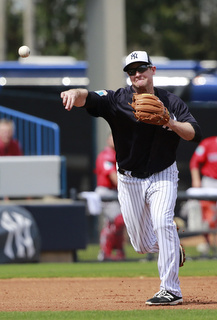 Coming into Spring Training, one of the most important storylines in Yankees' camp was Chase Headley's throwing. The team's third baseman really struggled on defense last season, particularly when it came to making routine throws, and it's something he needs to iron out before the regular season. "I'm not panicked that all of a sudden I forgot how to catch and throw a baseball," he said after reporting to camp last month while also acknowledging a need to work on his throwing.
One week into the Grapefruit League campaign, Headley has played four games and 21 innings at third base, and all four games have been televised. He's had nine defensive chances — one pop-up and eight grounders — and he handled all nine with no problems. The stats are totally meaningless though. I'm more interested to see Headley's throwing mechanics and his body language this spring since those were obvious issues a year ago, when he looked tentative and short on confidence.
So far this spring Headley's throwing looks … well … it looks normal. He looks like a normal third baseman who steps into the throw and fires across the diamond. Here's one play from over the weekend, for example: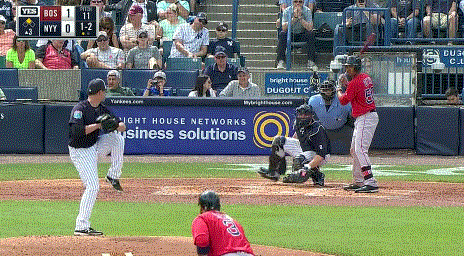 The ground ball was right to Headley, so it was as routine as it gets. He scooped the ball, checked the runner at second, then threw a dart over to first base. There's conviction behind the throw. That was lacking at times last season, sometimes very much so. It was an obvious problem. Headley lacked confidence in his throwing.
"The mental side of the game is as important or more important, so when things are going well it's easy to be confident, easy to just kind of let things happen," said Headley last month. "And when things aren't going well, our natural instinct is to correct it and focus even more but sometimes that's not the way to fix it. I wouldn't say I was overly mental about it but certainly when you're playing well and you're confident, it's much easier to be confident."
Does the one random play I decided to GIF plus seven others not shown here mean Headley is over his throwing issues? Of course not. He's going to have to work to get his throwing back on track all spring and probably continue working on it into the season too. For now, I'm encouraged because I've seen throws with conviction and a player who's simply reacting, not thinking. That's the way it should be.