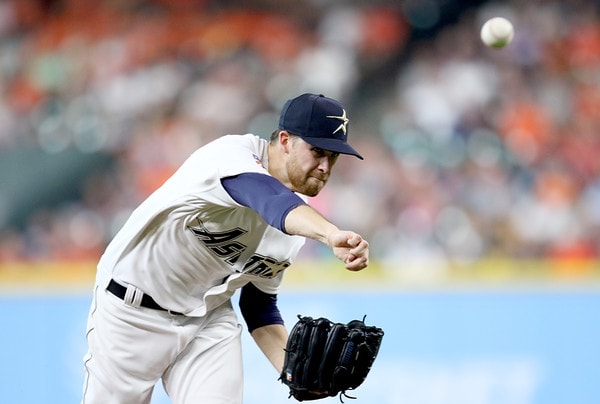 The Yankees are still in search of another starting pitcher, having most recently (so far as we know) checked-in on Jake Odorizzi. That news came from Ken Rosenthal's article on the trade interest being generated by Odorizzi and another arbitration-eligible starting pitcher — 30-year-old Collin McHugh. It's not a name that generates a great deal of buzz on its own, but he might just make sense as an under-the-radar acquisition for the Yankees.
Current Performance
McHugh was an up-and-down arm for the Mets and Rockies in 2012 and 2013, tossing just 47.1 uninspiring innings across those two seasons. The Astros picked him up on waivers in December of 2013, and he has, when healthy (hold onto that thought) been a member of their rotation ever since. Let's take a look at his four seasons in Houston:

Nothing really stands out about his numbers, aside from the relative consistency of performance between 2015 and 2017. McHugh's walk and strikeout rates are both better than average and, with the exception of his abbreviated 2017, he keeps the ball on the ground at an average or better rate. He's essentially been a league-average pitcher over the last three years by ERA (1% below-average), FIP (9% above-average), bWAR (2.2 per 180 IP), and fWAR (3.1 per 180 IP), and there's plenty of value in that.
It's also worth noting that McHugh is fairly difficult to square-up with any semblance of authority. He has surrendered a 27.7% hard-hit rate over the last three years (good for the 14th among 123 qualified starters), as compared to the league-average of 30.7%. And, as per Statcast, his average exit velocity over that same time is right around 86 MPH, which is comfortably below-average.
Current Stuff
McHugh became a four-pitch guy last year, throwing a low-90s four-seamer, a mid-80s cutter, a low-80s slider, and a low-to-mid 70s curveball. That slider is a pitch that he's dabbled with before, and oftentimes played as a slower version of his cutter – but he threw it more than ever last year, and with pretty good results. You can see the evolution of his pitch selection here: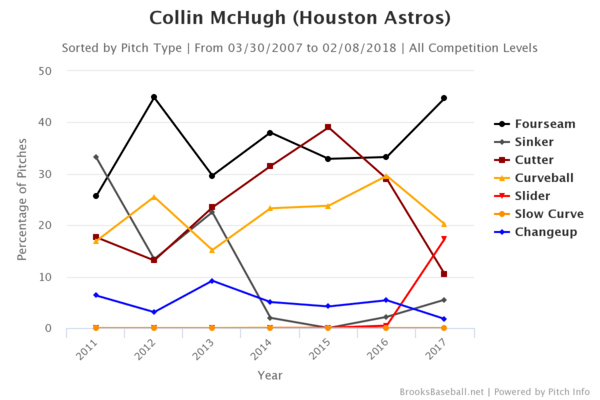 There has been some discussion about McHugh's velocity dipping in recent years, as it peaked at 92.4 MPH in 2014 and has decreased since. However, 2014 was a fairly significant outlier, as his average velocity has never been higher than 91.5 MPH otherwise. Take a look:
I don't mean to be dismissive of any drop in velocity, as that is frequently a warning sign – but McHugh has never been a hard thrower and, with the exception of 2014, his velocity has stuck within 0.5 MPH or so on the whole. And it's difficult to worry too much about his fastball when his curveball has one of the highest spin rates in the game, and also does this:
Collin McHugh, 74mph Curveball to Beltre. ?? [h/t @Joshua_C_Hill ] pic.twitter.com/vO5YhaH8el

— Rob Friedman (@PitchingNinja) August 31, 2017
Injury History
And here we go.
McHugh opened the 2017 season on the disabled list with shoulder tendinitis, which isn't great. He made his first rehab start at Triple-A on April 6, and left the game with tightness in his arm, which was eventually diagnosed as a right elbow impingement. McHugh sat out until June 30, when he made a rehab start at Double-A, and he didn't make his way back to the majors until July 22. That's not great.
That being said, McHugh's only prior stint on the disabled list was way back in 2014, when he tore off the nail on his middle finger. And he looked like himself when he did return last year, which is certainly a good sign.
Contract Status
McHugh is in his second year of arbitration eligibility, and is slated to head to arbitration. He filed at $5 MM, and the Astros filed at $4.55 MM, so he'll make one of those two figures in 2018, and will remain under team control through the end of the 2019 season.
What Would it Take?
Thanks to the acquisition of Gerrit Cole, McHugh now finds himself sixth or seventh on the rotation depth chart, so it would make sense for the Astros to move him. The reigning World Series champions don't have an obvious need anywhere on the big league roster, though, so what they might want in return is anyone's guess. The most recent deal for a starting pitcher with two years of team control remaining is … Gerrit Cole. It's something of a stretch to compare Cole and McHugh, given that Cole is three years younger and was largely perceived as a highly desirable trade target – but that can still inform our expectation of a trade package.
The Pirates return for Cole was swingman Joe Musgrove, RP Michael Feliz, 1B/3B prospect Colin Moran, and OF prospect Jason Martin. It was something of a quantity over quality return, though it also represented four players that were at or close to the major league level. I suspect that the Astros might be more willing to take a better prospect regardless of his proximity to the show, given their roster construction and still solid farm system; but it's anyone's guess.
Does He Make Sense for the Yankees?
I think so. The injury risk is there, but the cost should (hopefully) be fairly low – and there is a bit of a ceiling there, too. It's definitely more of a risk vs. reward scenario than many of the other pitchers that we've discussed, but he has a track record of average-ness and is proven in a hitter's park in the American League. I don't know that he's a safer or better bet than Jordan Montgomery, but I do think that he's a better bet than the Luis Cessas in the organization … and that might be the best that the Yankees can get while also staying under the tax.