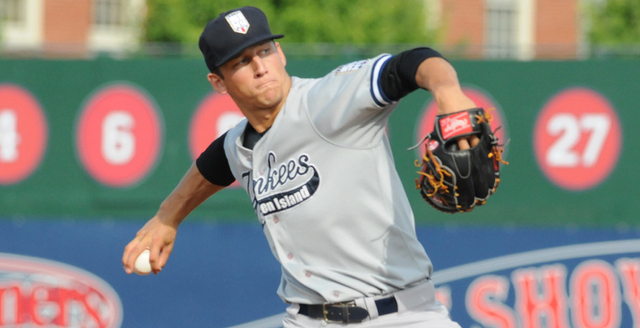 Coming into the season the Yankees had a very position player heavy farm system. That's not necessarily a bad thing, but their position player depth did far exceed their mound depth. You'd like more balance, ideally. Once LHP Ian Clarkin got hurt and it became obvious RHP Luis Severino would soon arrive in MLB, the farm system pitching picture looked even bleaker. The Yankees were light on arms.
The 2015 amateur draft didn't erase that lack of pitching depth completely, but it did start to the move the team in the right direction. The Yankees selected pitchers with three of their first four picks, four of their first six picks, and 24 of their 41 total picks. Twenty-three of the 35 draft picks they signed were pitchers. Whether the emphasis on arms was intentional or just a coincidence, the Yankees added some much-needing pitching depth to the organization in the draft. Let's review the class.
The Top Pick
The Yankees did not forfeit their first round pick to sign a free agent last offseason, so they held the 16th overall pick in the 2015 draft. They hadn't picked that high since taking Florida HS RHP Matt Drews with the 13th pick way back in 1993. Years of good records and forfeiting high picks to sign free agents kept the Yankees away from top 16 picks for more than two decades.
"It did feel a little bit more like that," said scouting director Damon Oppenheimer to reporters in June when asked if picking so high came with extra pressure. "It felt like you owe it to the Yankees and you owe it to the organization to get somebody with this pick who's going to produce and be a quality Major League player. You feel like that about most of them, but when it comes to picking higher than we have since Matt Drews, before I was even here, it does feel that way. I'm not going to lie about it."
The Yankees used that 16th overall pick to select UCLA RHP James Kaprielian, the fifth pitcher taken in the 2015 draft. Interestingly, a few reports — speculation more than factual reports, I'd say — indicated the Yankees were planning to take a high school bat with their top pick, but the guys they were targeting had already come off the board, namely Florida HS OF Kyle Tucker, George HS SS Cornelius Randolph, New York HS OF Garrett Whitley, and Texas HS OF Trent Clark.
Anyway, Kaprielian landed a slightly above-slot $2.65M bonus a few days before the signing deadline. He allowed six runs (five earned) in 11.1 regular season innings for the Rookie Gulf Coast League affiliate and Short Season Staten Island after turning pro, then he dominated in two postseason starts with the Baby Bombers: 12.1 IP, 7 H, 1 R, 1 ER, 0 BB, 10 K combined. The Yankees then sent him to Instructional League after the season.
"We do think this guy is at least a No. 3 starter and above" added Oppenheimer. "His stuff definitely is now stuff, and it's now quality stuff. He has control to go along with mental maturity. It seems it could be (a guy who climbs the ladder quickly), but I don't know the timetables on these guys. It's too hard to tell. But he shouldn't have to spend too much time at the lower levels."
I think there's a real chance we'll see Kaprielian in the big leagues in the second half next season. He could follow something along the lines of Ian Kennedy's path, meaning ten starts with High-A Tampa, eight with Double-A Trenton, six with Triple-A Scranton, then the big leagues in August and September. Obviously he has to perform and show big league stuff, but Kaprielian should move very quickly.
I normally like to be conservative with young pitchers, but Kaprielian's an exception. There's no reason to hold a polished college guy with command of multiple offspeed pitches back. Being ready soon is part of his appeal.
The Other Quick Moving Guy
Kaprielian has a chance to reach the show in the second half of next season and it's entirely possible he will be only the second 2015 Yankees draftee to reach MLB. Dallas Baptist RHP Chance Adams (fifth round) reached High-A Tampa in his pro debut and had a 1.78 ERA (1.75 FIP) in 35.1 innings at three levels. He struck out 31.7% of batters faced and walked only 6.3%. Adams was overwhelming.
Obviously the numbers are great, but Adams also saw his stuff jump a notch in pro ball. He went from sitting low-to-mid-90s in college this spring to sitting mid-90s and touching as high as 99 after signing, and his already good slider gained consistency with pro instruction. Adams is a pure reliever and I think he'll start next season with Double-A Trenton. If starts 2016 with the same stuff he had at the end of 2015, the only question about Adams' readiness will be how soon the Yankees want to clear a 40-man roster spot for him.
The Bonus Baby Arms
In addition to Kaprielian, the Yankees signed two other pitchers to well-above-slot bonuses using the savings from the late-round draft pool manipulating picks. (They took cheaper prospects in rounds 7-10 to save pool space.) First they gave California HS RHP Drew Finley (third round) a $950,000 bonus, about 50% over slot. Then they gave Louisville LHP Josh Rogers (11th) a $485,000 bonus, nearly five times slot.
Finley was a potential late-first round pick who slipped into the third round. He allowed a shocking number of walks (12.6%) and homers (2.53 HR/9!) in his 32-inning pro debut with the new Rookie Pulaski affiliate, but he still missed bats (27.2%) and showed a bat-missing curveball. Finley's not a hard-thrower — he was mostly 89-91 mph this summer — but he has a pretty good plan on the mound and is already making strides with his changeup.
The Yankees were able to lure Rogers, a draft-eligible sophomore, away from school following his strong showing in the Cape Cod League. He allowed six runs in 13.1 innings for Short Season Staten Island and Low-A Charleston, striking out 16 and walking three. Rogers is a three-pitch southpaw — low-90s gas, good slider, improving changeup — who can locate well, so he has a chance to remain a starter.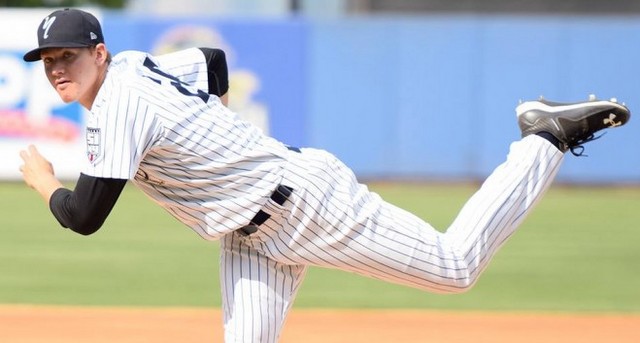 The Other Top Picks
The Yankees picked up a supplemental first round pick when David Robertson signed with the White Sox, and they used that pick (30th overall) on San Diego SS Kyle Holder. Holder didn't hit in his pro debut — .213/.273/.253 (57 wRC+) around a nagging thumb injury with Short Season Staten Island — but his bat is not his calling card anyway. He's an elite defender at shortstop, and that's one heck of a carrying tool.
Indiana State LHP Jeff Degano was New York's second round pick and third selection overall. He spent some time piggybacking with Kaprielian for Short Season Staten Island and allowed eleven runs in 21.1 pro innings, striking out 22 and walking nine. Degano missed the entire 2014 college season following Tommy John surgery, though he worked off the rust in the spring, and showed a low-90s heater with a sharper low-80s breaking ball. He's not as polished as Rogers but offers more upside as a high strikeout lefty.
Late-Round Pitching Depth
In Alabama RHP Will Carter (14th) and BYU RHP Kolton Mahoney (16th), the Yankees added two promising depth arms who could follow in the footsteps of guys like Chase Whitley (15th round in 2010) and David Phelps (14th round in 2018) to give the Yankees serviceable innings. Is that exciting? No, but we're talking about the double-digit rounds here.
Carter has maybe the best fastball the Yankees drafted this year — he sat 96-97 mph with his sinker for Short Season Staten Island. I saw him pitch a few times this summer and couldn't believe a guy with that kind of fastball lasted until the 14th round. Carter had a 2.04 ERA (3.91 FIP) in 17.2 innings for the Baby Bombers and, not surprisingly, he generated 5.4 ground balls for every fly ball. He's a reliever.
Mahoney has an interesting backstory. He didn't pitch at all from 2012-13 because he was on a Mormon mission, so his arm is relatively fresh. Mahoney had a 2.29 ERA (2.99 FIP) in 55 innings for Short Season Staten Island and is a four-pitch starter: low-90s fastball plus a curveball, slider, and changeup. His command is good considering his relative inexperience and he has the stuff to stay in the rotation.
Position Player Prospects
The 2015 draft wasn't all pitchers, just mostly pitchers. In addition to Holder, the best position player prospects the Yankees drafted this summer are Florida Southern OF Jhalan Jackson (seventh) and Florida JuCo OF Isiah Gilliam (20th). Florida JuCo OF Trey Amburgey (13th) had an incredible pro debut — he hit .335/.388/.502 (161 wRC+) in 62 games split between the GCL and Short Season Staten Island — and has tools, but is more interesting sleeper than bonafide prospect.
Jackson hit .266/.338/.452 (133 wRC+) with Short Season Staten Island and showed off both his raw power (five homers and .186 ISO) and swing-and-missability (29.8 K%). He has classic right field tools, meaning power, a strong arm, and some speed. Jackson can hit a mistake a mile but must improve against breaking balls and with pitch recognition in general to succeed at the upper levels.
The Yankees gave Gilliam a well-above slot $450,000 bonus and he showed a more advanced approach than expected in pro ball, hitting .296/.359/.415 (132 wRC+) with a 15.0% strikeout rate and a 9.8% walk rate in 42 GCL games. He hit only one homer, but power remains his calling card. Gilliam's a switch-hitter with thump from both sides, and his athleticism allowed him to move to the outfield after being drafted as a first baseman.
Oregon State OF Jeff Hendrix (fourth), Texas JuCo IF Brandon Wagner (sixth), and Arizona HS 3B Donny Sands (eighth) are other position player draftees worth keeping an eye on. Wagner has the most power, Sands the most two-way ability, and Hendrix the highest probability. He could help as a speedy fourth outfielder down the line.
* * *
The draft is always a lot of fun and super exciting … then the novelty quickly wears off. It usually doesn't take long for the prospects to separate themselves from the suspects. Even the lowest levels of professional baseball are hard. Almost every pro player was the best player on his college or high school team, after all.
The Yankees landed themselves a very good starter pitching prospect (Kaprielian) and a very good bullpen prospect (Adams) in the 2015 draft. They added three more solid arms (Degano, Finley, Rogers), several position players with carrying tools (Holder, Jackson, Gilliam), and a few promising late-rounders (Carter, Mahoney). There's still plenty of time for others to emerge, but right now, six months after the draft, those guys are the keys to the 2015 draft for the Yankees.