Our season preview series continues this week with the starting rotation, though the format will change just slightly. Since there's no clear starter/backup/depth lineage when it comes to starting pitchers, we'll instead look at each type of pitcher — ace, number two, back-end, etc. — at different levels.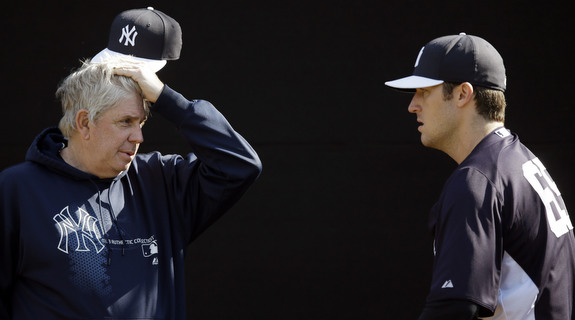 Number four starters are the black sheep of the rotation. The top three guys are important for obvious reasons, they're the ones who will be expected the carry the team in the regular season and (especially) in the postseason. Fifth starters tend to be eminently replaceable and inconsequential. Fourth starters are just … there. Necessary, but not good enough to grab headlines and usually not bad enough to make teams seek a replacement.
St. Philip of Hughes
Phil Hughes is no kid anymore. He's entering his seventh big league season and will qualify for free agency next winter. The 26-year-old has thrown 635 innings across 152 career games, so it wouldn't be wrong to call him a veteran at this point. He's been a top prospect, a rookie starter, an elite setup man, injured, an All-Star starting pitcher, a World Champion … you name it and it seems like Hughes has done it already.
Last summer, Phil followed up an awful April (7.88 ERA and 6.53 FIP) with five pretty strong months (3.90 ERA and ~4.32 FIP), with the end result being 32 starts and 191.1 innings that were almost exactly league average (4.23 ERA and 4.56 FIP). Hughes was maddeningly homer prone (1.65 HR/9) and that's something that didn't change all year. Even at his best he'd give up homers, they just happened to be solo homers because he never walked anyone (2.16 BB/9 and 5.6 BB%). Hughes quietly posted the tenth best K/BB ratio in the league (3.59), better than Hiroki Kuroda, Jered Weaver, and reigning Cy Young Award winner David Price.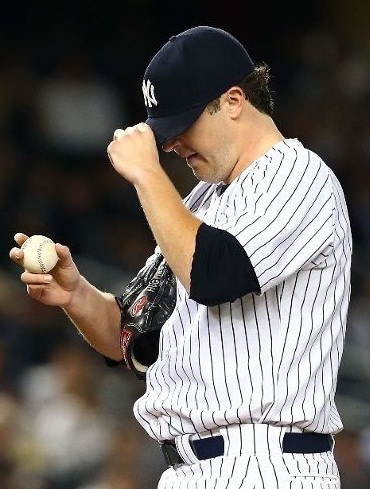 A minor back injury forced Hughes out of his Game Three start in the ALCS, and another back issue (maybe related, maybe not) sidelined him for several weeks in camp. He threw a simulated game earlier this week and the next step could involve a minor league start, but the bottom line is that he may not be ready in time for the start of the season. If not, he'll open the year on the DL and presumably rejoin the rotation in the second or third turn through. Barring no setbacks, of course.
Hughes is a bit of a polarizing figure in Yankeeland. Some see a failed prospect, others see a useful fourth starter, others see a guy about to enter the prime of his career. Who's right? Probably all three to some extent. It's extremely unlikely Hughes will ever develop into the frontline pitcher he was projected to become a few years ago, but at the same time it's obvious he's a big league caliber starter right now. At 26 and going on 27 this summer, taking a step forward isn't out of the question at all. He fits all of that criteria.
As far as the Yankees are concerned, the Yankees will need Hughes to be better this season than he was last year. They lost a lot of offense and will rely on their pitching to carry them, so Phil needs to take that step forward and put together six strong months instead of just five. He'll have to curb the homer problem a bit — won't be easy in Yankee Stadium and the other offense-happy AL East parks, obviously — and most importantly, stay on the field. Whenever he gets back from the DL, he has to stay healthy and make every start the rest of the way.
As far as his impending free agency, all Hughes needs to do to ensure a fat contract is repeat his 2012 effort. Guys who are still three years away from their 30th birthday and have had three league average seasons in the last four years tend to get paid well, especially when they do it in the AL East and have a strong playoff track record*. Will the Yankees be the team to give him his next contract? I'm pretty convinced the answer is no given the plan to get under the $189M luxury tax threshold in 2014. It's one thing to let guys like Nick Swisher and Russell Martin leave as free agents, but it's another to let homegrown players like Hughes walk, especially at his age. I wouldn't be too happy if that happens.
* Hughes got crushed in the 2010 ALCS (11 runs in 8.2 IP), but otherwise he's been nails in the postseason. We're talking a 2.61 ERA with 32 strikeouts in 31 innings. Doesn't mean much, but it's better than the alternative.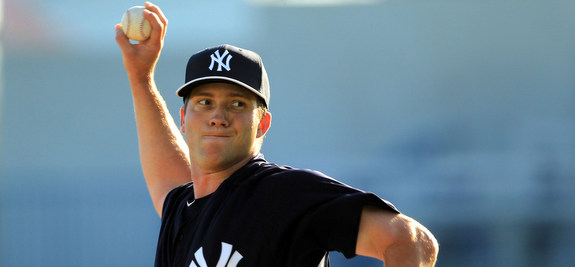 Knocking on the Door
The Yankees have a few back-end types slated for Triple-A Scranton, with the best of the bunch being 25-year-old Adam Warren. The right-hander got pounded in his big league debut (and only career MLB game to date) last summer, allowing six runs and ten of the 17 men he faced to reach base in 2.1 innings, but he was much more effective in Triple-A (3.71 ERA and 3.72 FIP in 152.2 IP). I ranked him 17th on my preseason top 30 prospects list in part because a little of his prospect shine has come off in the last year, mostly because he repeated Triple-A and didn't take much of a step forward (if any) in his performance. Warren has the tools to start — specifically a five-pitch fix and an aggressive, bulldog approach — but will need something else to click to reach that number four starter ceiling. I like him best as a short reliever, where he can scrap some of the miscellaneous pitches and attack hitters with his two best offerings.
The Top Prospect
It's Warren, but for the sake of variety I'm also going to mention left-hander Matt Tracy. The 24-year-old southpaw has just one season as a full-time pitcher under his belt, yet he still managed a 3.18 ERA (3.63 FIP) in 99 innings for High-A Tampa last year. He uses his big — listed at 6–foot-3 and 215 lbs. — frame to pitch downhill with a low-90s fastball and a fading changeup. The Yankees also have him working on a big-breaking curveball. Tracy signed as a college senior in the 24th round of the 2011 draft, so he's a older than typical High-A prospects in terms of age but quite a bit younger in terms of pitching experience. I'm a fan and I ranked him 22nd on my preseason top 30, just a handful of spots behind Warren. The Yankees will aggressively bump Tracy up to Double-A Trenton this summer and he could force his way into the big league picture by the second half of 2014.
The Deep Sleeper
Probably going a little too far off the board here, but 21-year-old right-hander Cesar Vargas has the three-pitch mix and solid enough command to wind up near the back of a big league rotation. He pitched to a 3.13 ERA (2.96 FIP) in 46 innings with the rookie level Gulf Coast League affiliate and Short Season Staten Island last year, his first in the United States after three in the Dominican Summer League. Vargas obviously has a very, very long way to go, but all the tools are there for him to become a number four starter down the road. He just has to learn how to use them.
* * *
The Yankees and Hughes are in a very weird place this season. They obviously need him to be very good this summer, but the better he pitches the less likely it is he re-signs with the team after the year. Not exactly what we're all used to, but such is life. Warren and Tracy give the team some decent back-end depth, plus they could serve as trade bait if the team needs to make a move or three. Cheap starters are always a hot commodity.