Does anyone want to see this series extended any further than it has to? No, I think one day off between Games 5 and 6 is plenty. Unfortunately, the weather might prove prohibitive. In fact, Weather Underground says it's pretty much a given that it's going to rain and thunder all game long.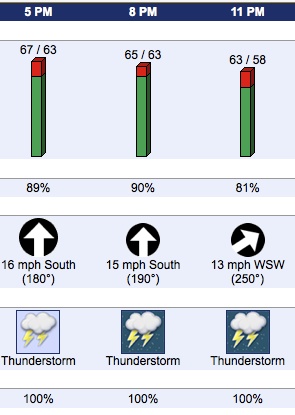 That 100% on the bottom of the chance of precipitation. I don't think it includes the chances of thunder.
The Weather Channel is a bit more forgiving. Their changes of precipitation sits at just 80 percent. I like that — they give themselves a margin for error. I don't understand why a meteorologist would ever predict 100 percent chance of precipitation.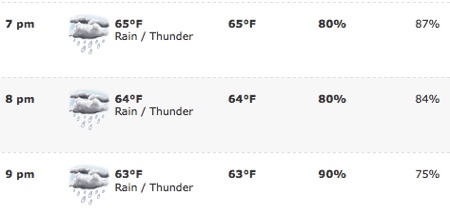 So it doesn't look good. The guy on TWC is retaining some optimism. If you feel like being your own meteorologist, check out the radar.
That will conclude our weather-based posed…hopefully forever.