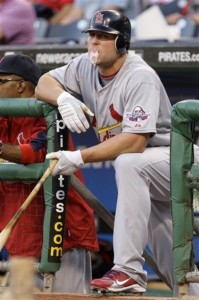 Sometimes really good just isn't enough. Yahoo's Steve Henson tweets that despite the now official Curtis Granderson pickup, the Yankees "aren't satisfied" with their outfield, and will still be in on free agent Matt Holliday. A source told Pete Caldera that the Yanks still have room in their budget for one big contract, which amazes me if they actually plan on sticking to the projected $190-200M payroll.
"Maybe the budget is something people laugh at," Cashman said. "It's high. Clearly it's the highest in the game. But it's very defined and so I won't exceed it."
Right now, the Yanks have $177.6M tied up in 12 players. That doesn't include arbitration raises to Chad Gaudin ($3M?), Sergio Mitre ($1.5M?) and Melky Cabrera ($3M?), nor the money owed to Andrew Brackman and Juan Miranda (about $1M). At least six other guys that project to be on the 25-man roster will be making close to the minimum, so let's call that another $3M. Add it all up, and we get $189.1M. Gaudin is a non-tender candidate despite his strong work in pinstripes, but hopefully they'd tender him a contract and trade him for even a B-prospect instead. You'd have to think there would be a decent market for a guy like that.
So even if they non-tender Gaudin, that leaves them about $14M of wiggle room, assuming they spend to the maximum of that $190-200M range. Is that enough to land Matt Holliday? Probably not. Scott Boras would need to come back to the Yanks late and offer up Holliday at a "reduced rate," similar to what he did with Carlos Beltran. If they move Melky Cabrera and fill his spot with a guy making the minimum, maybe through the Rule 5 Draft later this morning, then they might have $17M left to offer. That might get Holliday in pinstripes.
However, is that what's best for the team? Obviously, Matt Holliday is a tremendous player and instantly makes any team he's on better, although it would push the Yanks right up against their spending limit, leaving them limited room for in-season moves. Plus they'd be without a designated hitter and short some pitching depth with Ian Kennedy gone and Chad Gaudin non-tendered/traded in this scenario.
Instead of putting all their financial eggs in one Holliday basket, Brian Cashman & Co. are probably better off spreading the money around a bit. For $11M, they could could probably bring in one of Nick Johnson or Justin Duchscherer, plus another half-decent player for depth while keeping Gaudin and the Melkman. Sure, Holliday may end up in Boston, but "our rival might get him" does not justify any move.
I'd love to have Matt Holliday in leftfield and hitting fifth behind A-Rod come Opening Day, however not if it comes at the cost of roster and financial flexibility. Remember, the 25 guys that break camp are never the same 25 guys that make up the playoff roster, and it's already been proven that Brian Cashman will go out and address a weakness mid-season if need be. Frankly, if they're going to go out and drop big bucks on one player, I'd prefer a high-end pitcher over a high-end position player.
Photo Credit: Gene J. Puskar, AP