The Yankees and Pirates have developed a bit of a big brother-little brother relationship over the last few seasons. Whenever little brother has something that big brother wants, big brother imposes his will on little brother and takes it away. In exchange, big brother will give whatever he doesn't want to little brother. The Yanks poached Damaso Marte and Xavier Nady from Pittsburgh in 2008, then turned the same trick last year when they grabbed Eric Hinske (and money to pay half his salary!), and in the meantime they've been sending their scraps (Steven Jackson, Eric Hacker, Casey Erickson, etc.) to the Steel City.
With an obvious need for a late inning arm in the bullpen, the Yanks could again turn to their little brother in Western Pennsylvania, who have a productive closer and no real need for one. We've already looked at trade scenarios involving Jeff Keppinger, Ty Wigginton, and David DeJesus, but now let's turn our attention to the mound and our old buddy Octavio Dotel.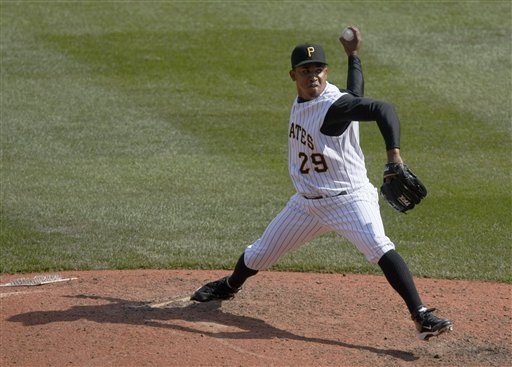 Obviously, the Yanks already have a history with Dotel. They signed him to one year deal worth $2M with a bunch of incentives prior to the 2006 season, when the former Met was working his way back from Tommy John surgery. He ultimately appeared in just 14 late seasons games for the Bombers, and predictably battled control issues (very common after elbow surgery) as he pitched to a 7.50 xFIP in ten measly innings. The two sides parted ways after the season, and Dotel has since pitched for Royals, Braves, White Sox, and now Pirates.
The now 36-year-old righty has changed a bit through the years, replacing the upper-90's gas with a low-90's heater while scaling back it's usage a bit in favor of a curveball. He's still got the wipeout slider and still racks up a ton of strikeouts, but the walks have increased and so have the fly balls. The elbow has yet to give Dotel any more trouble, but he has dealt with some oblique issues (including this spring) and had a shoulder strain back in 2007. Any pitcher can hurt his arm at any given moment, but it's less of a concern when the guy is on a short contract.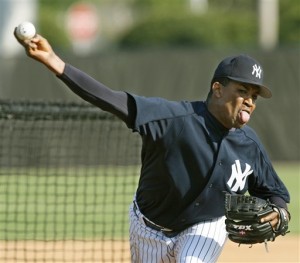 That short contract will pay Dotel about $1.9M the rest of the season, and there's a $500,000 buyout for his $4.5M option for next season. He projects to be a Type-B free agent quite comfortably, so if whatever team holds his rights at the end of the season is feeling frisky, they could decline his option and offer him arbitration for a shot at a supplement first round draft pick. On the downside, he could accept and be looking at an arbitration award north of $4M (ooo saves, shiny).
While it's clear that the Yankees could use another end game arm, I'm not 100% convinced that Dotel is the answer. His walk and homerun rates aren't necessarily a deal breaker, but they're not the kinds of characteristics you want to see in a high leverage reliever. Experience certainly counts for something (to his credit, Dotel's been pitching in high leverage spots his entire career), but it won't overcome 5.34 BB/9 and 54.2% fly balls in a park that's inflated homerun totals by something like 32% since being opened (using ESPN's park factors). The element of name recognition comes into play here, so Dotel's trade value is going to be perceived to be higher than his actual value.
Sky Kalkman's trade value calculator pegs Dotel's trade value at $5M in the best case scenario, which is equivalent to a Grade-B hitting prospect or two Grade-C pitching prospects under the age of 22 according to Victor Wang's research. Think Corban Joseph or Jairo Heredia and Nik Turley, something along those lines. For a three or four month rental of an inherently volatile reliever? I think I'll pass.
* * *
Related Aside: Look at how many relievers have been traded on the deadline. Too many to count. How many went on to be productive for their new team? A whole lot less, that's for sure. The position is just so unpredictable, it doesn't matter how good a guy's track record is when you acquire him. He might suck unexpectedly and for no reason whatsoever. That's why I hate spending big money and giving multiple years to bullpeners.