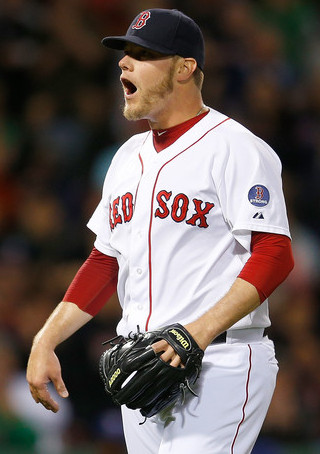 In 19 days, we will know where Masahiro Tanaka will pitch next season one way or another. He'll either sign with an MLB club or return to the Rakuten Golden Eagles for another season. The Yankees are expected to be heavily involved in the bidding for Tanaka, and, until his January 24th signing deadline passes, the right-hander figures to dominate the hot stove headlines.
The Bombers definitely need another starter — you can argue they need two more starters, really — and that is the top priority right now, but they also need bullpen help. Quite a bit of bullpen help, really. The Yankees have already signed lefty Matt Thornton to a two-year deal but he is just a lefty specialist at this point of his career. They could use another non-specialist — someone who can get both lefties and righties out — to pair with David Robertson and Shawn Kelley. Someone to knock the Dellin Betanceses and Preston Claibornes of the world down a peg.
We've already looked at Grant Balfour, who would be a great bullpen addition after his deal with the Orioles fell through. Great as long as the medicals check out, I mean. Other big-ish name relievers available in free agency are Francisco Rodriguez, Fernando Rodney, and former Yankee Luis Ayala. That's … not very appealing. There are also plenty of reclamation project types though, guys coming off injury and/or poor performance who could sign relatively cheap. Maybe even on a minor league deal. Here's a run down of the reclamation project lot.
Andrew Bailey
Bailey, 29, is a New Jersey native who was one of the very best relievers in baseball while with the Athletics from 2009-2011 (2.07 ERA and 2.74 FIP). The last two years with the Red Sox have been a struggle both performance-wise (4.91 ERA and 4.68 FIP) and physically, as thumb and shoulder surgery have sidelined him.
Bailey had surgery to repair a torn shoulder capsule in late-July and the next pitcher to come back from a torn capsule to be even league average will be the first. Its list of victims includes Chien-Ming Wang, Mark Prior, Rich Harden, Johan Santana, and John Danks. Given the timing of the surgery, it's unlikely Bailey will be able to pitch at all in 2014. At least not enough to make a real impact.
Mitchell Boggs
Two seasons ago, the 29-year-old Boggs was a key cog in the Cardinals' bullpen as they advanced to the NLCS (2.21 ERA and 3.42 FIP). Last season was a total disaster (8.10 ERA and 7.42 FIP) as he lost the strike zone (7.71 BB/9 and 16.7 BB%) and found himself back in Triple-A, where he wasn't much better (6.07 ERA and 5.09 FIP).
Boggs wasn't hurt in 2013, he was just terrible. He's always been a hard-throwing guy with sketchy command, but everything fell apart last year. The Mets, Cubs, Phillies, Indians, and Mariners are among the clubs with interest in him according to Jayson Stark. The Cardinals know pitching as well as anyone, and if they cut ties with Boggs — they traded him to the Rockies for a small amount of international spending money in July — he might not be salvageable.
Octavio Dotel
The 40-year-old Dotel was still going strong in 2012, when he had a 3.57 ERA and 2.30 FIP for the Tigers. He was limited to only 4.2 innings last year thanks to elbow inflammation that which required platelet-rich plasma treatment, according to Bob Nightengale. Dotel hoped to be healthy in time to showcase himself in winter ball, but that didn't happen. Given his age and injury, Dotel is as risky as it gets. Add in his career-long problems with lefties — he's basically a right-handed specialist — and there's even more reason to be skeptical.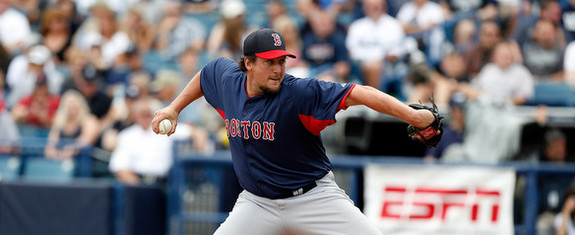 Joel Hanrahan
The Red Sox acquired Hanrahan last winter and he lasted only 7.1 innings before blowing out his elbow in mid-May and needing not only Tommy John surgery, but also surgery to repair a torn flexor tendon and remove bone chips from his elbow. Before getting hurt, he was awesome with the 2011 Pirates (1.83 ERA and 2.18 FIP) and slightly less awesome with the 2012 Pirates (2.72 ERA and 4.45 FIP).
Hanrahan, 32, is currently throwing off a mound as part of his rehab and he plans to showcase himself for teams in Spring Training, so says Tim Dierkes. Elbows are generally fixable and Hanrahan has always been a high-strikeout (career 9.29 K/9 and 24.0 K%) guy with no substantial platoon split. His experience as a closer is a plus, but, given the Yankees' bullpen situation, not exactly a requirement at this point.
Ryan Madson
Elbows are generally fixable like I said, but Madson is the exception. The 33-year-old had Tommy John surgery in April 2012 and has not pitched since due to rehab and subsequent setbacks. He had another surgery last May to clean out scar tissue. Madson, who was unreal before getting hurt (2.78 ERA and 2.74 FIP from 2009-2011), has been holding private workouts for teams in recent weeks according to Jon Heyman. There's really not much more he can do at this point. He's a total unknown after missing two full years.
Eric O'Flaherty
O'Flaherty, 28, is the only left-hander in this post. He was stellar with the Braves from 2010-2012 (1.59 ERA and 2.98 FIP) because he dominated lefties (.219 wOBA against) and held his own against righties (.293 wOBA against). O'Flaherty blew out his elbow late last May and had Tommy John surgery, which figures to keep him out until midseason 2014.
The Braves have been talking with their former southpaw about a reunion all winter, and a few days ago Dave O'Brien said talks were still ongoing. With Thornton slated to be the top lefty come Opening Day, the Yankees can afford to be patient and wait for O'Flaherty — who is more than just a matchup southpaw, remember — to be ready at midseason. It's worth noting O'Flaherty and former teammate Brian McCann are very good friends — McCann said he took #34 with the Yankees to honor O'Flaherty — which could give New York a recruiting edge.
* * *
The price for reclamation projects has gone up in recent years, just like it has for all free agents. Getting these guys on minor league contracts is the best case scenario but it might not be possible at this point. Bailey's shoulder injury really scares me and the fact and he's unlikely to help much in 2014 makes him an easy pass in my opinion. Hanrahan and O'Flaherty are the most appealing to me with Madson a distant third.
The Yankees can use some more certainty in the bullpen right now and none of these guys provides it. I think they need to add another reliever (or two) who they can count on to be ready for Opening Day. If they could snag someone like that plus, say, Hanrahan on a one-year deal (with an option, ideally) and treat him as a midseason pickup, great. I'd rather not see the Yankees treat a reclamation project as Plan A, however.