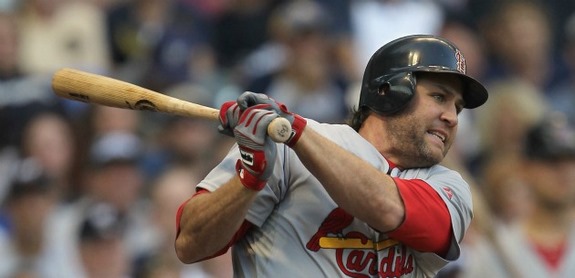 For the second consecutive year, the Yankees are not playing in the World Series this fall (oh what a horrible drought!), but that doesn't mean they're an afterthought. There are Yankees ties to both the Cardinals and Rangers, thanks in part due to the age of free agency and non-stop transactions. Texas knocking the New York out of the playoffs last year is another connection as well, but that's not really the angle I was planning to take.
Two players on the Cardinals once suited up for the Yankees, and two current Yankees helped get the Rangers to the Fall Classic in consecutive years by virtue of their departures. Let's dig in…
Lance Berkman
More than anything, Berkman is the reason why I'm pulling for the Cardinals in the World Series. A platoon DH for the Yankees late last year, Puma hit a respectable .255/.358/.349 in 123 regular season plate appearances (.298/.404/.417 in his final 99 PA) before emerging as the team's third best hitter in the postseason (.313/.368/.688). He became far more important than expected in the ALCS thanks to Mark Teixeira's hamstring injury in Game Four.
One of the conditions of the trade that brought Berkman to New York was that the Yankees could not exercise his $15M option for 2011, which was perfectly fine because he had all the look of a declining and increasingly injury-prone player. Fat Elvis signed a one-year deal with the Cardinals, had a monster season (.402 wOBA) that won him Comeback Player of the Year honors, and will bat cleanup behind Albert Pujols in the Fall Classic. Go Puma go.
Mark Teixeira
There's not a direct Yankees-Rangers relationship here, but there's no doubt that current Yankee Mark Teixeira helped the Rangers get to where they are today. Less than a month after reportedly turning down an eight-year, $140M extension offer, Tex was traded by Texas to the Braves (along with Ron Mahay) for a five-player package that included starting shortstop Elvis Andrus, closer Neftali Feliz, and likely Game Four starter Matt Harrison. That's some haul, the gold standard when it comes to trading elite hitters.
Alex Rodriguez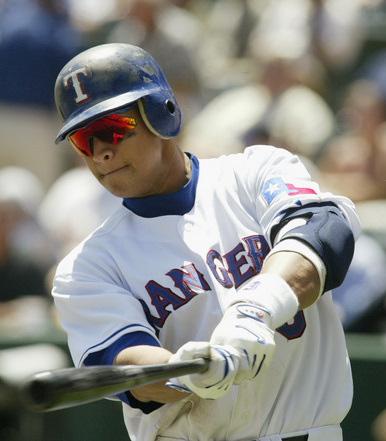 A-Rod's connection to the Rangers and their success is a bit more concrete than Teixeira's, at least from the Yankees point of view. When the Yankees acquired Alex in exchange for Alfonso Soriano and Robinson Cano Joaquin Arias in 2004, Texas gained more than $112M worth of financial flexibility through the 2010 season. That money was redistributed in a multitude of ways; some of it went to Michael Young and his long-term deal, and some was invested in prospects via the draft and international free agency (Derek Holland, Mitch Moreland, Alexi Ogando). Who knows how they rest was spent. That money wouldn't have been available to the team if the Yankees hadn't taken A-Rod off the Rangers' hands.
Octavio Dotel
There's not much connection here, especially since Dotel has seemingly played for all 30 teams at one time or another, but the right-hander did appear in 14 games (10 IP, 18 H, 13 R, 11 BB, 7 K) for the 2006 Yankees. They signed him off the scrap heap following his Tommy John surgery, rehabbed him for the first half of the season, then stuck him in the bullpen for the stretch run. It didn't work out. Five years later, Dotel is still slinging it at age 37, this time in middle relief for the Cardinals.
* * *
There are a few other very loose ties (Cards backup catcher Gerald Laird is Brandon's brother), but those four up there cover most of it. Berkman is the most obvious connection, but I think it's clear that the Tex and A-Rod stuff will have more impact in this World Series in the grand scheme of things.