Update: Jackson got traded to Chicago three minutes before this was set to go. I'm not taking it down.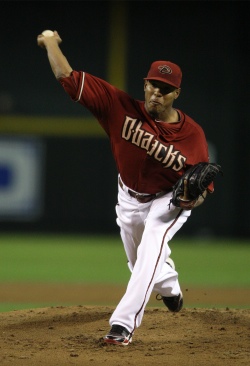 The big story of this morning has been the White Sox pursuing Edwin Jackson. We learned earlier this week that the Diamondbacks planned to continue selling after they unloaded Dan Haren on the Angels, and Jackson, with his roughly $1.5 million remaining this year plus $8.35 million salary next year, figures to be among the first boarding a train out of Phoenix. The White Sox could keep him for their own rotation, or could flip him to the Nats for Adam Dunn. Yet there's been something of a snag here.
The latest word is that Ken Williams is working on a bigger deal, which, if completed, would preclude the Jackson deal. That would open up an interesting situation for the Yankees. They might not want Jackson — in fact, I'm sure they don't want to add him — but they do want Dunn. Could the Yanks slide into the White Sox place and make a series of deals that would net them a baseball-mashing lefty?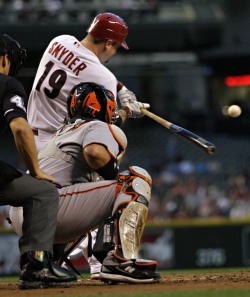 There is a way the Yanks could make this interesting. The Diamondbacks have been trying to unload Chris Synder since last winter. He spent much of last year hurt, and he produced a paltry .304 wOBA in just 202 PA. While he's rebounded this year, the Diamondbacks have their catcher in Miguel Montero. If the Yanks would be willing to take on Snyder — and perhaps Chad Qualls — they might be able to get the package, along with Jackson, for relatively cheap.
Why Snyder? For starters, he'd represent an upgrade at backup catcher. He's a decent hitter, especially for a backup catcher, with a career .321 wOBA. Total Zone also rates him as an above average defender, though he has earned negative marks in each of the last two years. We have far smaller samples there, though, because he has only 436 PA in those two seasons. He's a bit expensive for a backup, but he'd also provide insurance for Posada next year, and would also allow the Yanks to remain as patient as they'd like with Jesus Montero.
That leaves the Yanks options with Francisco Cervelli. They could send him to the Diamondbacks as part of the trade, though since the Nationals acquired Wilson Ramos yesterday I doubt he'd be wanted by the Nats. Sending him to AAA isn't much of an option because of Montero, and sending him to AA doesn't work because of Austin Romine. They'd basically have to trade him if they were to acquire Snyder. I'm not sure how it would work exactly, but if the Yanks could get Snyder and Jackson for Cervelli plus a meh prospect, I think that could work out. It would cost them a few dollars, but that's a resource the Yankees have in abundance. Might as well use it to ultimately improve the team.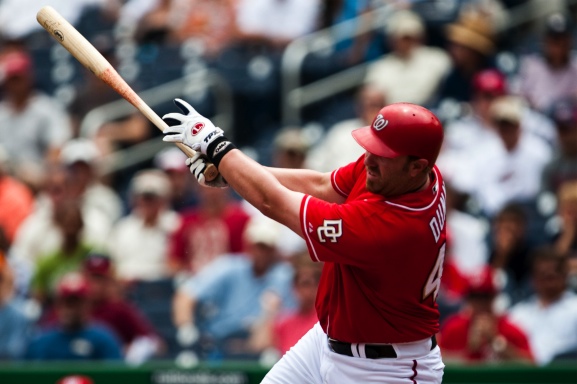 That would leave the Yanks with Dunn at DH and Snyder on the bench, and would presumably not cost them that much, because they'd absorb the contracts from Arizona. They'd flip one, and probably another meh prospect, for Dunn, who will cost around $4 million for the rest of the season. In other words, they'd get a better backup catcher and an ideal DH for somewhere between $6 and $7 mil, plus two prospects who would likely never crack the big league roster anyway.
With plenty of moving parts, it's unlikely that the Yanks get involved to this degree. It does, however, seem to represent their best chance at improvement. If they want to keep Dunn from the Rays, they could do worse than swing a deal for Jackson and than dangle him to Washington.