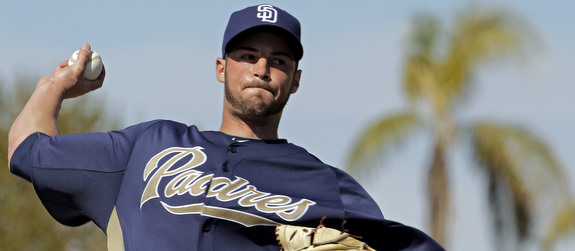 The Yankees waved goodbye to their two Rule 5 Draft picks (Robert Fish and Daniel Turpen) over the weekend, but today they welcomed back one of their own. The Padres have announced that right-hander George Kontos has cleared waivers and been returned to New York. The Yankees must reimburse San Diego half of the original $50,000 Rule 5 Draft fee, and I believe he'll be off the 40-man roster now.
You'll be familiar with Kontos if you've been reading this site long enough. The 25-year-old was originally a fifth round pick back in 2006, though he missed the second half of 2009 and the first half of 2010 after having Tommy John surgery. The former starter shifted to the bullpen after returning, pitching to a 3.93 FIP in 57.2 IP (counting the Arizona Fall League). He owned a 3.54 FIP before going under the knife. Baseball America ranked Kontos as the Padres' 27th best prospect in the latest edition of their Prospect Handbook, saying he projects out as a middle reliever.
It's not terribly surprising that San Diego didn't have room for Kontos; their bullpen is stacked top-to-bottom with quality arms for every role imaginable. He didn't pitch well in limited Spring Training action (3.2 IP, 7 H, 4 R, 4 ER, 3 BB, 2 K), so expendable he became. Kontos will join guys like Ryan Pope and Mark Prior as upper level bullpen fodder throughout the season. The Padres were unable to carry Ivan Nova as a Rule 5 guy a few years ago, and now he's very much in the running for a Opening Day spot on the 25-man active roster.
As for Lance Pendleton, the other guy the Yankees lost in the Rule 5 Draft, he's got a decent shot at making the Astros in some capacity, likely in middle relief or mop-up work. He hasn't been great in camp (6 IP, 6 H, 2 R, 2 ER, 5 BB, 3 K), but Houston has some room to carry the local kid and would benefit from giving an extended look through at least April. If Pendleton does end up back with the Yankees, then great, it's another arm for the stable.