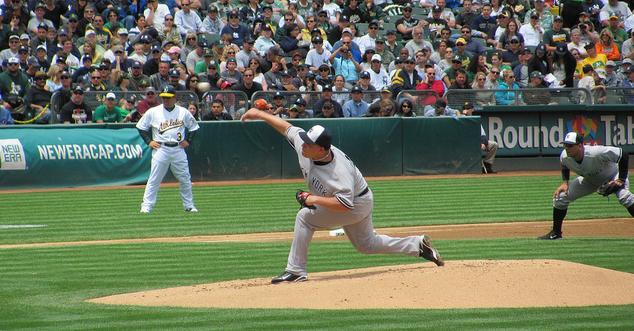 At long last, the Yankees have finally put together their first four game winning streak of 2011. Yesterday's game was the first non-blowout of the stretch, a 4-2 game after the Yankees outscored the Athletics and Mariners 22-4 in the first three games. They hit homers, strung together extended rallies with base hits and walks, capitalized on errors, stole home, you name it and the Yankees did it offensively during these last four games. There has been one constant in those four games though, and that's been the starting pitching.
It all started Sunday afternoon with the guy that's supposed to get things started for this team. CC Sabathia took the ball in the series finale against Seattle, fresh off a disappointing extra innings loss on Saturday. While his offense went to work against Jason Vargas, Sabathia gave his team 118 stress-free pitches and eight effective innings. Eighteen of his 24 outs were recorded either on the ground or via strike three, and it was exactly the kind of effort a team needs from their ace when they're reeling from two come-from-behind losses.
Bartolo Colon followed that up with the best pitched game of the winning streak, throwing his first complete game shutout in half-a-decade against the A's on Monday afternoon. It was glorious, he went at the hitters with fastball after fastball, surrendering just four hits (and no walks) against six strikeouts in those nine innings. Freddy Garcia chipped in seven innings of three run ball on Tuesday, innings that were hardly spectacular but obviously effective. A.J. Burnett made it four in row yesterday with seven innings of two run ball, allowing just one hit following a first inning two run homer.
All told, Yankees' starters combined to pitch 31 of 36 possible innings during the winning streak, holding opponents to just 21 hits and eight walks. It was exactly the kind of stretch we almost didn't expect to see out of the rotation this season given how the staff looked (on paper) back in January and February and March. Through 54 games, exactly one-third of the season, Yankees' starters own a 3.83 ERA (6th in the AL), a 4.04 FIP (9th), and a 3.85 xFIP (4th). By no means great, but I think it's better than we expected.
The Yankees have only used six different starting pitchers this year, which is pretty good at this point of the season. Ivan Nova's spot is a little bit in question right now, but the Yankees appear to be sticking with him for the time being. They're still going to have to go out and get someone before the trade deadline, if no other reason than to add depth (remember the "they have enough pitching" talk during the Cliff Lee rumors last July? yeah, right), but through the first third of the season, I think we can safely say that the starting staff (the scrap heap guys in particular) have exceeded even our most optimistic of expectations.