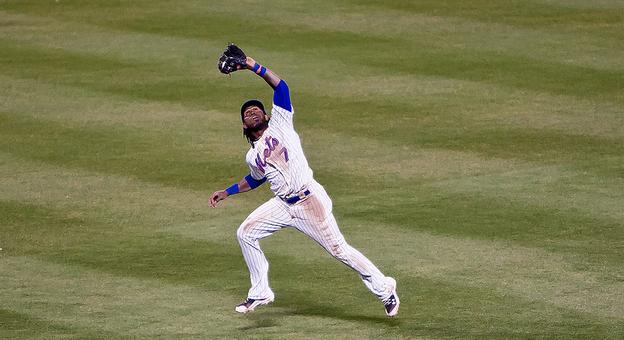 It's been a long, long time since the Yankees had to worry about finding a shortstop. Derek Jeter played the position brilliantly for a decade and a half, but his offense continues to decline as he approaches his 37th birthday (less than four weeks away) and his defense has never been highly regarded. They just signed him to a three-year contract that is essentially a four-year contract because of the player option, so finding a new shortstop less than four months into the contract is less than ideal. Then again, it's not completely impossible.
The Mets are not in contention and several of their players figure to be up for grabs at the trade deadline. We've already looked at Carlos Beltran as a possible trade target, but now lets turn our attention to Jose Reyes. They may not have the money to sign him long-term, and cashing him in as a trade chip could be preferable to the two draft picks they'd receive if he left as a free agent. Let's look at the pros and cons of the Mets' shortstop…
The Pros
Still just 27, Reyes is in the prime of his career. He's in the middle of the best season of his career, hitting .335/.382/.493 at a time when the average MLB shortstop is hitting .261/.318/.372, and his 19 steals are the second most in baseball. Reyes is a switch hitter with little to no platoon split both this year and for his career.
Both UZR and John Dewan's +/- system rate Reyes as just about league average defensively over the last three-plus seasons. Above-average offense and average defense at short is a tremendously valuable player. In fact, he leads all big league shortstops in fWAR (2.9) and is seventh in bWAR (1.7).
Reyes is scheduled to become a free agent after the season, which should limit the return. Position players in their walk years usually don't require huge packages in midseason trades, just look at the recent Mark Teixeira (Braves to Angels) and Matt Holliday (A's to Cardinals) deals.
There have been indications from Reyes that he would like to stay in New York long-term, particularly because his kids are in school where he lives out on Long Island, and because the flights to the Dominican Republic are easy. That could make it easier to sign him to a contract extension this winter (the Yankees don't negotiate new deals in season).
The Cons
Reyes has a bit of injury history, spending time on the disabled list for a thyroid imbalance (16 days) in 2010, a knee strain (137 days) in 2009, a stress fracture in his left leg (43 days) in 2004, a a thigh strain (77 days) also in 2004, and an ankle sprain (28 days) in 2003. Non-DL ailments include an oblique issue (2010) and tendinitis in his left leg (2009). The leg issues are the most concerning since his game is built on speed.
Derek Jeter. The Yankees will have to deal with the fallout of moving Jeter off shortstop and almost certainly out of the leadoff spot. Given the recent Jorge Posada spat, it figures to get hella ugly. If the Cap'n becomes a full-time designated hitter, what happens to Posada? There's not an easy answer.
As I mentioned in the Beltran post, the Yankees and Mets simply don't get together and make trades very often, especially not when it involves players of this caliber. Then again, Sandy Alderson is pretty ruthless and probably won't care about the negative PR if the deal helps his team.
There's a lot to like about the possibility of Jose Reyes in a Yankees' uniform, even if it only ends up being a rental (they'd get draft picks if he signs elsewhere). On paper, it's an easy to displace Jeter from shortstop and the leadoff spot, but you know it won't be that way in real life. This is one of those situations where the team would have to approach him beforehand to explain what they were doing rather than just drop it on him after the media is made aware of it and what not. I think a Reyes trade is extremely unlikely, at least one that brings him to the Bronx, but it never hurts to explore the possibility to see if the pieces fits. It's quite obvious they do, and the Yankees have the prospects to get it done for a Holliday-esque package.