It's kinda hard to believe, but the Yankees were one bad David Robertson inning away from sweeping the Rays in this three-game set. They'll have to settle for taking two of three as CC Sabathia manhandled Tampa Bay for eight innings in the 5-3 win.

X+1
Having to beat the other team is hard enough, but having to beat your own team as well is damn near impossible. We'll talk about Eduardo Nunez's defensive adventures in just a second, but all you need to know right now is that they led to a pair of unearned runs in the first and second innings and cost Sabathia something like 10-20 extra pitches. That's rough.
After the second inning though, CC was untouchable. He retired 18 of the next 22 batters he faced including eight via strikeout. Rays' batters swung and missed 16 times at his 119 pitches, a season-high for both swings and misses and total pitches. Sabathia recorded 22 of his 24 outs on the infield, and this was his fourth consecutive start of exactly eight innings. The opponents during those four starts: the Rangers, Tigers, Royals, and Rays. Those clubs can hit a little.
There are a lot of reasons to love Sabathia, but I think my favorite is that whenever I think he has X innings left in the tank, he goes X+1. In the sixth inning I thought he had one inning left, but he had two. That's what I'm talking about. The Yankees' bullpen was a little short because of the recent workload, but as usual CC picked up the slack and gave his team a ton of high-quality outings. Considering how shaky the first two innings were, the big man deserves a ton of credit for going eight. He was awesome.
Eduardo Scissorhands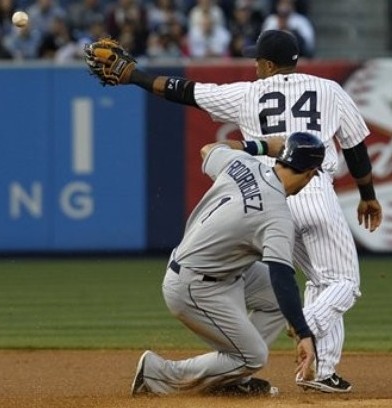 Nunez's defense is a very real problem and it has been since last season, and we're starting to reach the point where waiting around for him to straighten himself out is no longer an option. In the first inning it was a muffed routine grounder with two outs that extended the inning and in the second it was a routine throw to second that wound up in right field and again extended the inning. A big leaguer can't be doing that stuff, not when they provide relatively little on offense. Tampa tried laying down some bunts towards Eduardo after the second error, but fortunately they couldn't get any of them down.
Girardi said after the game that they're going to re-evaluate the way they use Nunez at so many different positions in an effort to get his defense up to snuff, but that won't be a quick process. Something's gotta give though, they can't keep running him out there like this. I mean, they lifted him for a defensive replacement in the sixth (!) inning. I don't think I've ever seen a player pulled for defense that early. Nunez should be legit embarrassed.
Answering Back
Eduardo's errors put the Yankees in a two-run hole pretty early, but the mostly dormant offense started to wake up in the bottom of the second. Curtis Granderson got it all started with a leadoff homer to deep right, the third time he's taken David Price deep in his career. No other left-handed batter has homered off Price more than once.
That was just the start of the game tying rally. Nunez began to redeem himself two batters later by working the count full and drawing a walk before stealing second. That's when Chris Stewart single him in, his fourth run-scoring hit of the season. Chris Stewart people, this is really happening. The Yankees had a chance to add more runs after Derek Jeter drew a walk, but Nick Swisher hit a line drive right back to Price. He saved his face/caught the ball and flipped over to first for the double play. That's just bad luck, but at least the Yankees were able to knot things up before long.

Welcome Back, Robinson
It's been a slow and frustrating start to the season for Robinson Cano, but he started to show some signs of life in Kansas City and seemed to announce his triumphant return to awesomeness against the Rays on Thursday. His first hit of the day was a hotshot ground ball single back up the middle, his second another hard hit ground ball back up the middle, and his third a mammoth two-run homer over the home bullpen and into the right field bleachers to break a 2-2 tie. All three hits came off a very tough left-hander in Price, which is exactly what we like to see. Robbie went 3-for-4 overall and extended his hitting streak to eight games. His season batting line now sits at .286/.331/.437. He's getting there.
Leftovers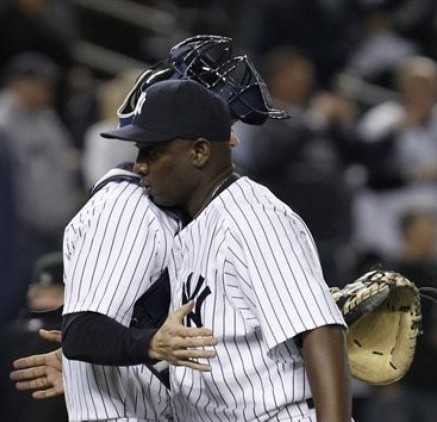 With Robertson unavailable due to his recent workload, ninth inning duties fell on the shoulders of Rafael Soriano. Pitching for the third straight day, Soriano allowed a cheap run — infield single, defensive indifference, ground ball, ground ball — in an otherwise uneventful inning, his first save of the season. He's still searching for that elusive first 1-2-3 inning of the year, but honestly I don't care right now. Props to Soriano for getting those last three outs despite his pitching for the third time in as many days.
Andruw Jones doubled in the team's fifth and final run in the fifth, a laser into the left field corner with two outs off Price. It seemed like the Yankees were going to squander another rally before he picked up Granderson, who'd grounded into a double play one batter earlier. Jones also appeared to hurt his hamstring(s) running out a ground ball earlier on the night — he was shown grabbing at the back of his legs — but apparently he was just fixing his sliding pants. He remained in the game until Dewayne Wise replaced him for defense in the late innings.
You know who's very quietly hitting the snot out of the ball? Alex Rodriguez. He went 2-for-4 with a double on Thursday night, raising his season batting line to .287/.388/.443. The power numbers aren't what they used to be, but that's a damn productive hitter. Alex is hitting .329/.427/.514 in his last 82 plate appearances, dating back to mid-April.
Box Score, WPA Graph & Standings
MLB.com has the box score and video highlights, FanGraphs the nerd score, and ESPN the updated standings.

Source: FanGraphs
Up Next
The Yankees welcome Jesus Montero, Hector Noesi, and the rest of the Mariners to the Bronx for a three-game series starting Friday night. Hiroki Kuroda and Felix Hernandez square off in the opener. RAB Tickets can help get you in the building if you want to see the King.