Kind of a long mailbag this week, with five questions that cover everything from trade candidates to prospects to historical comparisons. Remember to use the Submit a Tip box in the sidebar to send us anything, mailbag questions or otherwise.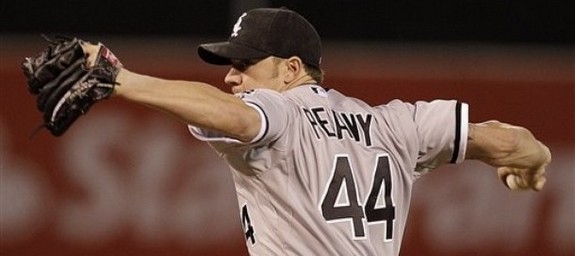 Peter asks: Mike, you wrote up Jake Peavy as a trade candidate on MLBTR a few weeks ago. Do you see the Yanks possibly targeting him in July? If so, what's a fair price?
Here's the link to that MLBTR post. Peavy, 30, has been one of the very best pitchers in baseball this season, pitching to a 1.89 ERA (2.22 FIP) with 7.57 K/9 (22.6 K%) and 1.20 BB/9 (3.6 BB%) in 52.1 IP across seven starts. He's been absolutely phenomenal, no doubt about it, but there are still some red flags.
For one, Peavy's recent injury history is quite scary. He's been on the DL five times in the last four years, including lengthy stints for an elbow strain (2009), an ankle strain (2009), shoulder surgery (2010), and shoulder inflammation (2011). The shoulder surgery was not a typical labrum or rotator cuff issue, he torn his right lat muscle right off the bone. The injury is  rare and the medical procedure so unique that the recovery timetable was completely unknown. Peavy is showing now that he's healthy, but the injury stuff has to be in the back of everyone's mind.
Statistically there's not much to worry about. He's always been a fly ball pitcher but now he's taken it to the extreme, with a 28.7% ground ball rate on the season. That explains his .234 BABIP to a certain extent and even though not every fly ball is hit deep, you have to assume his 2.8% HF/FB rate is going to correct at some point. That's insanely low. Peavy's salary — $17M this year with a $22M option for 2012 ($4M buyout) — is quite high as well.. I mentioned Erik Bedard as a trade comp in the MLBTR post, meaning one top-ten prospect (in a farm system, not all of baseball) and another Grade-C secondary piece could work as a trade bounty. The Yankees could have interest, and thankfully we have a few months to see if Peavy holds up physically and can maintain his performance before the deadline.
Willie and many others asked: Is it time to start getting a little excited about Ronnie Mustelier?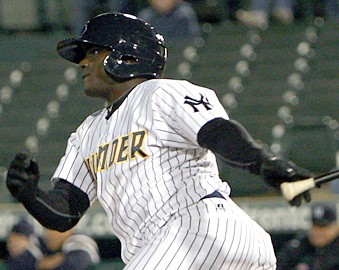 I was surprised by how many people asked about Mustelier following his promotion to Triple-A earlier this week. We must have gotten at least ten questions about him, but I guess that's what happens when a player hits .351/.397/.550 in 295 plate appearances since signing last summer.
Just some real quick background info: Mustelier is 27 years old (28 in August), short (5-foot-10), kinda fat (210 lbs.), a right-handed hitter, and versatile (has played second, third, and the outfield corners). He spent a number of years playing in Cuba before defecting, and as a hitter he makes consistent contact (13.2 K%) but doesn't walk much (6.4 BB%) or steal bases (12-for-18). The Yankees like Mustelier enough that they sent him to the Arizona Fall League last year, where he hit .344/.354/.516 in 16 games while missing time with injury. Here's some video.
The most important thing to understand is that Mustelier has been very old for his level since signing. This is an older guy pounding young pitchers and that can skew the results. The Yankees have done a good job getting him to Triple-A quickly so they can evaluate him against the best pitching in the minors, though I wouldn't expect to see him in the big leagues anytime soon. Baseball America didn't even have Mustelier on their 80-player Yankees prospect depth chart in the 2012 Prospect Handbook, so there's a whole lot of unknown here. His versatility is a plus, but we need to see another few hundred minor league at-bats to know if there's anything worthwhile here.
Arad asks: Had this argument with my brother, who is the better player over their careers using everything, Jeter or Honus Wagner? Thanks Mike!
Wagner is the greatest shortstop in baseball history and it's not all that close. Obviously it was a much different era, but he hit .325/.392/.462 during his 16-year career despite not officially joining the big leagues until age-27. That's worth 110.0 bWAR and only one other shortstop is over even 75 career bWAR (Cal Ripken Jr. at 90.9). Jeter is at 69.4 bWAR and counting. No version of WAR is perfect, but the gap between Wagner and everyone else is impossible to ignore.
Jeter is very clearly the best shortstop in Yankees history and is in the conversation for a top five spot all-time with Wagner, Ripken, Ozzie Smith, Arky Vaughan, and Luke Appling. Robin Yount and Alex Rodriguez deserve acknowledgement as well, though they both spent significant portions of their careers at other positions. Wagner's the best shortstop ever though, very hard to dispute that.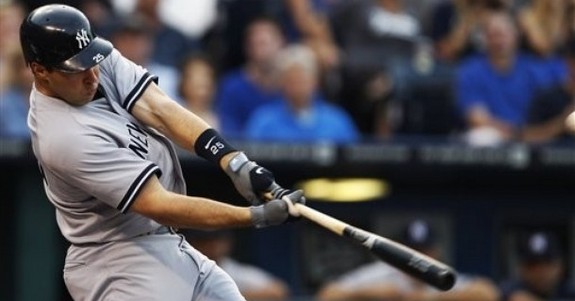 Alex asks: Mike, I read all the pieces you wrote about Mark Teixeira. One thing, which you addressed, slightly still interests me. Since Tex is a switch hitter, it seems like hitting righties from the right side is out of the question. But isn't everyone a "switch hitter" to a degree? I bet A-Rod could turn around and produce a poor line from the left as well. Has any switch hitter ever became a one-side hitter? Will it hurt to try?
Here are those three posts on Teixeira (part one, two, three, four). I don't know of any players who successfully dropped switch-hitting this late in their careers. Lots of guys stop switch-hitting in the minors, including Frankie Cervelli and Eduardo Nunez, but that's very early in their careers. A lot of players mess around with switch-hitting in batting practice and may be able to survive on athleticism in a game situation, but I'd put money against it.
Teixeira's been switch-hitting his entire life, going all the way back to high school. The guy has never been at the platoon disadvantage at a high level and he's never seen a breaking ball that breaks away from him. If he were to stop hitting from the left side, he wouldn't magically replicate his performance against lefties as a righty (.397 wOBA) as a righty against righties. If Teixeira's offensive problems become so severe that dropping switch-hitting is being seriously discussed, it's a transition that would have occur during the offseason and in Spring Training. I don't see any way you could ask him to do that midseason and be productive. You're setting him up for failure both short and long-term that way.
Jon asks: I literally got physically ill when I heard about Mariano Rivera's torn ACL. The question is does Mo fit into the new budget? Do they bring him back next year at $10-15 million if it costs them Cole Hamels?
Well the new budget doesn't kick in until 2014 unless ownership decides to implement next season. That would suck. I can't imagine any scenario in which Rivera gets a two-year contract after this season, not at his age and not coming off a major injury. In that sense they could pay him whatever and still sign Hamels knowing that Rivera and his salary will be gone in 2014, when the payroll tightens up. It would be a major surprise if Mo's next contract somehow extends beyond next season.
I am curious to see how negotiations with Rivera play out this winter. Are the Yankees going to pay him the $15M+ next year just because he's Mariano Rivera? Or will they try to scale it back a bit, maybe $10-12M given his age and injury? Considering that they offered Andy Pettitte eight figures this past December after he sat at home for a year, I'm willing to bet they'll have no problem paying Mo something similar to, if not in excess of his current salary.