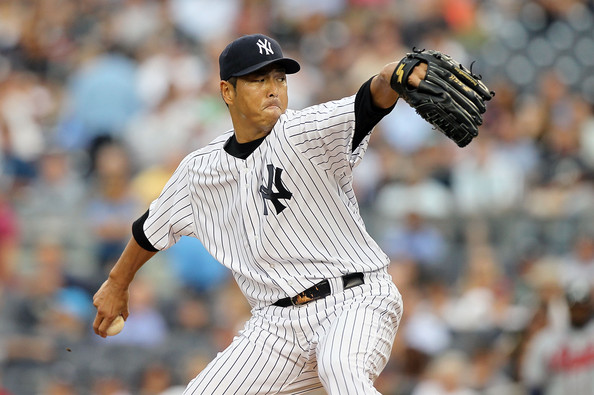 Why did fans label Hiroki Kuroda as an inconsistent pitcher? Mike and I discussed this on The RAB Radio Show last week, but it bears further mention. It seems that after poor starts mixed with some very good ones, fans started to call Kuroda inconsistent. This persisted while his numbers and performances improved following his poor outing against the Twins, and it gained further steam with his implosion against Toronto. But perhaps inconsistent wasn't the best term.
While Kuroda did turn in some phenomenal performances early on, overall he had not pitched that well. Though his first nine starts he threw just 53.1 innings, or a hair under six per start. In that time his ERA was a bit over 4.50, and opponents were hitting .281/.345/.481 off him. His strikeout rate was under 6 per nine, and he had a K/BB ratio of less than 2:1. Those are not the marks of a quality pitcher, never mind the guy expected to be the No. 2 for the Yankees.
In Oakland things started to turn around. On May 27th he pitched eight innings of shutout ball, leading the Yankees to a 2-0 victory. That might not seem like much, shutting out the A's. Keep in mind, though, that they have scored more runs than any other AL team in June. So Kuroda got to them just as they were heating up. After that he turned in another three excellent starts before giving up four runs against the Braves — the first time he'd done that in over a month. Last night he redeemed himself, though, allowing just one run in seven innings against the Indians.
In the last month Kuroda has started six times, averaging seven innings per start. He has struck out 7.5 per nine and has a K/BB ratio of 3.5:1. His ERA is just 1.93, and opponents have a .589 OPS against him. That is, they've gone from being nine Mike Moustakases to being nine Sean Rodriguezes. Might the first nine starts of his season been an introduction to the American League, and we'll start to see more of this Kuroda in the future?
While I'd love to believe that, there are problems with that statement. He has, for instance, faced two National League teams during that span, covering three games. They weren't bad NL teams, not at all — the Braves rank third in runs per game and sixth in OPS, while the Mets rank fifth in runs per game and eighth in OPS. But the competition is simply different, as evidenced by the AL's dominance over the NL in interleague play (142-110). At the same time, the Indians rank 11th in the AL in OPS, while the A's, while hot in June, rank dead last.
The last month has certainly been a revelation for Kuroda. He is a big reason why the Yankees have gone 17-5 in June. Going forward, though, it's tough to expect such stellar performances. That's a pretty obvious statement, of course, since few pitchers today can sustain a 1.93 ERA. Unfortunately, any dip from here could again raise the accusations of inconsistency. It's not that, though. Every pitcher goes through stretches. The only real complaints about Kuroda will come when the bad stretches start to outweigh the good.