The Yankees were going for the four-game sweep of the Rangers on Thursday, but they were unable to pull out the win even though the offense rallied to both tie the game and take the lead in the middle innings. Bullpens eh? They'll break your heart.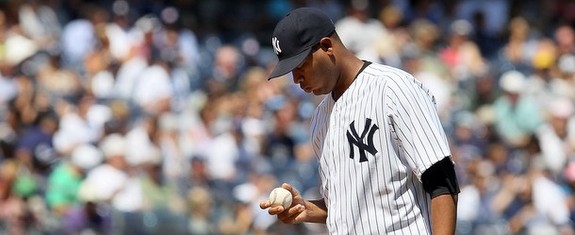 Not So SuperNova
It's one step forward and one step back with Ivan Nova, who followed up his strong effort against the Blue Jays with a total dud against the Rangers. His defense didn't help much — Casey McGehee muffed a ground ball and Andruw Jones lost a ball in the sun — but he still allowed seven hits, four walks, and one hit batsmen in 5.2 innings. Three of those hits went for extra bases and three came with two strikes. Nova went to a two-strike count on ten of the 27 batters he faced, and four of those ten reached base. That's pretty awful.
Last time out against Toronto, Nova stifled the Jays by throwing 46 curveballs and 13 sliders (out of 105 pitches, so  56.2% breaking balls) and locating them down and out of the zone. On Thursday he threw 26 curves and seven sliders (out of 103 pitches, so 32.0% breaking balls) and hung a few of them for base hits, most notably Josh Hamilton's first inning double. Nova also slipped off the mound in the fourth and limped off the field, but he remained in the game and seemed fine, at least health-wise. I give Ivan major credit for pitching out of a bases loaded, no outs situation in the third, but otherwise this was another underwhelming start in a summer full of them. He allowed at least four runs for the fifth time in his last nine starts.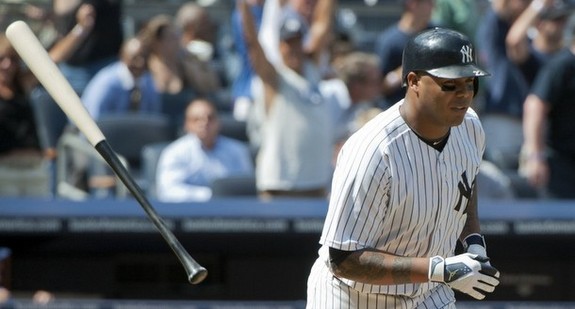 Tie Game And The Lead
Derek Holland held the Yankees to just one hit in the first five innings, but they struck for five runs in the sixth inning to first tie the game and then ultimately take the lead. Ichiro Suzuki got it all started with an infield single, then Derek Jeter and Nick Swisher plated a pair of runs with singles. Cleanup hitter Andruw Jones jumped all over a first pitch sinker for a game-tying two-run blast down the left field a line, a homer that was reviewed and eventually upheld. Mike Olt's two-base error in right put Casey McGehee on second, and one batter later Russell Martin singled him in for the 5-4 lead.
The Yankees tacked on a sixth run on Mark Teixeira's fielder's choice one inning later, but they could have had more since it was bases loaded with just one out. They also handcuffed themselves with a second inning bunt from Ichiro which, even if he was trying for a hit, was probably a bad play. I'm not quite sure how you can try to bunt for a hit against Adrian Beltre after not attempting it even once in four games against Miguel Cabrera a week ago. Unsurprisingly, Chris Stewart failed to get the run in. I also think it's flat out inexcusable that Robinson Cano did not score from first on Ichiro's double in the ninth. Center field Craig Gentry dove for the ball and knocked it away, but Robbie had to hold up at third because they stopped running hard after rounding second. There were two outs, just put your head down and run.

Unprotected Lead
The Yankees had a clear need for another relief pitcher in May, but they instead opted to wait for Joba Chamberlain to get healthy. Now that Joba's healthy, they still need another reliever. The right-hander allowed Texas to take a two-run lead on Gentry's two-out, two-strike single in the seventh, then allowed two more runs in the eighth. I've been saying it for months, we had no idea how well Joba would come back after two major injuries. He's allowed six runs and 17 baserunners in six innings since returning and can't be used in even medium-leverage spots because the command is not there. They'll have to live with it though, because getting a decent reliever in a trade while at the end of the waiver priority line is damn near impossible.
Boone Logan also allowed a run by allowing base hits to two of the three men he faced, including a double to the left-handed hitting David Murphy. Clay Rapada also allowed a garbage time run in the ninth when he was facing a bunch of righties. With a one-run lead in the seventh, the best way to go may have been Logan for Hamilton, Joba for Adrian Beltre, Rapada for Murphy, and then David Robertson thereafter. Hindsight is 20/20 and all that. The offense did a great job to battle back from a four-run hole to take the lead, but the bullpen really let the Yankees down on Thursday afternoon.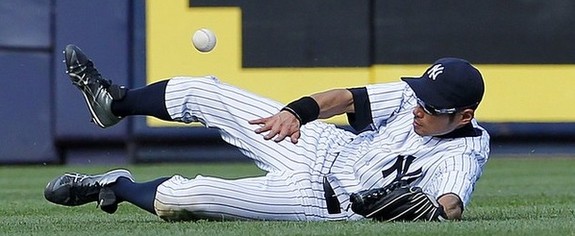 Leftovers
Joe Girardi had his pitchers intentionally walk Mitch Moreland not once, but twice. That's just madness. Gentry followed up both with run-scoring plays. I get intentionally walking Hamilton in the eighth, but the free passes to guys like Moreland and Sean Rodriguez has to stop. They Yankees have been showing way too much respect to hitters like that.
The only players in the starting lineup with multiple hits were Jeter (two singles) and Ichiro (two singles and a double), though the only starters without a knock were McGehee and Stewart. Swisher singled and walked, so he was on-base twice. The various pinch-hitters off the bench went a combined 0-for-4 with a walk (Cano) and two strikeouts. Oh well, it just wasn't meant to be.
Box Score, WPA Graph & Standings
MLB.com has the box score and video highlights, FanGraphs some additional statistics, and ESPN the updated standings. The Orioles lost to the Red Sox (finally), so they remain six games back. I assume David Price and the Rays will be the Angels out on the West Coast, so they'll be six back as well. The magic number to clinch the division is 39.

Source: FanGraphs
Up Next
The Rangers are leaving town and the Red Sox are on their way in. New York and Boston will play a three-game set this weekend that will have no impact on their race against each other. At 58-61, the Sox are 13 games back and closer to last place than third place. Check out RAB Tickets if you want to catch Friday's series opener, when Phil Hughes matches up with Franklin Morales.