Just because apps share a name does not mean they are equals. Last week I reviewed MLB At Bat for Android and came away thoroughly impressed. Yet that app has a few differences from its iPhone and iPad counterparts. Since I use an iPad and not an iPhone, I figure reviewing the iPad app is a bit more appropriate. It represents another win for MLB Advanced Media.
Gameday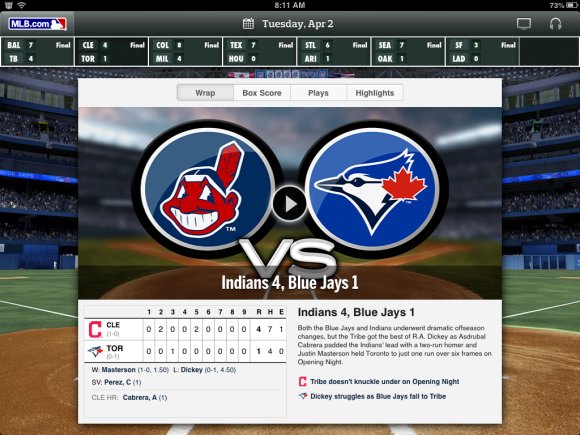 The most prominent feature of MLB At Bat for iPad is Gameday. When you open the app you go to that screen by default. When there are no games playing you'll see a rundown of the previous day's scores on top, with the first game recap in the middle of the screen.
Here you can read the game story from each team, right from their MLB.com beat writers. You can check the box, the play-by-play, and watch video highlights. Each player's name is clickable, so you can pull up a quick player card with his numbers from that game, plus a few select splits.
One thing I've always liked about Gameday in iPad is how they use the real home stadium in the background. And by real, I mean the rendered version from the MLB The Show video game. You don't get accurate representations of each individual batter, which would be a neat effect. But overall it's a neat little feauture.
When live there is perhaps no better Gameday interface. You can view lineups, box scores, play-by-play (including scoring plays), and more right from the Gameday interface. It also gives you the pitch-by-pitch breakdown of the current at-bat.
My only complaint here is that there is no way to check the play-by-play in the archive. MLB has generally cut out pitch-by-pitch Gameday breakdowns in all formats, which is a shame.
Stats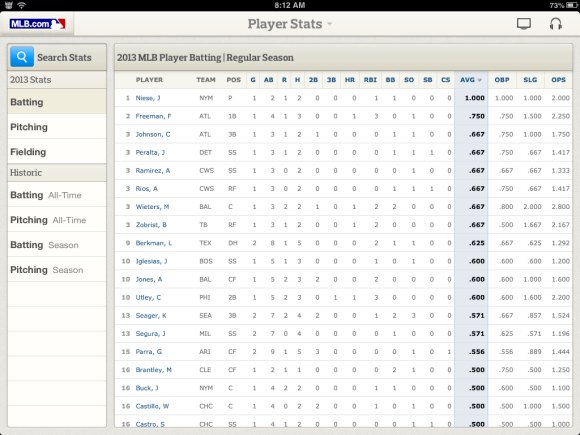 As you might imagine, the stats interface is a bit more robust on a tablet than it is on a smartphone. Since there is more screen real estate they can afford to provide more than the basics. When you click on the stats tab you'll go right to the 2013 MLB player batting leaders. It might not be the FanGrapsh leader board, but it's also not the archaic stats pages we've seen in the past.
It contains your typical counting stats, plus triple slash stats and OPS. It would be super nice to have OPS+ in there, therefore turning it into something like Baseball Reference. But all considered, this isn't half bad. Sorting is as easy as tapping the stat at the top of the screen.
Click on a player's name and you'll go not to a new screen, but to a pop-up. That's nice, because it keeps you on the stats screen. The player card has a quick summary of biographical information, a small stats screen that contains just AB, HR, RBI, AVG, and OBP, plus fantasy news.
There are a few ways you can manipulate the results, beyond sorting by clicking. You can toggle between player stats and team stats by clicking at the top of the page. You can also filter by position and league. Looking for a different season, or perhaps spring training and postseason stats? You can click on the Timeframe tab and find those. Again, it's not what we expect given the huge stats databases on the web. But it's much better than in years past.
News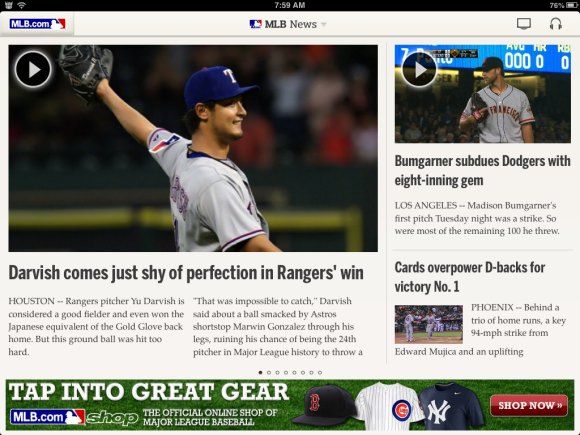 The news section is either redesigned for 2013, or else I never checked it in 2012. It's actually a great interface, resembling tablet aggregation apps like Flipboard and Zite. It defaults to general MLB news, and you can flip through multiple pages of the day's top stories. Click the MLB News tab at the top of the page and you can select team-specific feeds — with your favorite team on top, of course.
I have to say that the new interface has me using the News feature much more often than I have in the past (considering I never used it last year). Since I use Zite and Flipboard often, the interface is familiar and welcome. The stories are laid out in traditional columns, too, making the reading even easier.
Perhaps my favorite feature of the news section is clickable video. If you see the play button, you can click it and the video will play right inside the news section. You can go full screen with another touch — the video will automatically minimize when it's done, leaving you back at the news screen. I'm genuinely excited for this news app this year.
MLB.tv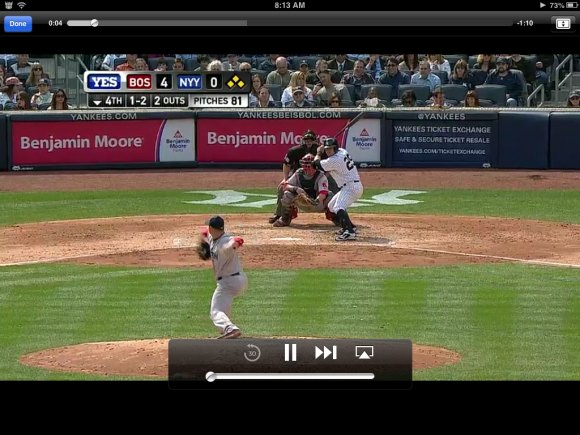 Yes, you can hook up your MLB.tv account to At Bat for iPad. In fact, I can't imagine having At Bat without my MLB.tv account. Tablets are simply wonderful for streaming video. MLBAM has clearly prioritized streaming video, and has improved the quality of its feeds in recent years. The feed on the At Bat app is especially awesome, because it doesn't use Flash. Honestly, the continued use of Flash for desktop streaming makes me never want to use it. We can only hope they adopt an HTML5 web streaming standard for 2014.
When you play your video you'll have to overlay options. The first is for box score and play-by-play, which you can show and hide by dragging from the right side of the screen. The second sits atop the screen, filling otherwise black space. It's the day's scoreboard. You can use this to switch among any number of games. It gives you the base-out situation and score, so you can flip to any game at its most intense.
What has become an essential accessory for At Bat on my iPad is Apple TV. Yes, you can access MLB.tv from it, but that's not the best use. If you have an Apple TV, you'll notice a little triangle in the controls panel. Click that and you can send the feed right to your TV. As you might expect, it looks superb on plasma TVs and other HDTVs. It always amazes me a little that we can stream high-quality video on our TVs. It's truly a sight to behold.
The advantage of using the iPad over the Apple TV interface, of course, is navigation. It's just easier to flip between games on your iPad, given the scoreboard controls. At just $99 for the Apple TV unit, I'm not going to complain much about price.
As with the Android version, MLB At Bat for iPad is free to download, but requires a $20 subscription to access its features. MLB.tv premium runs $120 for the year, and is a must-have for baseball fans.