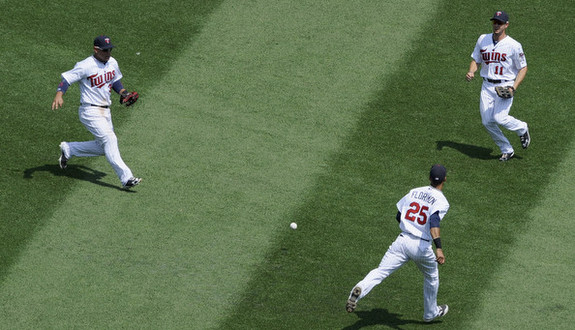 I don't think it's a stretch to consider these next 14 games the most important two weeks of the season. The Yankees are stuck playing the Orioles three times next weekend, but the other eleven games are all against the Twins and Royals. The schedule won't get much more favorable. If they can win nine or ten of these next 14, they'll remain in the hunt with their injured guys on the horizon. If they lose nine or ten, it'll probably be time to close up shop and sell at the deadline. Going 7-7 in the 14 games really doesn't clarify their situation. They either need to win a bunch or lose a bunch.
The first of those eleven against the Twins and Royals is tonight in Minnesota, a place the Yankees typically thrive. They've won 12 of the 15 games they've played at Target Field since it opened four seasons ago (playoffs included), but those Yankees teams were very different. They could actually score some runs, for starters. History won't win you anything, but I'd be lying if I said I wasn't somewhat comforted by New York's domination of the Twins over the last decade or so. Here's the lineup Joe Girardi is running out there against southpaw Scott Diamond:
CF Brett Gardner
SS Jayson Nix
2B Robinson Cano
RF Vernon Wells
DH Travis Hafner
LF Zoilo Almonte
1B Lyle Overbay
C Chris Stewart
3B David Adams
And on the mound is one of four 2010 Willie, Mickey and Duke Award winners, left-hander Andy Pettitte. That mouthful of an award is given annually by the New York Baseball Writers Association to a group of players forever linked in baseball history. Pettitte, Derek Jeter, Jorge Posada, and Mariano Rivera took home the honors in 2010.
Perfect baseball weather with no clouds or any threat of rain tonight in the Twins Cities. Because of the whole time zone thing, the game doesn't begin until a little after 8pm ET. You can watch on YES. Enjoy.
Injury Updates: Jeter (ankle) has started running the bases … Frankie Cervelli (hand) has started taking batting practice … Curtis Granderson (hand) is still limited to playing catch. He can't swing a bat yet.