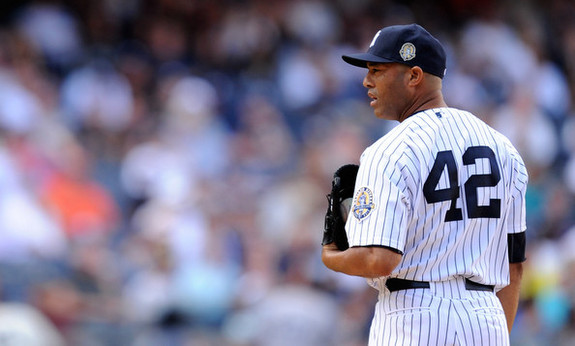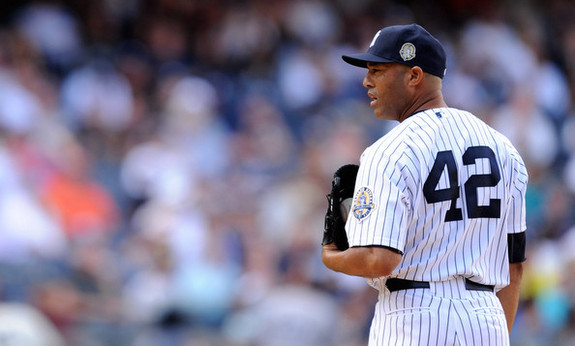 After 19 big league seasons, including the last 17 as closer, Mariano Rivera's Hall of Fame career is over. He announced his intention to retire during Spring Training, so this is no surprise. We all knew it was coming. Turns out the knee injury that wiped out almost his entire 2012 season extended his career by one year — Mo admitted he planned to retire last year before the injury. In a weird way, I'm thankful he got hurt.
As good as he was this past year, the 2013 season was actually a down year for Rivera. He blew more saves (seven) than he had in any season since 2001, including three in a row during one ugly early-August stretch. His 2.11 ERA was his highest in a full, healthy season since 2007 and second highest since 2002. His 1.05 WHIP was also his highest since 2007. Rivera allowed seven homers in 64 innings, the second highest total of his career since moving to the bullpen full-time. His 3.05 FIP was his highest since 2000.
Despite all of that, Rivera was still one of the best closers in baseball. Among relievers who saved at least 20 games, he ranked seventh in bWAR (2.4) and tenth in fWAR (1.5). That's a down year. Forty-three-year-old Mariano Rivera coming off a serious knee injury was still better than two-thirds of everyone else out there. When the Yankees were making one last push towards the postseason, Mo threw multiple innings five times in September, more than he had in any full season since 2009. He did that despite pitching through what he called "tremendous soreness" in his arm. He left everything on the field for New York and was deservedly named the AL's Comeback Player of the Year for his effort.
Throughout the season, teams around the league paid their respects to Rivera with gifts and donations to his charity. The Athletics gave him a surfboard, the Twins gave him a rocking chair made out of broken bats, the Red Sox gave him the never-again-needed #42 placard from the Green Monster scoreboard, the Rangers gave him cowboys boots and a hat, the Rays gave him … whatever the hell this is. During Mariano Rivera Day at Yankee Stadium, the Yankees enshrined their closer in Monument Park followed by a live rendition of Enter Sandman by Metallica. The farewell tour was one of the coolest sidebars of the season, hands down.
And yet, the thing I will remember most about the 2013 season was the goodbye. We all knew it was coming — Joe Girardi announced beforehand that Rivera would pitch in the final home game of the season no matter what — but it was still a surprise to see him exit before the end of the ninth inning. It was unscripted, it was incredibly emotional, and it was a moment Yankees fans won't ever forget.
Rivera never did pitch in another game after that and he didn't have to. It was the perfect send off, the perfect goodbye for a perfect Yankee. Mariano was more than the greatest reliever to ever live. He was a first class person who was kind and treated everyone with respect. He helped countless people through his charity work and always took the time to give some love back to the fans.
I am happy to have witnessed Mo's career from start to finish and I will miss watching him pitch dearly. There is never going to be another like him. Not ever.