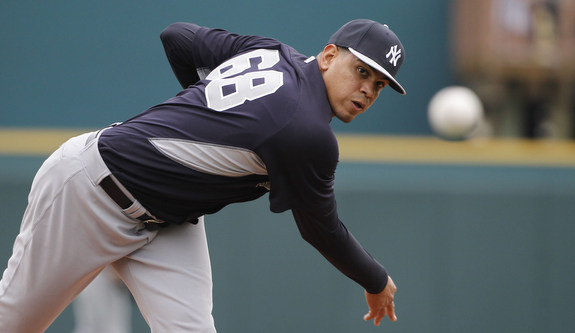 Last year, the Yankees got close to zero help from their farm system. The only player to come up from the minors and establish himself as a big leaguer was Adam Warren, who spent the year as the swingman. Guys like David Adams, Preston Claiborne, and Zoilo Almonte got off to hot starts, but they all tailed off once they were pressed into regular playing time. Austin Romine also failed to impress as the backup catcher. The system offered close to no help as the injuries mounted and the poor stretches turned into poor seasons.
The Yankees were not oblivious to this — Hal Steinbrenner called a staff meeting and essentially had the scouting and player development staff audited to figure out why there were no internal solution. No major personnel changes were made, but some procedural changes were implemented and the minor league complex in Tampa was renovated. Turning around the system probably won't happen overnight, but the team did take some steps in the right direction these last few months.
At some point this season, the Yankees will have to dip into their farm system for help. It's inevitable. Injuries will strike and fringe players will play their way off the roster. When that happens, the first attempt at fixing the problem will come from within. The Yankees have shown they will be patient and not jump right into the trade market when they need help these last few years and I have no reason to think that will change in 2014. Here are the prospects who could come up and help the MLB team this summer.
Catcher: John Ryan Murphy
Murphy, 22, got his first taste of the big leagues late last year, but that was nothing more than a September cup of coffee following a breakout season in Double-A and Triple-A. He hit .269/.347/.426 with 29 doubles and 12 homers between the two levels and has improved so much defensively that he is now viewed as a no doubt catcher long-term. Had the Yankees not signed Brian McCann, the temptation to start Murphy in 2014 would have been be great. Instead, he figures to bide his time in Triple-A and await an injury after jumping Romine on the depth chart. Of course, he might be nothing more than trade bait. Sleeper: Eh, there really isn't a sleeper behind the plate for 2014.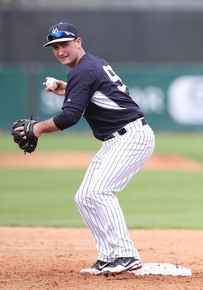 Infield: Dean Anna
Similar to Murphy, Anna figures to be the first called up whenever injury strikes the infield. The Yankees acquired the 27-year-old from the Padres in a minor offseason deal and he can do a little of everything except hit for power. He can get on base and play both second and short, where the offensive bar is pretty low. I'd say the chances of Anna coming up and being an impact player  this summer are remote, but he does enough to potentially help the team both at the plate and in the field if pressed into duty. Sleeper: Jose Pirela, who's hit .264/.334/.401 and played four positions (second, short, third, left) at Double-A the last three years.
Outfield: Zoilo Almonte
Technically, Almonte had his chance to help the MLB team last year. He came up in mid-June and had five pretty great games to start his career, but it went downhill fast and he finished the year with a .236/.274/.302 batting line in 113 big league plate appearances around an ankle injury. Almonte, 24, offers sound corner outfield defense and a switch-hitting bat, and there's a case to be made that he's a better fit for the bench than Ichiro Suzuki right now. Instead of making the Opening Day roster, Zoilo will have to settle for a trip to Triple-A, where he will be the first called up whenever an extra outfield body is needed. He's the clear first in line. Sleeper: Ronnie Mustelier, who didn't get a shot last year but could hit his way into the conversation again.
Right-handers: Dellin Betances, Mark Montgomery, Jose Ramirez
Of everyone in this post, the 25-year-old Betances probably has the best chance to crack the Opening Day roster. He finally found something resembling sustained success in the bullpen last year, pitching to a 2.06 ERA with a 93/28 K/BB in 65.2 innings after shifting into a relief role. It feels like a foregone conclusion that Betances will get a chance to not only stick in the big leagues this year, but also assume a high-profile, late-inning role. The time is now for Dellin.
Had Montgomery not gotten hurt last year, he probably would have been called up instead of Claiborne. Instead, the 23-year-old struggled to throw strikes while missing time with shoulder problems. Montgomery will likely have to show he's back to being the guy he was from 2011-12 before getting a chance to help the MLB team with his wipeout slider. Ramirez, 24, has had trouble staying healthy over the years and sure enough, he's already been sidelined with an oblique problem in camp. When right, his fastball-changeup combination is electric and could have a huge impact out of the bullpen, assuming the Yankees are ready to give up on him as a starter given his career-long lack of durability. Sleeper: Danny Burawa, assuming he can figure out how consistently throw strikes.
Left-handers: Cesar Cabral, Vidal Nuno
I wouldn't be a complete shock if either Cabral or Nuno made the Opening Day roster, but, more likely, they figure to serve as up and down arms this season. The 25-year-old Cabral is a pure lefty specialist with a low-90s fastball and a sweepy slider, and his late-season cameo was impressive (nine lefties faced, six strikeouts). Nuno, 26, has a deep enough repertoire to start and we saw him do that last summer before his groin injury. In a perfect world, he'd turn into a left-handed 2009 Al Aceves, a rubber-armed swingman who could come in for one batter or four innings without much of a problem. Sleeper: Fred Lewis, who lacks sexy numbers but has the fastball-slider combination to help as a specialist.
* * *
The Yankees do not have a Xander Bogaerts or a Gregory Polanco in their farm system, that super high upside MLB ready prospect with a clear path to big league playing time in 2014. Any help they get from within this summer figures to come in small doses, from bench players or relievers. Sure, Murphy could take over as the starter if McCann gets hurt or Nuno could grab the fifth starter's spot and run with it, but that would be a surprise. The system is not a position to provide an immediate impact right now unless it involves trading prospects for a big leaguer.